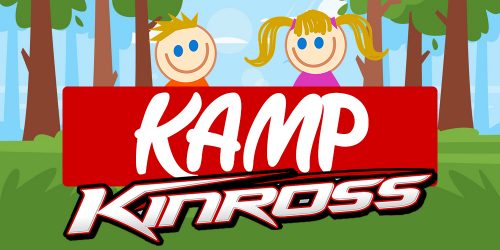 Sponsor Links

Fox Boyz Racing, promoters of the Kinross Speedpark, are excited and honored to announce their newest initiative for the upcoming summer at the track … 'Kamp Kinross'.
The unique, one-of-a-kind experience will provide an area youth (17 & Under) an unforgettable experience at the Kinross Speedpark and Chippewa County Fairgrounds during the summer of 2019.
As the local racing venue embarks on the the upcoming summer of events, track officials created the idea of 'Kamp Kinross" to provide an area youth that is battling, or has battled and persevered through any life-changing experience, a getaway weekend at the track.
Along with the opportunity to camp at the Speedpark alongside track officials and racers, the selected individual will taken under the wings of track officials and provide a behind-the-scenes, unique and unforgettable experience at the 1/4 mile asphalt oval.
"Our promoters, Fox Boyz Racing, and all of our volunteers, are committed and passionate about the culture and standards we hold at the track.  With that focus, and considering the resources we are fortunate to have at our home at the Chippewa County Fairgrounds, we were excited to launch this program this summer" began Speedpark volunteer PR Director / Director of Race Day Operations, Gerry Liscumb Jr.
"We always strive to be more than just a race track.  And with Kamp Kinross we feel it provides us with a special way to connect with our local community, far and near, whether they are racing fans or not and allow someone who may not normally have the opportunity, to enjoy the memories we do each weekend at the track" added Liscumb.
Building off the background of the events to be held at Kinross, including the 2nd Annual Baby Shoe Event (Hospice Fundraiser) and 6th Annual Hot Shoe 100 (Cancer Fundraiser), this initiative ties in with the facilities support and co-operation to benefit those around us.
To nominate your candidate your asked to 
E-mail the track at racekinross@gmail.com with the name, age and background information and reason for selecting your nominee
OR we would prefer
E-mail a video submission explaining your nominee with all the above information and why they should be chosen
Submissions will be accepted until May 31, 2019 at which time the chosen candidate will be selected.
The Kinross Speedpark prides itself on the culture the facility creates through it's racing family, and is committed to it's involvement to the local area both on and off the track.
We are hopeful that the creation of 'Kamp Kinross' is just the start of another personal connection we can make with our fans.