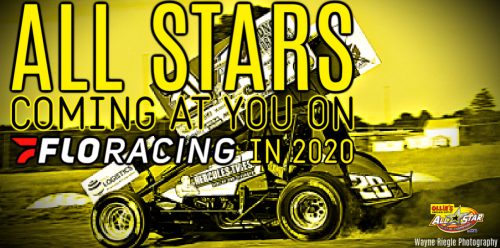 Multiyear deal to commence during four-race Florida swing in February
BROWNSBURG, Ind. (Jan. 30, 2020) – With the intent the push the Ollie's Bargain Outlet All Star Circuit of Champions presented by Mobil 1 to new heights in online streaming and digital exposure, FloSports, an innovator in live sports streaming and original content, will be on hand to broadcast live action from each and every event on the 2020 All Star Circuit of Champions schedule exclusively at www.floracing.com. The live and on-demand coverage will begin in less than a week as the All Star Circuit of Champions kicks off its 2020 campaign with visits to Volusia Speedway Park Feb. 5-6 and East Bay Raceway Park Feb. 10-11.

Boasting an impressive slate comprised of 55 events across 11 states, the 2020 Ollie's Bargain Outlet All Star Circuit of Champions presented by Mobil 1 campaign will prove to be one for the history books. Not only will teams compete head-to-head across much of the Northeast, Midwest and parts of Florida, but competitors will also battle for one of the largest collections of high paying programs in Series history, as 17 events on the schedule will award $6,000 or more, eight of which awarding a minimum of $10,000.

In addition, Series full-timers will vie over the largest championship points fund in All Star history with $258,000 spread amongst the top-12 in season-ending points, $65,000 of which to be awarded to the 2020 champion.

"I'm passionate about dirt racing and grassroots motorsports in general, and there's no better way to access some of the greatest racing in the country than with FloRacing," said Stewart, who has owned the All Star Circuit of Champions since 2015. "While I'm obviously partial to the All Star Circuit of Champions, I'm a spectator and a competitor at dirt tracks all over the country and I see firsthand the level of talent that's out there. And now you can see that same talent on your TV, tablet and phone. If you can't physically be in the grandstands at a race, FloRacing has you covered. I'm extremely excited about this partnership and appreciative of the commitment Mark Floreani and his team are making to motorsports."

To access live and on-demand racing action from the All Star Circuit of Champions, visit FloRacing.com and become an annual PRO subscriber. Race fans can see all the USAC and dirt late-model action they want in addition to Eldora Speedway's slate of races and those of the All Star Circuit of Champions. The subscription unlocks access to premium content across the entire FloSports network. Watch the events across all screens by downloading the FloSports app on iOS, Android, Apple TV, Roku, Amazon Fire and Chromecast.

Streaming more than 10,000 live competitions per year, FloSports continues to emerge as the global leader in live, in-depth, and on-demand digital coverage for passionate sports fans.

"We've found an incredible partner in Tony Stewart to help us bring dirt racing to a global audience," said Mark Floreani, CEO, FloSports. "He is both a visionary and an accomplished entrepreneur who shares our mission to grow grassroots motorsports. We are honored to work with him and his team as we continue to build a platform that will raise the profile of dirt-track racing among all race fans."

Stewart stays true to his dirt-track roots, scheduling nearly 100 sprint car races a year since retiring as a full-time NASCAR driver at the conclusion of the 2016 season. And for those who miss seeing him behind the wheel of a NASCAR stock car, they can follow him via FloRacing beginning with the All Star Circuit of Champions' season opener at Volusia Speedway Park in Barberville, Florida.

About FloSports:
Founded in 2006, FloSports is a venture-backed OTT subscription video streaming service dedicated to sports, offering live and on-demand access to tens of thousands of competitions across more than 20 sports in the U.S. and abroad. FloSports offers a growing library in excess of 2,000 hours of premium content and owns exclusive broadcast rights to over 4,000 premier events, with more than 1 million hours live-streamed since its inception. The company has 250 employees and is based in Austin, Texas. For more information, please visit: flosports.tv

About the All Star Circuit of Champions:
All Star Enterprises, LLC, wholly owned by Tony Stewart, d/b/a the All Star Circuit of Champions, is a winged sprint car series. The All Star Circuit of Champions Sprint Car Series is one of the oldest traveling 410 sprint car organizations and is a staple of grassroots, open-wheel racing. Formed in 1970 by Bud Miller, the series has largely been considered the first 'outlaw' Sprint Car organization of the modern era. Motorsports entrepreneur Tony Stewart agreed to terms with Guy Webb to become the sole owner of the original winged sprint car tour in January of 2015.
About Ollie's Bargain Outlet:
Ollie's Bargain Outlet, Inc., founded in 1982, is one of America's largest retailers of closeouts and excess inventory, offering real brands at real bargain prices. Famous for its signature catch-phrase Good Stuff Cheap, Ollie's has a huge variety of famous brand-name merchandise in every department – food, books, housewares, toys, electronics, domestics, clothing, furniture, health and beauty, flooring, seasonal items and so much more – at up to 70 percent off the fancy stores' prices. You never know what you'll find at one of Ollie's 345 "semi-lovely" stores in 25 states. For more information, visit www.ollies.us. Like us on Facebook or find us on Twitter at @OlliesOutlet. Ollie's is a publicly-traded company on NASDAQ under the ticker symbol OLLI.
About Mobil 1:
The world's leading synthetic motor oil brand, Mobil 1™ features anti-wear technology that provides performance beyond our conventional motor oils. This technology allows Mobil 1 to meet or exceed the toughest standards of car builders and to provide exceptional protection against engine wear, under normal or even some of the most extreme conditions. Mobil 1 flows quickly in extreme temperatures to protect critical engine parts and is designed to maximize engine performance and help extend engine life.
For more information, visit mobiloil.com, on Twitter @Mobil1 and, on Facebook, www.facebook.com/mobil1.
Mobil, Mobil 1 and Mobil 1 Racing are registered trademarks of Exxon Mobil Corporation or one of its subsidiaries.
###
Photo Credit: Wayne Riegle Photography
Contact: Tyler Altmeyer
Ollie's Bargain Outlet All Star Circuit of Champions presented by Mobil 1
(724) 954-4915, pr@tonystewart.com