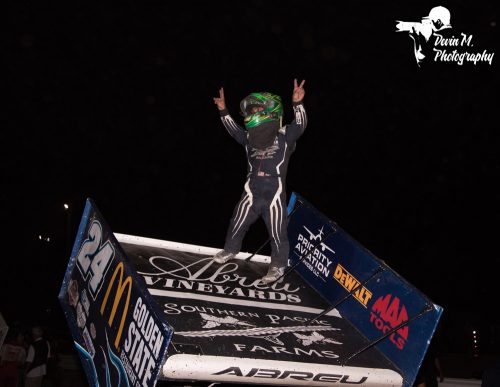 Sponsor Links

Dates: Saturday and Sunday, August 31st & September 1st
Event: Louie Vermeil Classic
Series: King of the West Sprint Cars Presented by NARC
Track: Calistoga Speedway (Calistoga, California)
Rico Abreu A-Main Finishes (Start):
Friday: 5th (7th)
Saturday: 1st (1st)
ST. HELENA, Calif. (September 3, 2019) – Just up the road from his St. Helena, California home, Rico Abreu and Rico Abreu/Curb Agajanian Racing spent their Labor Day weekend at the nearby Calistoga Speedway in Calistoga, California, once again joining the King of the West Sprint Cars presented by NARC.
A traditional showstopper in northern California, the two-day Louie Vermeil Classic headlined action at Calistoga Speedway bringing with it loads of success for Rico Abreu. When the weekend dust settled, Abreu found himself with a pair of top-five performances, once of which a victory – his fifth of the 2019 season.
Abreu, driver of the Rico Abreu Racing/Abreu Vineyards/Curb Records/Golden State Restaurant Group/Lucas Oil/Southern Pacific Farms/Priority Aviation/Dewalt/MAC Tools/Self Made Racing/Dancer Logistics/No. 24 sprint car, earned his victory on Sunday, September 1, from the front row, eventually leading all 25 circuits around Calistoga's half-mile dirt oval.
"That was cool. Such a special event to win," Rico Abreu expressed, who celebrated his victory by inviting all attending children at Calistoga Speedway to victory lane. "The feeling of winning is certainly something special. I'm privileged to be surrounded by so many great people who get to enjoy this feeling with me. My team did an amazing job, for sure. We have a lot on our plate this week and I'm excited to get started."
Before earning the Louie Vermeil Classic trophy on Sunday, Rico Abreu opened his weekend at Calistoga Speedway with a fifth place finish on Saturday, bumping ahead two spots after starting seventh on the feature grid.
Up next on the schedule, Rico Abreu and Rico Abreu/Curb Agajanian Racing will battle at the Silver Dollar Speedway in Chico, California, for four straight days, all of which kicking off with back-to-back nights of 360 sprint car action on Wednesday and Thursday, September 4 & 5. Abreu will cap his weekend at Silver Dollar with the two-day Gold Cup featuring the World of Outlaws Sprint Car Series. Rico Abreu is the defending Gold Cup champion.
SOCIAL MEDIA:
Fans are encouraged to follow Rico Abreu online, as well as on all of the available social media networks. Facebook at https://www.facebook.com/RicoAbreuRacing, Twitter at https://twitter.com/Rico_Abreu, or on Instagram at https://www.instagram.com/rico_abreu/
APPAREL:
Those seeking the lastest Rico Abreu Racing apparel should visit shop.ricoabreu.com. Abreu's traveling merchandise vehicle will be a select events in 2019. A complete list of at-track merchandise availability can be found on Rico Abreu's racing calendar via www.ricoabreu.com.
Rico Abreu Racing: http://www.ricoabreu.com/
2019 Rico Abreu Racing Statistics: (thru September 3, 2019)
Total Races: 56
Total Wins: 5
Total Top-5s: 22
Total Top-10s: 39
**Stats only reflect starts in RAR #24 Sprint Car
###CONTACT:
Photo Credit: Devin Mayo
Tyler Altmeyer
Rico Abreu/Curb Agajanian Racing
(724) 954-4915, altmeyer119@gmail.com