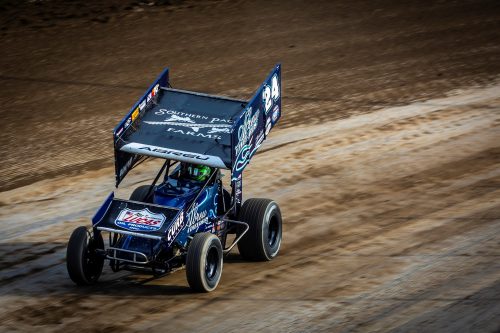 Sponsor Links

Dates: Wednesday through Saturday, August 7th-10th
Event: Knoxville Nationals
Series: World of Outlaws Sprint Car Series
Track: Knoxville Raceway (Knoxville, Iowa)
Rico Abreu A-Main Finishes (Start):
Preliminary Feature (August 8th): 5th (10th)
Finale Feature (August 10th): 22nd (20th)
ST. HELENA, Calif. (August 13, 2019) – Rico Abreu's goal of attaining an A-Main starting position during the 59th running of the Knoxville Nationals at Knoxville Raceway was accomplished during the recent weekend, ultimately ending the four-day spectacle with a 22nd place finish during the $150,000-to-win finale on Saturday, August 10.
There were over 100 cars entered for action for the four-day showstopper.
Abreu, driver of the Rico Abreu/Curb Agajanian Racing/Abreu Vineyards/Curb Records/Lucas Oil Products/Southern Pacific Farms/Priority Aviation/Dewalt Tools/MAC Tools/Self Made Racing/Dancer Logistics/No. 24 sprint car, earned his way into Saturday's big dance by finishing fourth during Saturday's B-Main; the very last opportunity for any competitor to qualify for the 50-lap finale.
Although forced to run Saturday's B-Main by virtue of overall preliminary points, Abreu's performance during his respective preliminary program on Thursday was impressive, eventually finishing fifth during the 25-lap main event after starting tenth on the grid. Unfortunately, it was Abreu's qualifying time, 22nd quick during preliminary competition, that probably kept the St. Helena, California-native from earning an automatic A-Main bid through preliminary action.
"It was a great week for our team. Of course, the overall goal is to win and be the best on any given night, but sometimes you have to step back and look at the bigger picture. We were fast all week and I'm proud of our results," Rico Abreu explained, a four-time winner in 2019. "Hopefully we can relocate some of this momentum to California. I'm excited to get back home for a few days."
Up next on the schedule, Rico Abreu and Rico Abreu/Curb Agajanian Racing will return to California headquarters and compete in a Civil War Series event at Ocean Speedway on Saturday, August 17. The Johnny Key Classic, a 360c.i. event Abreu has won twice over the course of his career, is on the Ocean Speedway agenda awarding a $5,000 payday.
As mentioned, Abreu is a two-time champion of the Johnny Key Classic, each awarding a $10,000 payday at the time of the victories. Impressive enough, Abreu's first title was acquired with a dramatic last lap pass, while Abreu's second Johnny Key Classic triumph was acquired from row nine.
SOCIAL MEDIA:
Fans are encouraged to follow Rico Abreu online, as well as on all of the available social media networks. Facebook at https://www.facebook.com/RicoAbreuRacing, Twitter at https://twitter.com/Rico_Abreu, or on Instagram at https://www.instagram.com/rico_abreu/
APPAREL:
Those seeking the lastest Rico Abreu Racing apparel should visit shop.ricoabreu.com. Abreu's traveling merchandise vehicle will be a select events in 2019. A complete list of at-track merchandise availability can be found on Rico Abreu's racing calendar via www.ricoabreu.com.
Rico Abreu Racing: http://www.ricoabreu.com/
2019 Rico Abreu Racing Statistics: (thru August 12, 2019)
Total Races: 49
Total Wins: 4
Total Top-5s: 18
Total Top-10s: 32
**Stats only reflect starts in RAR #24 Sprint Car
###CONTACT:
Photo Credit: Trent Gower
Tyler Altmeyer
Rico Abreu/Curb Agajanian Racing
(724) 954-4915, altmeyer119@gmail.com