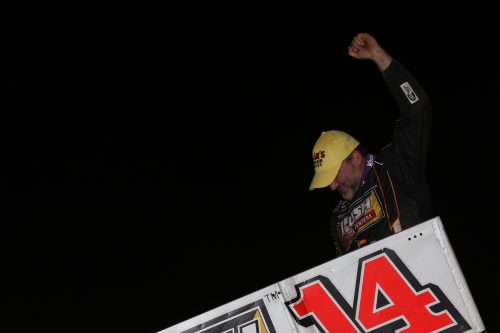 Sponsor Links

Dates: Monday and Tuesday, July 22nd & 23rd
Event: Northern Summer Nationals
Series: 360c.i. Sprint Cars
Track: Ohsweken Speedway (Ontario, Canada)
Tony Stewart A-Main Finishes (Start):
Monday: 4th (13th)
Tuesday: 23rd (8th)
Date: Friday, July 26th
Event: Tony Stewart Night at Jackson Motorplex
Series: All Star Circuit of Champions
Track: Jackson Motorplex (Jackson, Minn.)
Tony Stewart A-Main Finish (Start): 25th (21st)
Date: Saturday, July 27th
Event: Weiler Night
Series: All Star Circuit of Champions
Track: Knoxville Raceway (Knoxville, Iowa)
Tony Stewart B-Main Finish (Start): 7th (12th)
Date: Sunday, July 28th
Event: Rayce Rudeen Foundation Race
Series: All Star Circuit of Champions
Track: 34 Raceway (West Burlington, Iowa)
Tony Stewart A-Main Finish (Start): 1st (2nd)
BROWNSBURG, Ind. (July 30, 2019) – Despite an intense racing schedule that included five events across seven days, two of which located in southern Canada, 'Smoke' Tony Stewart persevered and padded his season statistics by not only earning a pair of top-ten finishes, one in the United States and one in Canada, but also a victory; a $26,000 triumph during the inaugural Rayce Rudeen Foundation event at 34 Raceway in West Burlington, Iowa, on Sunday, July 28.
The win, the largest of Stewart's open wheel career in terms of overall payday, occurred from the front row, taking command for the first time on lap 11 after race leader, Rico Abreu, slipped off the track, thus allowing Stewart to drive by. Later forced to fend off challenges by Abreu, Christopher Bell and Aaron Reutzel, Stewart held strong, crossing under the final checkers to secure his second All Star Circuit of Champions victory of the 2019 season and his first since early February.
"To earn the Rayce Rudeen Foundation Race victory at 34 Raceway is really special. Kevin Rudeen approached me with the idea for this event last winter, and of course I was excited to be a part of it. I just didn't think I would ever be in contention to win this deal. I'm pretty sure this is the biggest race I've ever won in a sprint car," Tony Stewart said, driver of the Tony Stewart/Curb-Agajanian Racing/Rush Truck Centers/Toco Warranty/Ford Performance/Curb Records/Sage Fruit/Absolute Automation & Security/No. 14 sprint car. "Hats off to my entire crew. The week they had was far from easy. They deserve all of the credit in the world."
Other positive results over Stewart's five-day stretch include a fourth place finish at Ohsweken Speedway in Canada on Monday, July 22; the result of an impressive charge from the inside of row seven during 360 Northern Summer Nationals competition.
Up next on the schedule, Tony Stewart will venture back to the Sprint Car Capital of the World that is Knoxville Raceway during the coming week, setting all aim on the three-day, Knoxville 360 Nationals blockbuster, which will kick off officially on Thursday, August 1. Hunting for redemption in 2019, Smoke missed Knoxville 360 Nationals A-Main action by two positions a year ago.
Smoke visited Knoxville Raceway most recently during All Star Circuit of Champions competition on Saturday, July 27. Unfortunately, the three-time NASCAR Cup Series champion and recent NASCAR Hall of Fame inductee was forced to retire after a seventh place finish in the evening's B-main.
In addition, Tony Stewart plans to enter both rounds of the Oskaloosa Challenges at Southern Iowa Speedway on Monday and Tuesday, August 5 & 6. Smoke will enter the Front Row Challenge on Monday, followed by the ASCS National Tour/Ultimate Challenge on Tuesday.
ADDITIONAL MEDIA:
Fans are encouraged to follow the progress of Tony Stewart, Tony Stewart/Curb-Agajanian Racing and the No. 14/Rush Truck Centers/Toco Warranty/Ford Performance/Curb Records/Sage Fruit/Absolute Automation & Security/J&J Auto Racing motorsports team on the Web and on social media. More information can be found at www.tonystewartracing.com, as well as at www.tonystewart.com.
Tony Stewart: Facebook at https://www.facebook.com/TonyStewart/ or on Twitter at https://twitter.com/TonyStewart.
Tony Stewart Racing: Facebook at www.facebook.com/TonyStewartRacing or on Twitter and Instagram at www.instagram.com/@TonyStewart_Rcg.
2019 Tony Stewart/Tony Stewart Racing Statistics: (thru July 30, 2019)
Total Races: 49
Total Wins: 8
Total Top-5s: 25
Total Top-10s: 30

###CONTACT:
Photo Credit: Brendon Bauman
Tyler Altmeyer
Tony Stewart Racing Enterprises
(724) 954-4915, pr@tonystewart.com