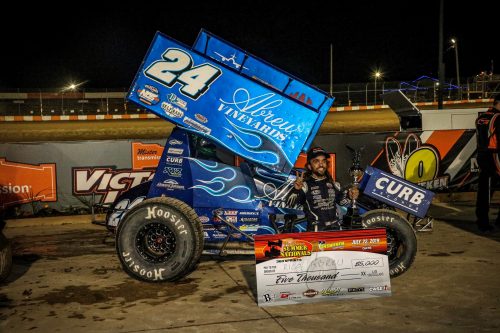 Sponsor Links

Dates: Monday and Tuesday, July 22nd & 23rd
Event: Northern Summer Nationals
Series: 360c.i. Sprint Cars
Track: Ohsweken Speedway (Ontario, Canada)
Rico Abreu A-Main Finishes (Start):
Monday: 1st (6th)
Tuesday: 14th (22nd)
Date: Friday, July 26th
Event: MOWA Sprints at Jacksonville
Series: Midwest Open Wheel Association (MOWA) Sprint Car Series
Track: Jacksonville Speedway (Jacksonville, Ill.)
Rico Abreu A-Main Finish (Start): 2nd (5th)
Date: Saturday, July 27th
Event: Weiler Night
Series: All Star Circuit of Champions
Track: Knoxville Raceway (Knoxville, Iowa)
Rico Abreu A-Main Finish (Start): 10th (17th)
Date: Sunday, July 28th
Event: Rayce Rudeen Foundation Race
Series: All Star Circuit of Champions
Track: 34 Raceway (West Burlington, Iowa)
Rico Abreu A-Main Finish (Start): 2nd (1st)
ST. HELENA, Calif. (July 30, 2019) – Kicking things off with a bang in Canada, and ending with a successful outcome during a visit to the Hawkeye State, St. Helena, California's Rico Abreu put together an impressive stretch of performances during the recent week, not only earning four top-ten finishes across five main event starts, but also earning a victory. Impressive enough, the five-race campaign was conducted over seven days.
Abreu, driver of the Rico Abreu/Curb Agajanian Racing/Abreu Vineyards/Curb Records/Lucas Oil Products/Southern Pacific Farms/Priority Aviation/Self Made Racing/Dancer Logistics/Dewalt/Mac Tools/No. 24 sprint car, kicked off his busy spell with a victory in Canada, earning the first night of Ohsweken Speedway's 360 Northern Summer Nationals on Monday, July 22. The win, Abreu's fourth of the season, was accomplished from the outside of row three, earning $5,000 in the process.
In addition to his victory at Ohsweken, Abreu earned three consecutive top-ten outcomes during starts at Jacksonville Speedway in Jacksonville, Illinois, on Friday, July 26, Knoxville Raceway in Knoxville, Iowa, on Saturday, July 27, and 34 Raceway in West Burlington, Iowa, on Sunday, July 28, finishing second, tenth and second, respectively. Friday's visit to Illinois was under the MOWA banner, while his Saturday and Sunday starts in Iowa were under All Star Circuit of Champions sanction.
Although his week ended with a runner-up performance during the inaugural Rayce Rudeen Foundation event at 34 Raceway, the outcome beared some disappointment, as Abreu led the first ten circuits before slipping off the edge of the track between turns one and two. The slip allowed Tony Stewart to drive by and ultimately earn the $26,000 victory.
"It was a great week for this team. I'm happy we were able to get it done at Ohsweken on Monday, but we wanted that Rayce Rudeen Foundation win bad. We were in position, I just over drove and made a mistake," Rico Abreu said. "I'm only human. When you are racing that hard, you are bound to make mistakes. That's why I love sprint car racing so much. It really brings out the best in you."
Rico Abreu will continue his 2019 campaign with the two-day Ironman at Federated Auto Parts Raceway at I-55 in Pevely, Missouri, on Friday and Saturday, August 2 & 3. Facing off against the World of Outlaws Sprint Car Series, the two-day Ironman will award a total winner's share equalling $28,000; $8,000 on Friday during preliminary action and $20,000 on Saturday during the finale.
Abreu is certainly no stranger to action at I-55, nor the coveted Ironman, winning back-to-back Ironman titles with his most recent occurring in 2018, also worth $20,000.
SOCIAL MEDIA:
Fans are encouraged to follow Rico Abreu online, as well as on all of the available social media networks. Facebook at https://www.facebook.com/RicoAbreuRacing, Twitter at https://twitter.com/Rico_Abreu, or on Instagram at https://www.instagram.com/rico_abreu/
APPAREL:
Those seeking the lastest Rico Abreu Racing apparel should visit shop.ricoabreu.com. Abreu's traveling merchandise vehicle will be a select events in 2019. A complete list of at-track merchandise availability can be found on Rico Abreu's racing calendar via www.ricoabreu.com.
Rico Abreu Racing: http://www.ricoabreu.com/
2019 Rico Abreu Racing Statistics: (thru July 30, 2019)
Total Races: 46
Total Wins: 4
Total Top-5s: 18
Total Top-10s: 30
**Stats only reflect starts in RAR #24 Sprint Car
###CONTACT:
Photo Credit: Foto Bomb Production
Tyler Altmeyer
Rico Abreu/Curb Agajanian Racing
(724) 954-4915, altmeyer119@gmail.com