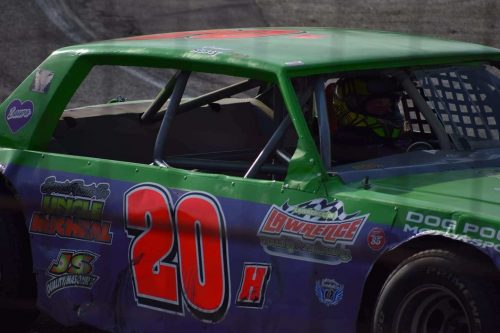 Sponsor Links

Hello Race Fan's i had the honor of interviewing Herbie Conrad from Indianapolis,Indiana. Herbie has been racing 22 year's starting in Street Stock Division at Indianapolis Speedrome. Herbie enjoys racing more in the Thunder Car Division at Speedrome than any other division they now have. Herbie has raced at Speedrome,Anderson,Mount Lawn and Kokomo Speedways.
Herbie Conrad has a bucket list of tracks he would like to run. The list of tracks are Shadybowl, Salem,Winchester,Grundy County,South Bend,New Paris,Baer Field and Angola Speedways.
Herbie Conrad is looking for sponsor's to add to the following list. Johnny Magee Racing Engine's, Circle City Pyrotechnics, Jimmys Diner,Smith's Auto Sales and Shirley Unlimited Removal.
Herbie Conrad wants to break the 14 second record at Speedrome on DOT Tires. Herbie is racing to win as much as possible and complete a newly built Thunder Car. Herbie sold his green #20 Thunder Car to fellow driver Andy Keller. Herbie is a third generation driver as his dad and grandfather both raced at one point in life.
Herbie Conrad's favorite driver's list includes Dale Earnhardt Jr, Richard Petty,Bruce Tunny,Wayne Arnold, Mike St.John, Bill Tunny ,Duane Lee,Jack Dossey Jr.,Chuck Barnes Sr.,Johnny Magee and Eric Evan's.
Herbie would like to gain enough sponsorship to run CRA Street Stocks in 2020. Herbie Conrad plans to convert a Thunder Car into a CRA Street Stock and run the CRA Street Stock Triple Crown event's and also run the CRA Triple Crown next year at Baer Field Speedway in Fort Wayne,Indiana.
Herbie Conrad is a dedicated racer and if he cannot race I always run into him at race tracks like Speedrome,Anderson  and Mount Lawn Speedway in New Castle,Indiana. Good luck with all your racing goals Herbie Conrad!