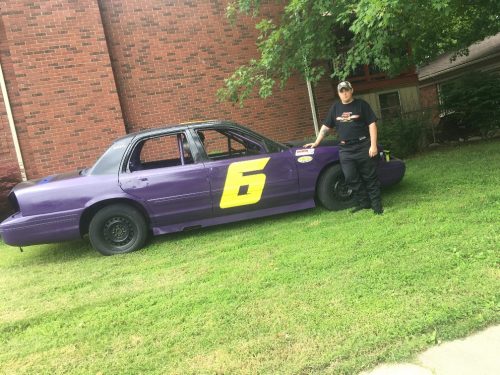 Sponsor Links

I Interviewed Justin Baker from New Albany,Indiana last night. He is a driver in the Ford Oval and Figure 8 division at Sportsdrome Speedway in Jeffersonville,Indiana. Justin is 29 year's of age and 2019 is his first season of racing.
On June 15th of this year Justin started 18th in a 19 car field and finished 11th out of 19 cars. Justin Baker grew up helping out on an Extreme Oval Division car which fueled his desire to race in the future.
Justin Baker is driving the #6 Ford Oval Division car sponsored by Myers Pro Graphics in Southern Indiana. Justin bought the car from Zach Holland in Jeffersonville, Indiana. Justin also helps fellow driver Michael Culberson on his Ford Oval Division Car at Sportsdrome Speedway.
Justin would like to get some wins and eventually a track championship before his ultimate goal moving into an Outlaw Figure 8 Late Model car some day. Justin has some bucket list to try which are Indianapolis Speedrome,Anderson Speedway,Salem Speedway,and a dirt track Thunder Valley Speedway in Salem,Indiana.
Nick Baker is Justin's nephew and crew chief on the car. Justin Baker would like to thank all the fans,sponsors and race team for fulfilling his racing dream!