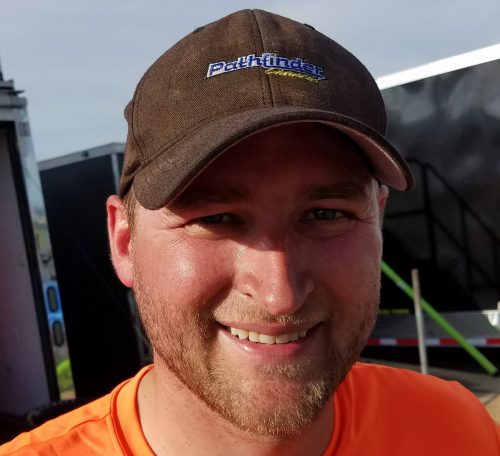 Sponsor Links

ATTENTION SPORTS/MOTORSPORTS
FOR IMMEDIATE RELEASE
(Norway, MI) – It's some "unfinished business" that's drawing Appleton, Wisconsin super late model hotshoe Andy Monday back to Norway (MI) Speedway's 36th annual Stateline Challenge presented by Island Resort & Casino & Aurora Liquors Friday July 5.
During last year's Stateline Challenge the 2017 WIR super late model champion had one of the fastest cars on the track. Monday had chased down eventual winner Johnny Sauter but got tangled with a lapped racer, thwarting his chances at victory. "We were fast right out of the box at Norway," Monday recalled. "Johnny stayed out high where they had put that traction grip compound on and forced us to pass him on the bottom. That's when we got tangled with the lapped car. We're determined to go back up there and win that race."
The field Monday has to battle will have a couple of new faces that hadn't been running Norway much in recent years. And they are a pair of former Stateline Challenge winners – Green Bay, Wisconsin's Mark Schroeder (1999 and 2001) and Appleton, Wisconsin's Mike Reichenberger (2007). "There is plenty of local talent up there who will be tough like (Dillion) Kralovetz, (Robby) Iverson and Mark (Schroeder) but you can't overlook guys like Dalton Zehr or Travis Sauter who'll bring their "A" games too," Monday said. "Also Chad Butz should be strong, too. Chad has been bad fast everywhere he has raced this year and we always have fun racing with him."
The 75 lap feature pays $1,700-to-win and also includes a ton of cash bonuses in the form of lap leader money as well. All laps pay a minimum of $30 to lead, with other laps paying $60 a lap and a handful are even paying $100 per lap. In total well over $3,000 in bonus cash is up for grabs in this event.
Monday's team of sponsors includes Siddons-Martin Emergency Group, Darboy Corner Store, A-1 Advantage, Cumings Electric and Inlanta Mortgage-The Yvette Clermont team. His crew members include Brad Lambie, Dennis Monday, Dylan Wenzel, Jeff Valenta, Craig Rothe, Mike Altmann and Todd Schuette. Racing gets underway
The pit gates open at 3 p.m. Qualifying begins at 5:45 p.m. Racing gets underway at 7 p.m.  A raindate of Saturday, July 6 is in place if needed.
Please check our website norwayspeedway.com and also our page on Facebook for further information or email ostermannjohn@hotmail.com.
Norway Speedway Stateline Challenge Winners…..
2018- Johnny Sauter, Necedah, WI
2017-Dalton Zehr, Menominee, Mi
2016- Kris Kelly, Norway, Mi
2015- Dalton Zehr, Menominee, Mi
2014- (Tundra Race)
2013- Dillon Kralovetz, Bonduel, WI
2012- Jamie Iverson, Escanaba, MI
2011- Jamie Iverson, Escanaba, MI
2010- No Race
2009- No Race
2008- No Race
2007- Mike Reichenberger, Appleton, WI
2006- Jamie Iverson, Escanaba, MI
2005- Jamie Iverson, Escanaba, MI
2004- Jamie Iverson, Escanaba, MI
2003- Terry Baldry, Omro, WI
2002- Dale Peterson, Escanaba, MI
2001- Mark Schroeder, Green Bay, WI
2000- Wayne Breitenfeldt, Wausau, WI
1999- Mark Schroeder, Green Bay, WI
1998- Dale Peterson, Bark River, MI
1997- Terry Baldry, Omro, WI
1996- Kevin Cywinski, Mosinee, WI
1995- Kevin Cywinski, Mosinee, WI
1994- Kevin Cywinski, Mosinee, WI
1993- Matt Kenseth, Cambridge, WI
1992- Bob Menor, Wausaukee, WI
1991- Bob Menor, Wausaukee, WI
1990- Terry Baldry, Omro, WI
1989- Allen Check, Stevens Point, WI
1988- Dick Trickle, Wisconsin Rapids, WI
1987- Scott Hansen, Green Bay, WI
1986- Scott Hansen, Green Bay, WI
1985- Mike Mattson, Marquette, MI
1984- Mike Kelly, Norway, MI
1983- Kent Pearson, Kingsford, MI
1982- Kent Pearson, Kingsford, MI
1981- Dick Trickle, Wisconsin Rapids, WI MON