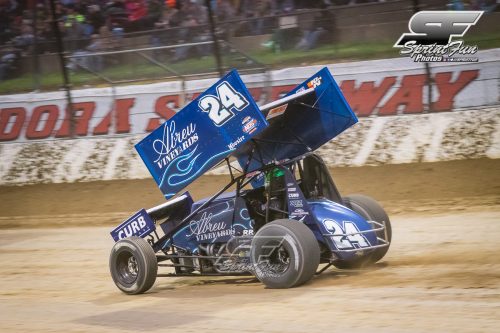 Sponsor Links

Dates: Friday and Saturday, May 10th & 11th
Event: #LetsRaceTwo Weekend
Series: World of Outlaws Sprint Car Series
Track: Eldora Speedway (Rossburg, Ohio)
Rico Abreu A-Main Finishes (Start):
Friday: 16th (22nd)
Saturday: Postponed/Weather
HELENA, Calif. (May 13, 2019) – Although forced to compete in the evening's Last Chance Showdown after not transferring through his respective heat race, Abreu's evening at the World's Greatest Dirt Track ended with promise, eventually qualifying for World of Outlaws Sprint Car Series main event competition with nearly 50 cars entered for action.
Abreu, driver of the Rico Abreu/Curb Agajanian Racing/Curb Records/Abreu Vineyards/Lucas Oil Products/Southern Pacific Farms/Priority Aviation/No. 24 sprint car, finished 16th during Eldora Speedway's #LetsRaceTwo program on Friday, May 10, climbing ahead from the outside of row 11 after finishing fourth during the evening's Last Chance Showdown.
"When you are up against that level of talent, you have to capitalize and get through your heat race. Unfortunately for us, we had to do things the hard way on Friday after not getting through our heat. But, we made the best of it and climbed as high as we could. That's all we can ask for," Rico Abreu explained. "I'm proud of my team. They never give up. Their hard work will pay off soon and I'm excited for that to happen."
With a stretch of action in the Midwest complete, Rico Abreu and Rico Abreu Racing will now turn their attention back to the Golden State and return to California for a full slate of Peter Murphy Classic competition at Thunderbowl Raceway on May 17 & 18.
In actuality, Abreu will enter three programs during his Thunderbowl Raceway visit. The St. Helena, California-native will enter the Sprint Car Challenge Tour (SCCT) portion of the weekend on both days, as well as the King of the West (KWS) portion on Saturday; SCCT being a 360c.i. series and KWS being a 410c.i. series. Abreu is a former winner the Tulare venue, most notably beating the World of Outlaws in 2015.
SOCIAL MEDIA:
Fans are encouraged to follow Rico Abreu online, as well as on all of the available social media networks. Facebook at https://www.facebook.com/RicoAbreuRacing, Twitter at https://twitter.com/Rico_Abreu, or on Instagram at https://www.instagram.com/rico_abreu/
Rico Abreu Racing: http://www.ricoabreu.com/
2019 Rico Abreu Racing Statistics: (thru May 13, 2019)
Total Races: 18
Total Wins: 0
Total Top-5s: 6
Total Top-10s: 10
**Stats only reflect starts in RAR #24 Sprint Car
###
CONTACT:
Photo Credit: Dan/SprintFun
Tyler Altmeyer
Rico Abreu/Curb Agajanian Racing
(724) 954-4915, altmeyer119@gmail.com