Sponsor Links

COLE DUNCAN FENDS OFF TONY STEWART FOR 1ST CAREER SHARON WIN AGAINST THE 43-CAR FAST "410" SPRINT FIELD; ANOTHER BIG PENN-OHIO STOCK WIN FOR SCHNEIDER; 5TH STRAIGHT FOR WOLBERT IN RUSH MODS; ECONO MOD SPECIAL TO MILLER
by Mike Leone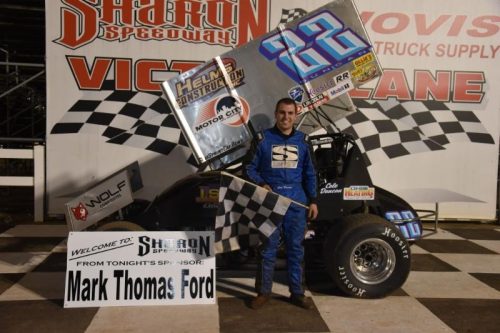 Hartford, OH May 11, 2019 After two rain outs to start the year, Sharon Speedway was finally able to kick off the 90th anniversary season of racing on Saturday night completing the entire program just before the rain set in. Celebrating in the Hovis Auto & Truck Supply victory lane on Mark Thomas Ford Night part of the Menards "Super Series" were Cole Duncan-FAST Series for the Hovis Auto & Truck Supply "410" Sprint Cars, Chris Schneider-Penn-Ohio Championship Series for the Gibson Insurance Agency Stock Cars, Chas Wolbert-RUSH Touring Series for the HTMA/Precise Racing Products Sportsman Modifieds, and Kyle Miller-Summit Racing Equipment Econo Mods. Aside from the Sprints, the remainder of the program was the rained out night two of the "Apple Festival Nationals" from back on September 8, 2018.
It certainly hasn't been the start to the 2019 season that Ohio standout Cole Duncan had envisioned, but on Saturday night Duncan stamped out a statement "410" Sprint Car win over a stout field of 43 cars. Duncan went from fourth to first on the opening lap then held off Tony Stewart's furious charge through lapped traffic for his first career Sharon win. Duncan earned $3,000 for the FAST-sanctioned victory that came in the non-stop 25-lap feature timed in 7:45.679.
"What an awesome race track- good job to Sharon and the FAST guys," expressed the 27-year-old Lockbourne, Ohio driver. "That was a lot of fun. I've always wanted to win here. I think I ran second here years ago when I first started. This is pretty freaking cool. I love winning anywhere obviously, but it's cool to win in Ohio. This year has been such a struggle for us. We had a horrible start out of the gate, but mostly self-inflicted. We tore up some cars. This feels so good to be back in victory lane early in the year. That was a hell of a field of cars. You don't know who's behind you because you don't have mirrors in these things. I thought I was struggling in traffic and couldn't make the right moves. I took the lead around the top, and I decided I wasn't going to lose it by getting passed up there so I stuck it back on the fence and here we are."
Broc Martin and Brandon Spithaler led the 24 feature transfer cars to green, but it was Duncan shooting from outside row two into the lead on the racey surface. Meanwhile, Stewart, who earned his first career "410" win back in 2009 at Sharon, started sixth and moved into fourth after one lap ahead of Joey Saldana. Duncan quickly stretched his lead to a straightaway advantage, while Stewart and Saldana passed Spithaler for third and fourth on laps two and three respectively.
Duncan caught lapped traffic on lap six and was in heavy traffic on lap seven as his lead quickly shrunk as Martin and Stewart closed in. Stewart drove under Martin for second on lap eight then ran down Duncan on lap 11, while Saldana duplicated Stewart's move on Martin for third. By lap 14, Saldana joined caught the front duo making it a three-car race for the lead.
On lap 22, Stewart went to the bottom in turns and two as he fought his way through traffic and pulled even with Duncan, but Duncan had the momentum off the topside of turn two to maintain the lead. Stewart remained within striking distance over the final laps, but just couldn't get close enough to throw a slide job on Duncan. Duncan would take the checkered flag first by a margin of 0.379 of a second over Stewart in his Helms Construction/Industrial Special Power Coatings/Ohio Heating/Motor City Auto Transport/CnB Chubby/Factory Kahne/Wolf Composites/Gressman Powersports-sponsored #22. Cole now joins his father Rodney Duncan as Sprint Car winners at Sharon.
Saldana, who is competing for the $10,000 FAST title in Jamie Miller's #6, was third. Six-time All Star Champion, Chad Kemenah who won a non-sanctioned show at Sharon in 2018, drove John Garvin's #K4 from 14th to fourth. T.J. Michael came on late to finish fifth after starting 10th. Spithaler and Martin dropped to sixth and seventh at the finish. Dan Shetler was eighth. Sixteenth starting Lee Jacobs raced to a ninth place finish over Carl Bowser.
Dan Kuriger set fast time overall in qualifying with a lap of 14.815. Picking up $40 heat race wins were Shetler, Dan McCarron, Bowser, Saldana, and Spithaler. Kody Swanson and Darin Gallagher copped the last chance B main wins.
Over the years, Chris Schneider has had a knack for winning big Stock Car races at Sharon Speedway despite never being a full-time competitor at the track. On Saturday night, Schneider passed race-long leader Rob Shook on lap 10 and drove a perfect race through lapped traffic for the $2,000 payday. Schneider's win came in the non-stop 25-lap September 8 make-up feature for the Penn-Ohio Series, which now gives him 10 career victories at the track.
"Lapped traffic can be hairy," acknowledged the 40-year-old Lower Burrell, Pa. driver. "You just have to be patient, not take anyone out, and not get passed- what else can you do? We've built a total of 52 cars so far and there's a good many in the field tonight. It was a tight field with a lot of good drivers and competition- I love this class. The car felt pretty good; she went wherever I wanted to put it. We just pieced this motor together the very last minute to make it here. I have to thank Bob Walters for slamming this motor together. There's a 25-year-old camshaft in this that we got out of a white bucket in the back corner."
Shook used the outside to move past Joey Zambotti III on the start, while Zambotti settled into second over Schneider on the opening lap. Schneider then raced past Zambotti for second on lap two. Schneider closed in on Shook in the race for the lead on lap seven. Schneider caught Shook on lap nine and the two raced side-by-side for the lead for two laps before Schneider went around Shook to lead lap 10.
Schneider would deal with lapped traffic the entire second half of the race, and wouldn't make any mistakes as he crossed the checkered flag first by a comfortable 4.134-second margin in his Nick's Chevrolet/It's All Clean Pressure Washing/SS Chassis & Supply/Hot Dog Guys-sponsored #55 in a race that went non-stop in 8:49.177. Fifth starting Andrew Gordon passed Rusty Martz for third on lap 18 then got by Shook for second, but was unable to make any kind of challenge on Schneider.
After leading the first nine circuits, Shook dropped to third over Martz and Jason Fosnaught. Completing the top 10 were Mike T. Miller, Chris McGuire, Jackson Humanic, Bobby Whitling, and Zambotti. Humanic tagged the second B main, which he raced to the front to win then charged from 17th to eighth in the feature. Gordon, Randy Wyant, Shook, Miller, and Schneider won the heat races originally run back on September 7. Besides Humanic, Curt J. Bish also won a last chance B main on Saturday night. A total of 53 different Stock Cars competed.
Chas Wolbert started the 2019 season right where he left off in 2018- in victory lane. After ending the season winning the final four HTMA/Precise Racing Products RUSH Sportsman Modified features at Sharon, Wolbert extended his win streak to five by capturing the 25-lap Hovis Auto & Truck Supply Touring Series September 8 make-up event on Saturday night. Despite starting eighth, Wolbert made the winning pass of Garrett Krummert on lap 15 to nail down the $800 victory.
"This is crazy and awesome," expressed the 24-year-old Warren, Ohio resident. "It's 2019, but the same car from last year and only looks a little different. I was happy I got to second when I did. I utilized the top on the initial start and then the middle, but Krummert is such a good driver with all of his background and experience. He's just an all-around awesome guy. I was a little worried for a bit, but you just have to get comfortable and whatever happens, happens. I have to thank God first because without him I wouldn't be here. I have to thank RUSH- Mike (Leone), Vicki (Emig), and yourself (Brian Spaid) along with Sharon Speedway and all of the track officials, plus all of my sponsors."
Krummert raced out to an early big advantage over Gary Haupt, while Wolbert advanced five spots on the opening lap to third. Wolbert caught Haupt on lap three and drove under the former Late Model racer for second on lap four. Rob Kristyak started sixth and was on the move taking fourth from Josh Deems on lap six then ran down Haupt on lap 11. The two were racing side-by-side for third on lap 13 when the event's only stoppage occurred when Jordan Ehrenberg got upside down in turn two after catching an infield tire. He was okay.
When racing resumed on lap 14, Kristyak made the pass of Haupt for third; meanwhile, Wolbert and Krummert were battling side-by-side for the lead with Wolbert on the bottom and Krummert on the top. Wolbert slipped by Krummert on the 15th circuit for the winning move. Kristyak then went to work on Krummert for two laps before making the pass for runner-up on lap 17.
Kristyak though would be unable to mount a challenge over the final eight laps as Wolbert marched on in his Alcon Mechanical/Dunkin Donuts of Warren, OH/C.T. Wolbert Trucking/Walters Building Co./Ohio Intra Express/Russ King Racing-sponsored #10s by a winning margin of 3.392 seconds. The victory was Wolbert's fifth career in Touring Series competition and 10th overall in his career at Sharon.
After finishing a season best third in the 2018 finale at Sharon, Kristyak did one spot better to open the 2019 season matching his best finish throughout the circuit since joining the class. After leading the first 14 laps, Krummert dropped to third at the finish. Kole Holden came on late to finish fourth as Haupt slipped to fifth. Completing the top 10 were Josh Deems, Jeremy Weaver, Blaze Myers, Jacob Jordan from 18th, and David Kalb, Jr. Krummert, Kalb, and Deems won the heat races back on September 8, while Pat Adams and Brandon Ritchey won the last chance B mains on Saturday night. A total of 36 different RUSH Sportsman Modifieds competed.
Kyle Miller started off his 2019 season in fine fashion last Sunday night winning the season opener at Eriez Speedway. On Saturday night, Miller duplicated his feat in the Sharon opener by leading all 20 laps of the Summit Racing Equipment Econo Mod September 8, 2019 make-up feature. Miller earned $750 for his biggest career win.
"This feels good to get another win here- it's been a year and a half so it's pretty exciting," stated the 24-year-old East Hickory, Pa. driver. "The track changed quite a bit and it's pretty slick now. I just had to keep it smooth and straight. I have to thank everyone that helps out, my whole family, all of the sponsors on the car, and the fans for coming out."
After a five-car accident on the opening lap, third starting Miller charged to the lead over 2016 and 2017 track champion, Steve Haefke, and Eric Wilson. While Miller pulled away, Wilson caught Haefke on lap seven and two laps later drove around him for second. After 16 consecutive green flag laps, Mark Titus spun to bring out the caution. When racing resumed, Ty Rhoades passed Haefke for third before a seven-car pile-up stopped action for the final time.
Miller fended off Wilson on the double-file restart and the two-lap shootout to the finish taking the checkered flag first by 0.597 of second in his A. Crivelli/Denochick Logging/Whitehill's Garage/Hickory Nut Inn/Wedge Motorsports/Tom's Auto Repair/955 Automotive/Friedhabers-sponsored #15 for just his second career Sharon win. Rhoades, Haefke, and Josh Mueller were third through fifth at the finish. Jacob Eucker, Wilson, and Miller won the heat races run back on September 7. Andy Buckley and Brian Huchko won Saturday's last chance B mains. A total of 38 different Econo Mods competed.
FAST Series for the Hovis Auto & Truck Supply "410" Sprint Cars (25 laps, $3,000 to-win): 1. COLE DUNCAN (22) 2. Tony Stewart (14) 3. Joe Saldana (Miller 6) 4. Chad Kemenah (Garvin K4) 5. T.J. Michael (8M) 6. Brandon Spithaler (22) 7. Broc Martin (83M) 8. Dan Shetler (Pryde 29) 9. Lee Jacobs (Lewis 81) 10. Carl Bowser (11) 11. Dan McCarron (22M) 12. Caleb Griffith (Ward 33) 13. Dan Kuriger (08) 14. Tyler Gunn (68G) 15. Max Stambaugh (Kiser 23) 16. George Hobaugh (40) 17. Kody Swanson (Wolters 12) 18. Gary Kriess, Jr. (Frederick 55) 19. Justin Peck (5x) 20. Sye Lynch (42) 21. Michael Bauer (46) 22. Jordan Harble (5) 23. Darin Gallagher (12G) 24. Jack Sodeman, Jr. (23Jr). DNQ: Ayrton Olsen (71), Brandon Matus (13), Frankie Nervo (21N), Andy Priest (McCandless 7N), Chad Wilson (14W), John Garvin, Jr. (J4), Cody Bova (20B), Steve Irwin (Stambaugh 5M), Mark Rossey (66), Adam Cruea (83), Davey Jones (76), Jeremy Kornbau (Dellinger 27K), Brett Brunkenhoefer (47), Russ Sansosti (23s), Darren Pifer (23), Jimmy Morris III (Stafford 4N), Leyton Wagner (38), Brent Matus (33), Gale Ruth (1R).
Penn-Ohio Championship Series for the Gibson Insurance Agency Stock Cars (25 laps, $2,000 to-win): 1. CHRIS SCHNEIDER (55) 2. Andrew Gordon (25) 3. Rob Shook (Kiehl 64) 4. Rusty Martz (16M) 5. Jason Fosnaught (Tristani 73) 6. Mike T. Miller (T6) 7. Chris McGuire (63) 8. Jackson Humanic (17) 9. Bobby Whitling (7W) 10. Joey Zambotti III (948) 11. Rod Laskey (1R) 12. Shaun Hooks (65) 13. Curt J. Bish (Tarr 29) 14. Jamie Duncan (67J) 15. Tyler Thompson (T2) 16. Leigh Wheeler (717) 17. Tim Bish (11B) 18. Jim Fosnaught (20J) 19. Mike Miller (81) 20. Chris Withers (21W) 21. Terry Wheeler (2W) 22. Brian Carothers (02c) 23. Steve D'Apolito (84) 24. Jason Jones (81) 25. Paul Davis (3) 26. Randy Wyant (11T)-DNS 27. Jeff Broniszewski (08)-DNS 28. Noah Brunnel (31)-DNS 29. Tim Deutsch (20)-DNS 30. Hunter Exley (23H)-DNS. DNQ: Gerry Bruce (Humanic (z17), David Snyder (14D), Brett McDonald (25), Darr Diegelman (15*), Pat Fielding (23), Jamie Scharba (11S), Mike Clark (7), Bobby Heim (92), Jacob Billyk (4), Garrett Calvert (77), Nick Kocuba (10), Larry Kugel (Petsko (00), Steve Burns, Jr. (70B), Bobby Robinson (34R), Andy Buckley (965), Gil Demello (22), Jamie Maxwell (6), Tony Bruno (97), Curt Bish (00), Rusty Wheeler (44), Alan Dellinger (Bish 1B), Jason Longwell (7s), Bryan Wagner (56).
RUSH Touring Series for the HTMA/Precise Racing Products Sportsman Modifieds (25 laps, $800 to-win): 1. CHAS WOLBERT (c3) 2. Rob Kristyak (00) 3. Garrett Krummert (10S) 4. Kole Holden (2) 5. Gary Haupt (16) 6. Josh Deems (9D) 7. Jeremy Weaver (35W) 8. Blaze Myers (43JR) 9. Jacob Jordan (28J) 10. David Kalb, Jr. (11J) 11. Jessica Kriegisch (63) 12. Brandon Ritchey (17) 13. Joe Lockhart (Degroat 03) 14. Jacob Wolfe (7) 15. Greg Porter (25) 16. Chelsie Kriegisch (10) 17. Pat Adams (39) 18. Preston Cope (24P) 19. Amelia Clay (4S) 20. Calvin Clay (12C) 21. Tony Tatgenhorst (63T) 22. Jordan Ehrenberg (JD57) 23. Cameron Nastasi (615) 24. Brandon Albert (30)-DNS 25. Will Thomas III (9)-DNS 26. Shayne Izzo (86)-DNS 27. Rocky Kugel (83)-DNS 28. Kyle Martell (8)-DNS. DNQ: Clayton Deems (55D), John McMillen (6), Jim Rasey (32), Alan Dellinger (Williams 8), Max Smoker (Kristyak 404), Kyler Jolley (Myers 43X), Brian Foley, Jr. (Smith 3G), Steve Slater (29).
Summit Racing Equipment Econo Mods (20 laps, $750 to-win): 1. KYLE MILLER (15) 2. Eric Wilson (27B) 3. Ty Rhoades (12R) 4. Steve Haefke (41) 5. Josh Mueller (01) 6. Buzz Seitz (1) 7. Andy Buckley (Leamer 965) 8. Dustin Demattia (77D) 9. Nate Young (42) 10. Mike Boyd (1B) 11. Mitchell Lam (12) 12. Gary Robinson (44R) 13. Brent Coleman (01) 14. Keith Felicetty (98) 15. Butch Lambert (Hendrickson 19) 16. Jacob Eucker (64) 17. Wayne Tessean (Williams 7) 18. Brian Huchko (60) 19. Mike Harmon (09SR) 20. Jeff Bametzrieder (74) 21. Shawn Shingledecker (54s) 22. Dwayne Clay (007) 23. Jarrett Young (21) 24. Mark Titus (25) 25. Brandon Blackshear (10)-DNS 26. Brian Huffman (07x)-DNS 27. Matt Alexander (77) 28. Bud Watson (25)-DNS 29. Jim Clay (84)-DNS 30. Brian Toto (8B)-DNS. DNQ: Tyler Davis (14D), Ed Roberts (6s), Ray Gregory (82R), Chris Beall, Jr. (96), Brandon Fiedler (18), Pat Drennan (22), Gary Olson (23), Justin Lapcevich (777).
Coming up next Saturday night (May 18) will see the "410" Sprint Cars return in a non-sanctioned event for $3,000 to-win part of the Menards "Super Series" along with the first night of points for the Stock Cars, RUSH Sportsman Modifieds, and Econo Mods on Nese's Country Cafe Night. The Junior Sprints for kids will also be on the program. The RUSH Sportsman Modifieds will also run their first "Wheelman" Non-Winners race presented by C&R Tire and Ohio Intra Express. It'll be Scout & Youth Sports Night. Pits open at 4 p.m. with grandstands at 5, and heat racing at 7. Grandstand admission is $13 for those 14 and over. Pit passes are $30.
Sharon Speedway is owned by the Blaney, Weller, and Kirila Families and is a 3/8-mile dirt track located on Custer-Orangeville Road in Hartford, Ohio near the intersection of Routes 7 & 305. For more information, check out the website at www.sharonspeedway.com or call 330-772-5481. Become a fan of Sharon Speedway on Facebook at www.facebook.com/sharonspeedway and follow us on Twitter at www.twitter.com/sharonspdwy