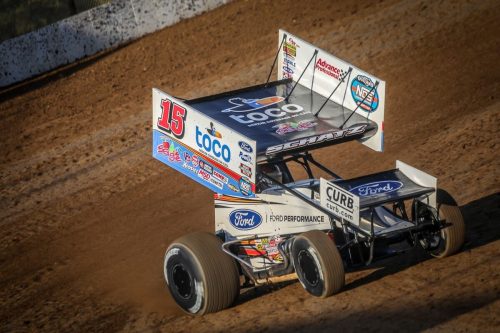 Sponsor Links

Date: Friday, April 26
Event: Battle at the Lake
Series: World of Outlaws Sprint Car Series
Track: Lake Ozark Speedway (Lake of the Ozarks, Mo.)
Donny Schatz A-Main Finish (Start): 3rd (7th)
Date: Saturday, April 27
Event: Spring Classic
Series: World of Outlaws Sprint Car Series
Track: Federated Auto Parts Raceway at I-55 (Pevely, Mo.)
Donny Schatz A-Main Finish (Start): Canceled/Rain
Date: Sunday, April 28
Event: Outlaws at Jacksonville
Series: World of Outlaws Sprint Car Series
Track: Jacksonville Speedway (Jacksonville, Ill.)
Donny Schatz A-Main Finish (Start): Postponed after Dash/Rain
2019 World of Outlaws Championship Standings: 2nd – 1826 points (eight points behind Brad Sweet)
BROWNSBURG, Ind. (April 29, 2019) – Although much of the weekend schedule was washed away due to Mother Nature, losing action at Federated Auto Parts Raceway at I-55 completely on Saturday before late evening showers erased all hope for main event action at Jacksonville (Ill.) Speedway on Sunday, it was still an exciting weekend for Fargo, North Dakota's Donny Schatz, as the ten-time and defending World of Outlaws Sprint Car Series champion earned a podium finish for Tony Stewart Racing's newest partner, Toco Warranty.
Schatz' podium run occurred at Lake Ozark (Mo.) Speedway on Friday evening, April 26; the result of a charge from the inside of row four to finish third. Despite finishing two spots short of the ultimate goal, the driver of the Tony Stewart/Curb-Agajanian Racing/Toco Warranty/Ford Performance/Curb Records/Sage Fruit/Absolute Automation & Security/No. 15 sprint car certainly made things interesting, nearly pulling even with David Gravel for second as the lead trio raced toward the final checkers.
Schatz was scheduled to start sixth at Jacksonville Speedway before wet weather invaded.
"The weather certainly got in our way this weekend, but I'm proud of what we were able to accomplish on Friday at Lake Ozark Speedway, especially with Toco Warranty on the wing panel. We are very excited to have them join our team for the remainder of the 2019 season," Donny Schatz explained, who is currently second in the World of Outlaws championship standings.
Not only will Toco Warranty support Donny Schatz' World of Outlaws championship-seeking efforts in 2019 by taking on the role as co-primary sponsor, but the Southern California-based company will also take on the role of associate sponsor for Tony Stewart's individual sprint car efforts, as well as be a four-race primary sponsor for Stewart-Haas Racing's No. 14 NASCAR Cup Series entry driven by Clint Bowyer.
"The challenge has been made between Bowyer and I. I hope we can both get Toco to victory lane multiple times this year, selfishly, I just hope I get there before Clint. We'll get two chances this coming weekend before Clint races on Sunday."
Donny Schatz will continue his 2019 World of Outlaws Sprint Car Series campaign with a pair of stops in Arkansas and Indiana during the upcoming weekend, first visiting Riverside International Speedway in West Memphis, Ark., on Friday, May 3. Action will resume on Saturday evening, May 4, with a visit to the Tri-State Speedway in Haubstadt, Indiana.
ADDITIONAL MEDIA:
Fans are encouraged to follow the progress of Donny Schatz, Tony Stewart/Curb-Agajanian Racing and the No. 15 Toco Warranty/Ford Performance/Curb Records/Sage Fruit/Absolute Automation & Security/J&J Auto Racing motorsports team on the Web and on social media. More information can be found at www.tonystewartracing.com, as well as at www.donnyschatzmotorsports.com.
Tony Stewart Racing: Facebook at www.facebook.com/TonyStewartRacing or on Twitter and Instagram @TonyStewart_Rcg.
Donny Schatz: Facebook at www.facebook.com/DonnySchatz or on Twitter and Instagram @DonnySchatz.
Watch Donny Schatz and Tony Stewart Racing live during each and every World of Outlaws Sprint Car Series event of 2019 at www.dirtvision.com.
2019 Donny Schatz / Tony Stewart Racing Statistics: (thru April 29, 2019)
World of Outlaws Races: 13
World of Outlaws Wins: 1
World of Outlaws Top-5s: 9
World of Outlaws Top-10s: 13
###
CONTACT:
Photo: DB3IMAGING
Tyler Altmeyer
Tony Stewart Racing Enterprises
(724) 954-4915, pr@tonystewart.com