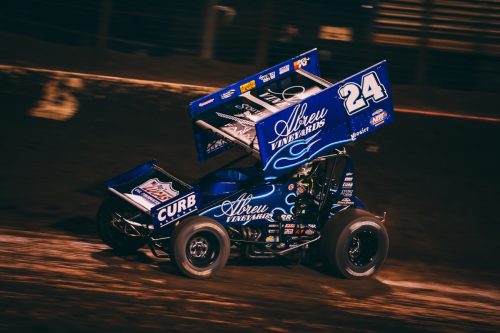 Sponsor Links

Date: Friday, April 26
Event: Battle at the Lake
Series: World of Outlaws Sprint Car Series
Track: Lake Ozark Speedway (Lake of the Ozarks, Mo.)
Rico Abreu A-Main Finish (Start): DNQ
Date: Saturday, April 27
Event: Spring Classic
Series: World of Outlaws Sprint Car Series
Track: Federated Auto Parts Raceway at I-55 (Pevely, Mo.)
Rico Abreu A-Main Finish (Start): Canceled/Rain
Date: Sunday, April 28
Event: Outlaws at Jacksonville
Series: World of Outlaws Sprint Car Series
Track: Jacksonville Speedway (Jacksonville, Ill.)
Rico Abreu A-Main Finish (Start): Canceled after Dash/Rain
HELENA, Calif. (April 29, 2019) – It was not the weekend Abreu wanted, but he is happy to be back in the Midwest.
Rico Abreu, driver of the Rico Abreu/Curb Agajanian Racing/Abreu Vineyards/Curb Records/Lucas Oil Products/Southern Pacific Farms/Priority Aviation/No. 24 sprint car, made the long haul from the West Coast to the Midwest during the recent week and joined the World of Outlaws Sprint Car Series for a trio of events on Friday through Sunday, April 26-28.
Despite much of the weekend resulting in a wash with action at Federated Auto Parts Raceway at I-55 getting canceled on Saturday before wet weather took out Last Chance Showdown and feature action at Jacksonville Speedway on Sunday, Abreu did have the opportunity to compete with the Greatest Show On Dirt on Friday at Lake Ozark (Mo.) Speedway. Although Abreu did not qualify for main event competition, the St. Helena, Calif., native is pleased to be back in the Midwest.
"That wasn't how we wanted to start our Midwest tour, but we have a lot of racing left. I'm just really happy to be here racing with some of the best in the country," Rico Abreu explained, who owns nine top-ten finishes in 16 feature starts this season. "We have a lot of races circled on our calendar, but we are going to take things week by week."
Rico Abreu and Rico Abreu/Curb Agajanian Racing will continue their 2019 schedule with a full slate of competition scheduled for Friday and Saturday, May 3 & 4. Exact destinations have yet to be confirmed, but more information will be posted in the near future.
SOCIAL MEDIA:
Fans are encouraged to follow Rico Abreu online, as well as on all of the available social media networks. Facebook at https://www.facebook.com/RicoAbreuRacing, Twitter at https://twitter.com/Rico_Abreu, or on Instagram at https://www.instagram.com/rico_abreu/
Rico Abreu Racing: http://www.ricoabreu.com/
2019 Rico Abreu Racing Statistics: (thru April 29, 2019)
Total Races: 16
Total Wins: 0
Total Top-5s: 5
Total Top-10s: 9
**Stats only reflect starts in RAR #24 Sprint Car
###
CONTACT:
Photo Credit: DB3IMAGING
Tyler Altmeyer
Rico Abreu/Curb Agajanian Racing
(724) 954-4915, altmeyer119@gmail.com