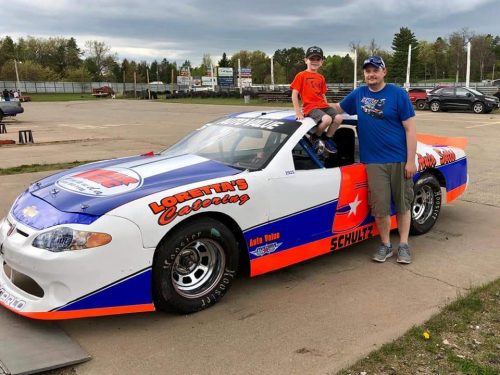 Sponsor Links

PHOTO CREDIT – Tim Schultz Jr. Racing
CUTLINE – Vulcan's Tim Schultz Jr. will take on a mix of tough veterans and some promising rookie candidates in Norway Speedway's Auto Value Super Stock division in 2019. The season opens Friday May 24 at 6:45 p.m.
ATTENTION SPORTS/MOTORSPORTS
FOR IMMEDIATE RELEASE
SCHULTZ JR. EYES THREE-PEAT IN NORWAY
AUTO VALUE SUPER STOCKS IN 2019
(handful of new faces will spice up division in '19)
(Norway, MI) April 25 – Vulcan's Tim Schultz Jr. is looking to score a hat trick in terms of Auto Value Super Stock track titles in 2019.
The third-generation racer has captured the division crown the past two seasons. A few new faces in the division plus a handful of tough, familiar foes are guaranteed to make the championship chase a tough one for Schultz who chalked up four feature wins and seven fast time awards a year ago.
Among the chief competitors returning are a bevy of feature winners from the previous year – Andy Gerwig of Norway (3 main event wins), teen sensation Parker Cain of Big Bay (two feature wins) and former champion Ryan Wender of Upper Pine Creek (2 feature wins). Wender's effort will be part time in 2019.
Other top regular competitors who are expected back on a full-time basis include Marinette, Wisconsin's Kevin Peterson, Pembine, Wisconsin's Anthony Schiefelbein, Vulcan's John Mattia Jr. and John and Savanna Novara of Kingsford.
Among the rookie candidates will be 2018 stock four champion Adam Faull of Vulcan, Athelstane, Wisconsin's Kelly LaCount and the Vulcan brother act of Jake and Jesse Dulford. Ishpeming's Gary Stanaway will also return to the super stock ranks full time in 2019.
Part-timers fans can expect to see on occasion will include Peshtigo native John Komp and Norway veteran and diehard Ford campaigner Al Bilski. From the Fox Valley Norway fans can expect occasional visits from Tony, Peter and Jeff Wilz of Menasha, Alex Seidl of Appleton and Trev, Derek and Ed Howard from Kaukauna.
A total of 17 events are scheduled with things getting started Saturday, May 18 with the annual Island Resort Car Show in Harris from 10 a.m. to 1 p.m. CST followed by a practice session at the track from 2 p.m. to 6 p.m.
Weekly Friday night racing kicks off May 24 with the grandstand opening at 5 p.m. Time trials begin at 5:45 p.m. with the first green flag of the '19 season flying at 7 p.m.
The Dickinson County Racing Association (DCRA) would like to thank the many sponsors who've been a part of the weekly Friday night program. They include Island Resort & Casino, Hoosier Tires, Five Star Bodies, The Thirsty Whale Bar & Grill, The Knight Owl Bar & Grill, Pembine Sport & Lawn, Okler Roofing, Stateline Chevrolet Buick GMC, Wendricks Truss, Bink's Coca Cola, 141 Auto Sales & Service, Auto Value Parts Stores, Sayklly's Candies, Iron Range Farm Bureau, Lena Sod Farms, The Big 10 Sports Bar, Pomps Tire Service, Valley Med Flight, Aurora Liquors, Neville Guitars, Kubick Aviation, Redline Sport & Marine, River Valley State Bank, Nine Lakes Sport & Marine, U.P. State Credit Union, Bimbo's, U.P. Cycle & Sport, Proformance Pros, Northern Interstate Bank, Annie's Trading Post, Long Branch Saloon, Annie's T & T Steakhouse and the Dickinson County Fair Association.
Please continue to check Norwayspeedway.com for updates as well as the track's page on Facebook.