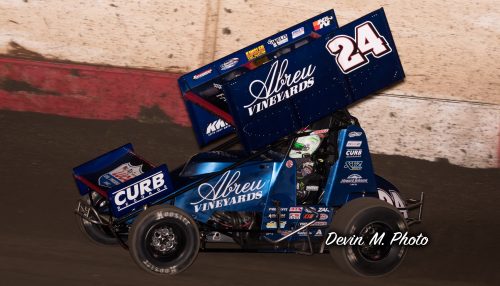 Date: Friday, April 19th
Event: Championship Points Race #4
Series: Weekly 360c.i. sprint cars
Track: Silver Dollar Speedway (Chico, Calif.)
Rico Abreu A-Main Finish (Start): 9th (3rd)
Sponsor Links

ST. HELENA, Calif. (April 22, 2019) – Rico Abreu/Curb Agajanian Racing continued their 2019 campaign with a round of 360c.i. sprint car competition at Silver Dollar Speedway on Friday, April 19. Although the trip to Chico resulted in a finish below personal expectations, the end-result was still a top-ten performance; finishing ninth, officially, after starting on the inside of row two.
The top-ten result bumped Rico Abreu's top-ten total to nine thus far in 2019, still in the hunt for his first trip to victory lane.
On a positive note, Rico Abreu and Rico Abreu Racing did their best to bring some light to those affected by the devastating California Camp Fire. The team donated meat to those displaced by the fires still living at Silver Dollar Fairgrounds.
"The wild fires in northern California affected so many people. We wanted to help in one way or another, so we decided to donate meat to the families still living at Silver Dollar Fairgrounds," Rico Abreu explained, driver of the Rico Abreu/Curb Agajanian Racing/Abreu Vineyards/Curb Records/Lucas Oil Products/Southern Pacific Farms/Priority Aviation/No. 24 sprint car. "It was a rewarding experience."
Like prior seasons, Rico Abreu/Curb Agajanian Racing will now switch focus from the West Coast to the Midwest, setting aim on an array of events while competing with a multitude of sprint car series.
An exact schedule has yet to be determined, but more news and information pertaining to an updated schedule will be released at a later date. Fans are encouraged to stay alert via social media for further updates.
SOCIAL MEDIA:
Fans are encouraged to follow Rico Abreu online, as well as on all of the available social media networks. Facebook at https://www.facebook.com/RicoAbreuRacing, Twitter at https://twitter.com/Rico_Abreu, or on Instagram at https://www.instagram.com/rico_abreu/
Rico Abreu Racing: http://www.ricoabreu.com/
2019 Rico Abreu Racing Statistics: (thru April 22, 2019)
Total Races: 15
Total Wins: 0
Total Top-5s: 5
Total Top-10s: 9
**Stats only reflect starts in RAR #24 Sprint Car
###
CONTACT:
Photo Credit: Devin Mayo
Tyler Altmeyer
Rico Abreu/Curb Agajanian Racing
(724) 954-4915, altmeyer119@gmail.com