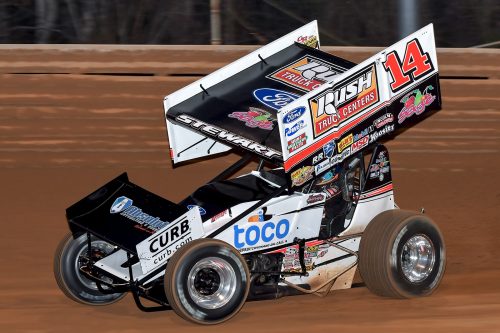 Sponsor Links

Date: Thursday, April 11th
Event: Thursday Night Thunder
Series: Ollie's Bargain Outlet All Star Circuit of Champions presented by Mobil 1
Track: Virginia Motor Speedway (Jamaica, Va.)
Tony Stewart A-Main Finish (Start): 6th (6th)
BROWNSBURG, Ind. (April 15, 2019) – Despite Mother Nature wreaking havoc on much of Tony Stewart's weekend in the Mid-Atlantic, the three-time NASCAR Cup Series champion did have the opportunity to compete with the Ollie's Bargain Outlet All Star Circuit of Champions presented by Mobil 1 on one occasion, visiting the state-of-the-art Virginia Motor Speedway in Jamaica, Va., on Thursday, April 11.
The $10,000-to-win, Thursday Night Thunder program resulted in a top-ten finish for the driver of the Tony Stewart/Curb-Agajanian Racing/Toco/Rush Truck Centers/Ford Performance/Curb Records/Sage Fruit/Absolute Automation & Security/No. 14 sprint car, ultimately maintaining a top-ten position to finish sixth after starting in the exact same spot.
Smoke finished sixth in the Thursday Night Thunder dash to earn his third row starting position, solidifying his way in the dash lineup by finishing second during his respective heat race.
Despite finishing where he started, Stewart pressured the front-runners for much of the 30-lap program, eventually forced to settle for sixth after losing a pair of spots to Cale Conley and Aaron Reutzel during the closing circuits. In fact, Stewart was racing for positions well inside the top-five during the $10,000-to-win main event, but a near-spin during a battle with Brock Zearfoss at the midpoint of the 30-lapper erased some much needed momentum.
"That was a lot of fun. We had a close call during our race with Brock [Zearfoss], but we were able to stick with it and battle for a top-five," Tony Stewart explained, a two-time sprint car winner thus far in 2019. "That caution with two laps to go kinda hurt those racing hard in traffic. It was going to get interesting at the end. Hopefully we have the opportunity to return to Virginia Motor Speedway in the future."
'Smoke' Tony Stewart will return to competition this Friday and Saturday, April 19 & 20, with the two-day Core & Main Spring Nationals at Attica Raceway Park, sanctioned by the All Star Circuit of Champions. Smoke will enter the highly-competitive program with one All Star victory to his credit this season, that occurring at Bubba Raceway Park in Ocala, Fla., on Saturday, February 2.
ADDITIONAL MEDIA:
Fans are encouraged to follow the progress of Tony Stewart, Tony Stewart/Curb-Agajanian Racing and the No. 14 Toco/Rush Truck Centers/Ford Performance/Curb Records/Sage Fruit/Absolute Automation & Security/J&J Auto Racing motorsports team on the Web and on social media. More information can be found at www.tonystewartracing.com, as well as at www.tonystewart.com.
Tony Stewart: Facebook at https://www.facebook.com/TonyStewart/ or on Twitter at https://twitter.com/TonyStewart.
Tony Stewart Racing: Facebook at www.facebook.com/TonyStewartRacing or on Twitter and Instagram at www.instagram.com/@TonyStewart_Rcg.
2019 Tony Stewart/Tony Stewart Racing Statistics: (thru April 15, 2019)
Total Races: 17
Total Wins: 2
Total Top-5s: 12
Total Top-10s: 14
###
CONTACT:
Photo Credit: Jason Brown Motorsports
Tyler Altmeyer
Tony Stewart Racing Enterprises
(724) 954-4915, pr@tonystewart.com