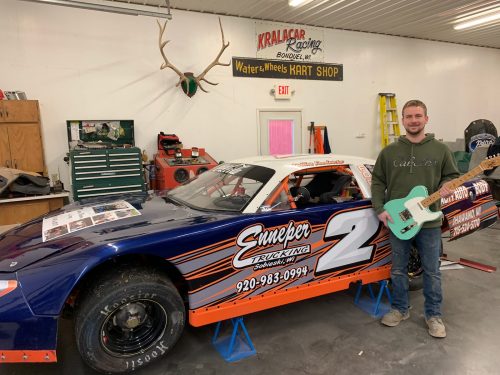 Sponsor Links

PHOTO CREDIT – KRALOVETZ RACING
CUTLINE – Bonduel, Wisconsin's Dillion Kralovetz poses with the guitar he won for his 2018 Norway Speedway track championships.
The instrument was sponsored by Neville Guitars of Hermansville, Michigan.
ATTENTION SPORTS/MOTORSPORTS
FOR IMMEDIATE RELEASE
NORWAY SPEEDWAY CHAMP KRALOVETZ MAY NEED GUITAR LESSONS
(Bonduel, Wisconsin hotshoe to gun for a record fifth straight late model crown in '19)
(Norway, MI) March 28 – If Bonduel, Wisconsin's Dillion Kravlovetz continues his winning ways on Friday nights at Norway Speedway, he may soon need to take guitar lessons.
That's because the second-generation racer hauled home a custom guitar courtesy of Neville Guitars in Hermansville for winning his fourth straight late model title in 2018.  The unique award is proudly displayed at the team's race shop.
The Neville's first began building guitar bodies and sold over 500 of them to 17 different countries worldwide and nearly every state throughout the United States.
"We did guitars for Brad Paisley, Gary Hooker, who plays in Brad Paisley's band, Dave Haywood of Lady Antebellum and the Band Perry," said Jeff Neville, owner of Neville Guitars.
The Bonduel driver won four straight late model titles at the Upper Michigan track – something that's never been done in the history of racing at the track's third-mile, paved oval.
"We plan on going for a fifth straight title," Kralovetz announced. "It's not going to be easy at all as there are a ton of drivers who've picked up their game. Of the guys who usually run weekly Robby (Iverson), Tom Lindquist, Dan Lindsley, Scott Stanchina and Jason Wells will be very tough to beat among the weekly drivers up there. Every single week will be a challenge."
Last year's titles came down to the final weekend of racing as Kralovetz had the third-generation racer Iverson breathing down his neck all season long. Kralovetz will defend his title with his 2015 Lefthander chassis.
For 2019 one late model rules change includes drivers being able to purchase two new tires per night for regular, weekly "non-special" races. This season the Dickinson County Racing Association (DCRA) is allowing scanned, used tires from Wisconsin International Raceway in Kaukauna in an effort to lure outside drivers. "I'm all for that," Kralovetz explained. "What we had last year didn't really work perfectly because of the rainouts. We had a couple of instances where we had big races on our really used up tires. Then a couple times someone showed up with newer tires it seemed like us weekly guys were always behind the eight ball so to speak. I think overall the weekly teams will be a little more even this way."
There are bevy of factors that keep Kralovetz and his team making the three-hour round-trip tow on U.S. 41 north during heavy "up north" traffic every Friday afternoon.  "Truth is I really love that track and the people up there I get along with almost all of them," Kralovetz said.
A total of 17 events are scheduled with things getting started Saturday, May 18 with the annual Island Resort Car Show in Harris from 10 a.m. to 1 p.m. CST followed by a practice session at the track from 2 p.m. to 6 p.m.
Weekly Friday night racing kicks off May 24 with the grandstand opening at 5 p.m. Time trials begin at 5:45 p.m. with the first green flag of the '19 season flying at 7 p.m.
The Dickinson County Racing Association (DCRA) would like to thank the many sponsors who've been a part of the weekly Friday night program. They include Island Resort & Casino, Hoosier Tires, Five Star Bodies, The Thirsty Whale Bar & Grill, The Knight Owl Bar & Grill, Pembine Sport & Lawn, Grow Maxx, Baker Sign Company, Okler Roofing, Stateline Chevrolet Buick GMC, Wendricks Truss, Bink's Coca Cola, 141 Auto Sales & Service, Auto Value Parts Stores, Sayklly's Candies, Iron Range Farm Bureau, Lena Sod Farms, The Big 10 Sports Bar, Pomps Tire Service, Valley Med Flight, Aurora Liquors, Neville Guitars, Kubick Aviation and the Dickinson County Fairboard.
Please continue to check Norwayspeedway.com for updates as well as the track's page on Facebook. Neville Guitars is located at W5584 US Highway 2 in Hermansville, Michigan. The phone number is (906) 498 2484.