Sponsor Links

For more information:
Linda Mansfield, Restart Communications
E-mail: LKMRestart@gmail.com
Cell: (317) 201-0729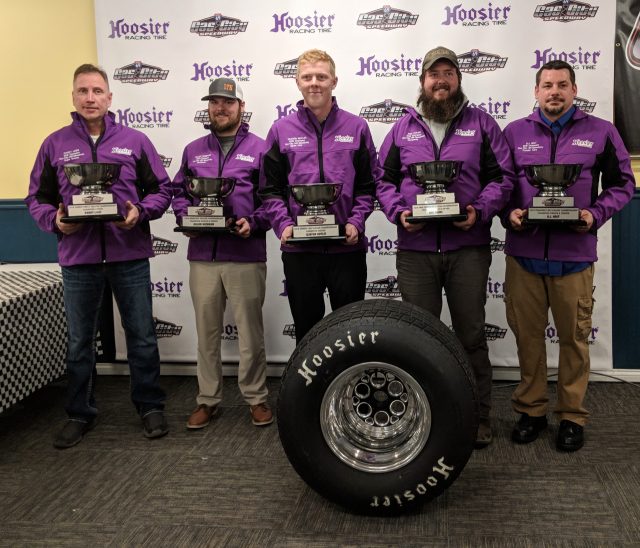 Photo caption: The 2018 champions at Gas City I-69 Speedway were honored Saturday night. Left to right are champions Randy Lines (super streets), Dillon Nusbaum (UMP modifieds), Clinton Boyles (non-wing sprint cars), Eric Solms (FWD compacts) and D.J. Holt (thunder cars).
Gas City I-69 Speedway
Salutes Its Top Racers
MARION, Ind., Jan. 14 —Over 200 people braved a snowstorm Saturday night to gather at Eventfully Yours Event Center here to celebrate Gas City I-69 Speedway's 2018 season. The top-10 finishers in each of five weekly divisions, the Rookies of the Year, and special award winners were honored during an evening that featured recurring comments thanking promoter Jerry Gappens for bringing new vitality and regular weekly shows to the quarter-mile dirt oval. The track was only holding occasional events in the past several years before Gappens became the track's promoter last year.
Approximately $3,500 worth of trophies and $8,500 in point-fund money was distributed to the track's 262 weekly racers, who also shared nearly $250,000 in purse money throughout the season.
Taking home the biggest awards were the five driver champions: Clinton Boyles of Lees Summit, Mo. (non-wing sprint cars); Dillon Nusbaum of Warsaw, Ind. (UMP modifieds); Randy Lines of Marion (super streets); D.J. Holt of Marion (thunder cars) and Eric Solms of Fairmont, Ind. (front-wheel-drive compacts.)
The champion team owners were Paul Hazen of Columbia City, Ind. (sprint cars), Nusbaum (UMP modifieds), Sam Thompson (super streets), Holt (thunder cars) and Solms (FWD compacts).
Luke Harbison of Fishers, Ind. and Bryar Schroeter of Kokomo, Ind. were the co-Rookies of the Year in the sprint car division. 
The Krider family of Garrett, Ind. has two Rookie of the Year in its household, as Lance won the UMP modified Rookie of the Year award and his son, 13-year-old Bryce Krider, was the top rookie in the thunder car division. 
Jarrett Rennaker of Huntington, Ind. was the super street Rookie of the Year.
James Headley Jr. of Wabash, Ind., son of super street and thunder car driver James Headley, was the Rookie of the Year in the FWD compact division.
The keynote speaker was Tom Bigelow, a member of both the National Midget Auto Racing Hall of Fame and the National Sprint Car Hall of Fame, and a nine-time starter in the Indianapolis 500.
He told the drivers to set big goals as well as smaller, more attainable goals to help them reach the big goal. He disclosed that he flipped in the first midget race he entered, but he won his first sprint car race.
"Learn how to drive that car, and don't let it drive you," he said. He also emphasized that drivers should take care of their sponsors and fans.
"Don't just pack up and leave at the end of the night," said Bigelow, who noted that he made it a practice to shake each fan's hand after he signed an autograph.
And even in this day of engineers, he said learning how to set up a race car is still something each driver needs to do. "You need to know what's going on," he noted.
"The people in this room are the grassroots of racing, and the way you treat other people you meet in the sport is very important," he emphasized.
Gappens said he is close to finalizing the track's 2019 schedule, and the final version will include 20-22 events. He also recognized Susannah Stapp of Hoosier Tire Midwest, and thanked Hoosier, Marion Tire, Miller's American Auto Body, Indiana Oxygen, Brandt's Harley-Davidson, John and Sheril Long and Thompson Trucking for their support.
Several special awards were presented, as follows:
* Media Award: Chuck Landis of "The Chronicle-Tribune," Marion, Ind.;
* Photographers of the Year Awards: Bill Miller and Randy Crist;
* Super Fan Award: Dale "The Candy Man" Korporal;
* Vendor of the Year: Scott Benic, Benic Enterprises;
* Track Prep Appreciation Award: Jason Martin;
* Social Media/Marketing Appreciation Award: Jacob Quick;
* Walt Disney Award (for taking pride in the track's appearance): Aaron Bishop;
* "Agony of Defeat" Award (for surviving the most dramatic flip of 2018): Tom Davies;
* Fan Club of the Year Award: No. 00 Headley Fan Club, and
* Special Promotion of the Year Award: Holt, Ervin Turner of Marion and Ron Flaugh of Converse, Ind. for raising $5,000 to stage the "Thunder Car Rumble."
More information is available on the track's website at gascityI69speedway.com and by following it on Facebook (@GasCitySpeedwayOnTheGas), Twitter (@GasCitySpeedway) and Instagram (@GasCitySpeedway).
-30-


—
Owner, Restart Communications, RestartCommunications.com