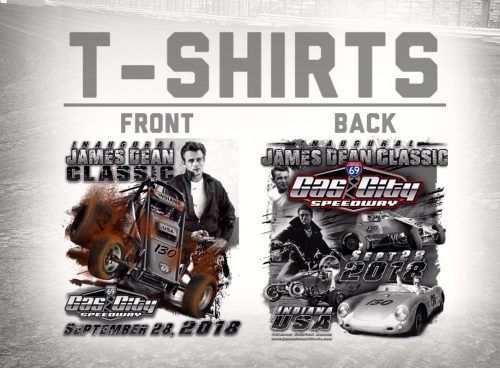 Sponsor Links

Popular 'James Dean Classic' T-shirt
And Sweatshirt Are Now Available Through
New Gas City I-69 Speedway Online Store
GAS CITY, Ind., Oct. 19 — The inaugural "James Dean Classic" commemorative T-shirt, one of the most popular short-track event T-shirts to ever be produced, is now available through Gas City I-69 Speedway's new online store at https://www.gascityi69speedway.com/shop/.
A newly added crew sweatshirt for the same event can also be purchased through the same online store.
Produced to celebrate the iconic actor's love of speed and passion for motorsports and to serve as the official event T-shirt for the USAC AMSOIL National Sprint Car Series event at Gas City on Sept. 28, the entire T-shirt inventory sold out at the speedway's trackside gift shop in 65 minutes on the night of the event.
"There has been an overwhelming demand for these shirts," said Jerry Gappens, promoter of Gas City I-69 Speedway. "We have had requests from around the country plus London so far. We created a new online store through our Web site, and will produce additional inventory to help satisfy the demand."
Designed and produced by Charlotte-based SMI Properties—the producers of all event souvenirs for Speedway Motorsports, Inc. and its eight NASCAR-sanctioned motorsports facilities — the T-shirt showcases a photo of Dean next to the event and speedway logos and a non-wing sprint car with Dean's racing number, 130. In addition to a sprint car, the back of the shirt features candid, family-provided photos of Dean, including one where he is seated on one of his early motorcycles and one of him driving his Porsche 550 Spyder. Dean was killed in the car, nicknamed "The Little Bastard," in a highway accident enroute to a sports car race in Salinas, Calif. on Sept. 30, 1955.
Dean was born in nearby Marion and raised in Fairmount, approximately 15 miles from Gas City I-69 Speedway.
Online orders will be taken until Monday, Nov. 5. All orders will ship on Nov. 19 in time for holiday delivery. The heather-gray shirt comes in short- ($20) and long-sleeve ($25) versions, from small to 4XL. The new crew sweatshirt ($30) is available in the same sizes. Add $2 for sizes 2XL to 4XL. Shipping and handling is $7 per order.
Part of the proceeds will be donated to the Fairmount Historical Museum to preserve the history and artifacts of Dean's life.
For more details on Gas City I-69 Speedway, please see the track's Web site at GasCityI69Speedway.com. Fans can also follow it on Facebook (@GasCitySpeedwayOnTheGas), Twitter (@GasCitySpeedway) and Instagram (@GasCitySpeedway).