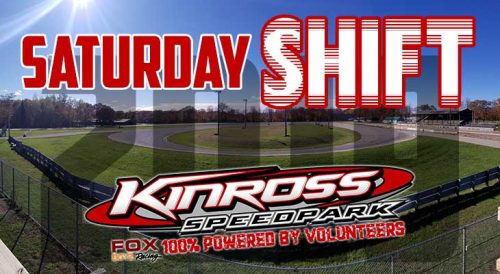 Sponsor Links

As the longest-serving promoters of the Kinross Speedpark, Fox Boyz Racing has shown it's commitment to the longevity and success of the 1/4 mile asphalt facility.
And as the local group heads into the 2019 stock car racing season with it's dedicated group of volunteers, racers, fans and sponsors they are excited about a shift in the action.
After operating the past five seasons (2014 to 2018) as a primarily Sunday venue, Kinross Speedpark will venture into new territory in 2019.
Starting with their Season Opener on June 1st – the track will operate 7 of it's 8 events this coming summer on Saturday – with Sunday's utilized as raindates.
Time trials will be set for 4 PM with racing action to follow at 6 PM.
"Saturday Night is the most prominent day for auto racing across North America" began track Volunteer Director of Race Day Operations & Public Relations Gerry Liscumb Jr.
"When we ventured into this five years ago we wanted to be that track that didn't compete with other venues, and we felt that Sunday provided a viable option for racers and fans to get another day of racing in each weekend.  And while we are happy with the results, we aren't complacent.  With that in mind we felt a change was necessary and in the best interest of our facility" he added on behalf of Fox Boyz Racing.
Some of the benefits deemed by the track in this decision is the ability to hold Saturday racing while utilizing Sunday afternoon as their raindate.  This scenario provides all involved in the track a back-up should mother nature not co-operate while giving them the best opportunity to complete their events each weekend uniterrupted.
Officials are also excited at the new marketing opportunities it will provide the EUP and Twin Sault Area's.  By shifting to Saturday racing the track can now be promoted as an entertainment option to those enjoying the area's sightseeing, camping and hospitality on the weekends.
Further, the track and Kinross Charter Township can better promote the existing infrastructure and on-site camping available to all visitors.
And while they are confident with their decision, Fox Boyz Racing also was conscience of any obstacles it could pose.
"We were conscious of the fact some of our closest facilities also race on that day of the week.  So when we sat down we put together a schedule that limited conflict but continues our tradition of holding bi-weekly stock car racing events at Kinross" Liscumb added.
The 2019 Schedule of Events will see three (3) races in June, two (2) races in July, two (2) races in August to be followed by the Memorial Invitational in September.
COMPLETE 2019 SCHEDULE
Saturday, June 1st – 2019 Season Opener | 2nd Annual John Lowery II Tribute
Time trials at 4 PM | Racing at 6 PM
Saturday, June 15 – TBA
Time trials at 4 PM | Racing at 6 PM
Saturday, June 29 – 2nd Annual Baby Shoe – Hot Shoe 100 Qualifier
Time trials at 4 PM | Racing at 6 PM
Saturday, July 13 – TBA
Time trials at 4 PM | Racing at 6 PM
Saturday, July 27 – 3rd Annual Halloween at the 1/4 Mile
Time trials at 4 PM | Racing at 6 PM
Saturday, August 3 – TBA
Time trials at 4 PM | Racing at 6 PM
Saturday, August 10 – TBA
Time trials at 4 PM | Racing at 6 PM
Friday, August 30 – 2019 Season Championship | Chippewa County Fair Event
Time trials at 6 PM | Racing at 7:30 PM
Friday, September 6 to Sunday, September 8 – Memorial Invitational in Memory of Randy Dewitt
Friday, September 6 – Four Cylinder Friday plus Mini-Wedges
Saturday, September 7 – Modifieds and ABC Stock Cars
Sunday, September 8 – Raindate
For more information on the Kinross Speedpark visit us online at www.racekinross.com while as always, updates can also be found on the track's social media network on Facebook at www.facebook.com/kinrossspeedpark
Thank-you,

Gerry Liscumb Jr.
Volunteer – Director of Race Day Operations | PR | Co-Announcer
Kinross Speedpark (Kinross, MI)
Cell:  906-203-1621