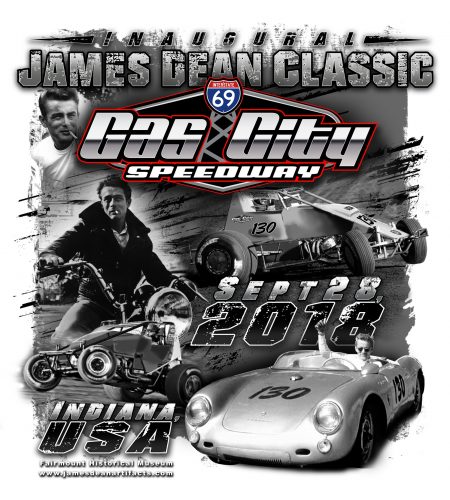 Sponsor Links

By Jerry Gappens
Promoter, Gas City I-69 Speedway
GAS CITY, Ind., Sept. 25 — Growing up in the small town of Fairmount, Ind., just a few miles from what was to become Gas City I-69 Speedway, the late actor James Dean had a fascination for things that went fast.
Whether it was pedaling his tricycle or his first bicycle as hard as they would go, Dean liked speed. In fact, for his 13th birthday, his uncle, Marcus Winslow, purchased a Whizzer bike motor kit to increase the performance of his two-wheel transportation from pedal power to motor driven. After some "white-knuckle rides" on the bike, Winslow decided his nephew needed the improved handling capabilities of a real motorcycle, and bought him a CZ 125. The "need for speed" was in his veins.
"Speed was his thing. He loved speed," Mildred Carter told author Lee Raskin in his book, "James Dean: At Speed." Carter's family owned a motorcycle shop down the road from where Dean grew up, and where he was a frequent visitor.
Dean's love of speed would eventually develop into a passion for motorsports.
"I don't think he would have ever given up acting as a career, but Jimmy loved racing," Dean's cousin, Marcus Winslow Jr., said earlier this week from Winslow's Fairmount family farm, where Dean lived for several years as a teenager. "He was very competitive by nature, and he loved the sensation of speed."
The iconic actor had talent for motorsports as well, winning a novice race in Palm Springs, Calif. driving his No. 23F 1954 Porsche Speedster. He had only owned the car for two weeks and surprised everyone in the paddock with his impressive performance. The next day he moved up to a main event for production cars with engines under 1,500cc displacement and finished second, beating several veterans.
Not to be compared to the late, great Dale Earnhardt, but Dean shared something in common. He liked the No. 3.
"Jimmy liked numbers with 3 in them," said Winslow. "He wore No. 3 on his basketball uniform in high school and it carried on with his race car numbers. A lot of times the No. 3 was assigned to other drivers, so when he could Jimmy would pick out a number that included a 3. Sometimes it was No. 23 or 33."
In September 1955 Dean had just traded his Porsche Speedster (and $3,800 cash) for a new Porsche Spyder 550. He decided to enter a sports car race meet in Salinas, Calif., the following weekend. In preparation for the race, Dean had customizer Dean Jeffries personalize the Spyder with a special name — "Little Bastard." According to Raskin, it was either the name that was given to Dean by Hollywood's Jack Warner or it was a personal joke shared with friend Bill Hickman. Dean also asked Jeffries to paint a temporary No. 130 on the front hood, rear deck lid and both doors in a flat black, washable paint, using a distinctive font that was similar to brushstroke and fitting the shape of the Spyder.
"He wanted another number, but it wasn't available," recalled Winslow. "So he went with No. 130 for that race."
Dean decided to drive his No. 130 to Salinas for the race meet instead of trailering it. He wanted more seat time and to try out the high-performance machine on the open road.
On Sept. 30 (there's that No. 3), 1955, Dean lost his life in a tragic accident at the junction of California Highways 466 and 41. At the age of 24, the charismatic actor and amateur race car driver was gone.
Gas City I-69 Speedway will commemorate Dean's motorsports passion Friday night with the inaugural "James Dean Classic" featuring the USAC AMSOIL National Sprint Car Series and four other divisions of race cars. The event is part of the annual James Dean Festival weekend that celebrates the Indiana actor's life.
Speedway officials are utilizing a 1950s theme for the evening, offering prizes for the best 1950s attire and $50 and the right to present the trophy in victory lane to the best James Dean "lookalike" in attendance.
Tickets for the "James Dean Classic" are available at the speedway ticket office and at the gate. Spectator gates open at 4:30 p.m. and racing begins at 7:30 p.m. Adult general admission is $25. Children 12 and under are admitted free. The speedway also offers free parking and camping for fans.
For details, please see the track's Web site at GasCityI69Speedway.com. Fans can also follow it on Facebook (@GasCitySpeedwayOnTheGas), Twitter (@GasCitySpeedway) and Instagram (@GasCitySpeedway).