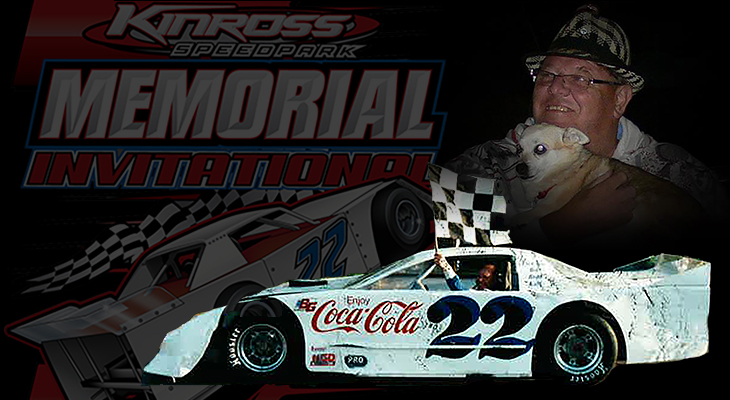 Sponsor Links

KINROSS, MI-
For the past thirteen years it has been the PREMIERE year-end show in the Upper Peninsula and Twin Sault Area's – and Fox Boyz Racing is set to embark on another fun-filled, action packed weekend of local stock car racing.
The Memorial Invitational in memory of Randy Dewitt and Ted Brooks will drop the curtain on the Kinross Speedpark's 2018 season this coming Friday Night and Saturday afternoon with driver's expected from across the Midwest United States and Canada.
This year's event will be split into two days of full racing action.
Friday Night (September 7th), Ken Graham Trucking presents "Four Cylinder Friday".
With time trials at 6 PM and racing at 7:30 PM, the evening will feature a full show of the Four Cylinder Division along with the debut of the Mini-Wedge cars featuring racing's youngest drivers.
Main grandstand admission is set at just $5 USD for Adults, Seniors and Students while Kids 11 & Under are FREE.
Live entertainment featuring the band "Banned" will follow the races.
Then on Saturday Afternoon (September 8th), the tracks top two divisions will take to the track with a full show of Modifieds and ABC Stock Cars.
Time trials are set for 1 PM with racing action to follow at 3 PM.
Main grandstand admission Saturday is $12 USD for Adults, $9 for Seniors and Students while Kids 11 & Under are FREE.
Live entertainment featuring the band "Steelhead" will follow the races.
Fans looking to take in both days (Friday & Saturday) of action can take advantage of a weekend pass for Main Grandstand admission for $15 USD for Adults, $12 USD for Seniors and Students while Kids 11 & Under are FREE.
To get to Kinross, take exit 378 off the I-75 and follow the signs to the Chippewa County Fairgrounds.
Kinross Speedpark, a proud member of the Contingency Connection Racer Rewards, is 100% Powered by volunteers.
For more information including up-to-date news and more visit the track's website at www.racekinross.com and LIKE them on Facebook at www.facebook.com/kinrossspeedpark.
ABOUT RANDY DEWITT
The year was 1995.  And the group was New Era Motorsports.
These group of gentleman were the reason stock car racing returned to the Twin Sault Area's moments before the Chippewa County Fair that year.
One of those gentleman involved was Randy Dewitt.
Along with being part of creating the facility, Randy was also the owner/operator of Midwest Aire.
From 1995 through 1999, Randy wore many hats and duties at Kinross.
As a co-owner he helped build the racing phenomenon in this are while operating the Speedpark and the many duties that accompanied that role with his peers and friends.
At the same time he was a competitor trackside symbolic in his #22 Red and White Super Late Model and later in his #5 open wheel Modified.
It was during June of 1999 that Randy's life was taken among friends in a plane accident upon returning from an afternoon on Drummond Island.
He left behind his family, friends and racing community with great memories and pride.
ABOUT TED BROOKS
Ted, from Sault Ste. Marie Ontario was a well-known businessman and President and Owner of Eazy Express – a national courier service provider.
And as avid as he was with local politics, sports, and his community, he became entrenched in the sport of auto racing with the creation of his Eazy Racing team.
A team that still takes to the track this very day.
What started as a one car team quickly expanded to include some of the brightest stars from Soo, Ontario.
Drivers who currently, or have drove, as part of Team Eazy include:  Cody MacLean, Leila Uhlman, Rick Ellis, Chris Furkey, Dennis Uhlman and Rick Leonard.
The Memorial Invitational weekend symbolizes a weekend about the racers.  Something that Ted believed in wholeheartedly.  It is also a weekend he was very generous in supporting in the past both on and off the track.
Ted was taken from us in December 2012.
Thank-you,

Gerry Liscumb Jr.
Volunteer – Director of Race Day Operations | PR | Co-Announcer
Kinross Speedpark (Kinross, MI)
Cell:  906-203-1621