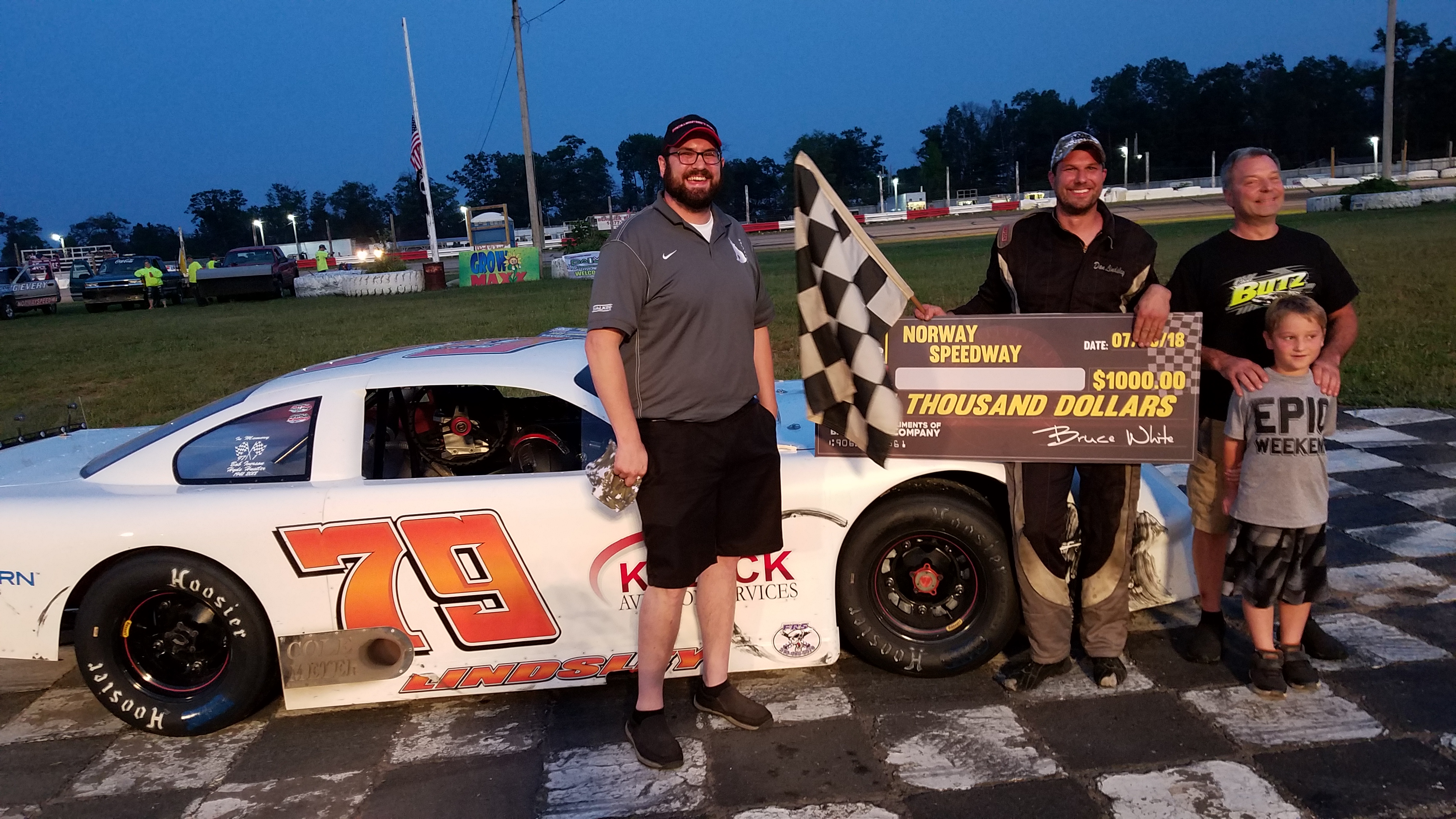 Sponsor Links

PHOTO CREDIT – JOE VERDEGAN
CUTLINE – Vulcan's Dan Lindsley scored the 50 lap Auto Value Series feature win at Norway Speedway Friday night.
ATTENTION SPORTS/MOTORSPORTS
FOR IMMEDIATE RELEASE
LINDSLEY SOARS TO NORWAY SPEEDWAY AUTO VALUE LATE MODEL WIN
(Gerwig wins second straight super stock main)
(Norway, MI) Aug 18 – Vulcan's Dan Lindsley had the hot hand on Wendrick's Truss/Auto Value/Race for a Cure night. The former track champion led through several caution periods and hung on to win the 50 lap Coca Cola late model feature worth $1,000 Saturday night.
The victory was Lindsley's second of the season.
Lindsley started 10th on the grid, and it was Vulcan's Kris Kelly snatching the lead from Bark River's Tom Lindquist on lap three. Kelly kept the lead through a few caution periods. By lap 20 Lindsley had sifted through the field, picking up enough spots to get to second. One circuit later Kelly spun after having contact with another car. Kelly "tapped out" admitting fault in the caution. By doing so that handed the lead to Lindsley.
Lindsley kept a steady pace and all challengers at bay to score the victory. Point leader Dillion Kralovetz scored second, followed by Lindquist and Robby Iverson. Kelly rebounded after the early race yellow to pick up a fifth place finish.
Norway's Andy Gerwig survived heavy pressure from points leader Tim Schultz of Vulcan and Marinette's Kevin Peterson and claimed his second straight, Auto Value super stock feature.
Sport truck points leader Brad Barglind of Kingsford scored his fourth feature flag of the season, keeping his points lead alive. Neenah's Tanner Fickel, who's a close second in the points, finished right on his tail in second.
Jeff Schettler scored a popular win in the 141 Auto sportsman division while Jake Dolfurd captured an entertaining stock four feature win, as he and Cody Skog entertained the crowd weaving in and out of lapped traffic while trading the lead.
Before the races began a brief ceremony took place prior to the national anthem to honor Doug Rose. The driver of the World famous "Green Mamba Jet" succumbed to injuries at the track the night prior in an exhibition run after his car crashed and flipped in turn one.
There will be no racing on Friday, August 24. The Impact Survival Series (ISS) will race at the track Saturday, August 25 beginning at 6 p.m.
A Labor day weekend doubleheader of racing is on tap during the Dickinson County Fair. Friday night, August 31 a full racing program will take place, including spectator eliminator races. Sunday, September 1 another full racing program will take place, with a $1,000 top prize being awarded to the late model feature winner. Sport trucks will also be on hand.
Four champions will be crowned "Fair Champions" with combined points being tallied up between the two nights of racing. $1,000 will be awarded to the Coca Cola late model champion – $500 to the Auto Value series champion and $100 apiece to both the 141 Auto Sportsman and stock four champions, respectively.
on Friday night with a 4 p.m. start time on Sunday.
For more information please check out our website norwayspeedway.com or check out our Facebook page as well.
RACE SUMMARY
AUTO VALUE COCA COLA LATE MODEL FEATURE –  Dan Lindsley, Vulcan; Dillion Kralovetz, Bonduel, WI; Tom Lindquist, Bark River; Robby Iverson, Escanaba; Kris Kelly, Vulcan; Brian Stanchina, Kingsford; Cameron Clifford, Norway; Bruce White, Spread Eagle, WI; Scott Stanchina, Kingsford; Alyssa Larson, Green Bay, WI; Jordan Chambers, Green Bay, WI; Brett Breitenfeldt, Wausau, WI; Scott Bolster, Marquette; Dean Varda, Vulcan; Mike Lantagne, Vulcan;  Jason Wells, Kingsford; Joey Pontbriand, Norway; Dalton Zehr, Menominee (DNS); Gregg Haese, Francis Creek (DNS); Ricky Holmstrom, Kingsford (DNS); Doug Larson, Gwinn (DNS)
SEMI- FEATURE – Varda; Karl Lamoreaux, Niagara; Bolster; Michelle Janczewski, Armstrong Creek, WI
HEATS 1) Varda; Jordan Chambers, Green Bay 2) Brian Stanchina; Pontbriand
DASH – Kelly
FAST TIME – Zehr, 14.473
AUTO VALUE SUPER STOCK FEATURE – Andy Gerwig, Norway; Kevin Peterson, Marinette; Anthony Schiefelbein, Pembine, WI; Parker Cain, Big Bay; John Mattia Jr., Norway; Brett Bray, Norway
HEAT –   Cain; Savanna Novara, Kingsford
DASH – Peterson
FAST TIME – Schultz, 16.070
141 AUTO SPORTSMAN FEATURE –
HEATS 1) Kaitlyn Schettler, Iron Mountain; Bobby Lewis, Bark River 2) Jeff Schettler, Iron Mountain; Dave Knudson, Kingsford
FAST TIME – Preston Weddel, Crivitz, WI 18.233
STOCK FOUR FEATURE – Jake Dolfurd, Vulcan; Cody Skog, Vulcan; Adam Faull, Vulcan; Chris Fifarek, Marinette, WI; Mike Moore, Aurora, WI
HEATS 1) Chris Fifarek, Marinette; Dean Bellmore, Hermansville 2) Skog; Faull
FAST TIME – Jake Dolfurd, 18.009
SPORT TRUCK FEATURE – Brad Barglind, Kingsford; Tanner Fickel, Neenah; WI; Drew Habeck, Green Bay, WI; Brent Barglind, Kingsford; Keith Habeck, Green Bay, WI
HEATS 1) Kelly Burcar, Norway; Nick Latange, Aurora, WI 2) Fickel; Brad Barglind
FAST TIME – Brad Barglind, 16.688