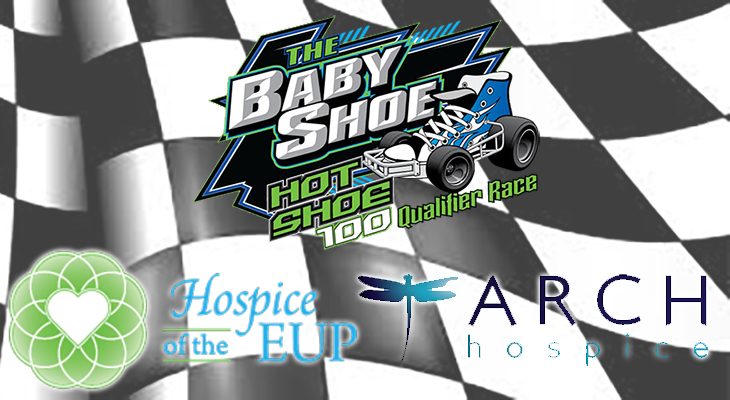 Sponsor Links

KINROSS, MI-
Local short track racing at the Kinross Speedpark is about fun, family and entertainment.
But this coming weekend, activities both on and off the track, take on another purpose for their third event of the 2018 season.
The Inaugural "Baby Shoe" event hits the 1/4 mile asphalt oval this coming Saturday, July 7th.
(Raindate is Sunday, July 8th)
Time trials begin at 1 PM with racing action to follow at 3 PM.
Along with the local short-track racing on-tap, track organizers are excited to present an event that will raise funds to support hospice facilities on both sides of the St. Mary's River – Hospice of the EUP and ARCH Hospice.
Proceeds from main grandstand admissions and limited edition "Baby Shoe" event t-shirts will go towards the two organizations.
On the track, racing action will see a Modified Division special paying $1000 to win while locking the feature winner into the 5th Annual Hot Shoe event to be held later this summer at Whittemore Speedway (www.hotshoe100.com)
A full show of ABC Stock Cars and Four Cylinders will also be a part of the events.
Main grandstand pricing for this event is set at $12 US / $15 CDN for Adults, $8 US / $10 CDN for Seniors and Students while Kids 11 & Under are FREE.
Speaking of kids, the youngest race fans will have a chance to win one of fourteen (14) remote control cars that will be given out throughout the afternoon plus other fun activities for the youngest fans.
Leading into Saturday afternoon Buddy Gray IV (#24JR, Petoskey MI) holds a one-point advantage over Mark Laakso (#84, Echo Bay ON) in the Modified Division standings.
Leila Uhlman (#11, Sault Ste. Marie ON) rounds out the top three.
Petoskey, MI competitor Grant Howard (#19) sits in first in the ABC Stock Car A-Division before a single point separates Brandon Carson (#54, Petoskey MI) and Keenan Spurway (#0, Sault Ste. Marie ON) for second and third respectively.
Gerald Archer (#88, Goulais River ON) holds down the top spot in the ABC Stock Car B-Division followed by 2016 Track Champion Larry Young Sr. (#25, Sault Ste. Marie MI) and 2017 Champion Buddy Palahnuk (#26B, Goualis River ON).
While last year's top two in the Four Cylinder Division – Brent Fewchuk (#3, Sault Ste. Marie ON) and Rebecca Fewchuk (#99, Sault Ste. Marie ON) sit in those same positions through the first two events.
Gillian Howard (#4, Petoskey MI) rounds out the final podium position.
To get to Kinross, take exit 378 off the I-75 and following the signs to the Chippewa County Fairgrounds.
Kinross Speedpark, a proud member of the Contingency Connection Racer Rewards, is 100% Powered by volunteers.
For more information including up-to-date news, points standings more visit the track's website at www.racekinross.com and LIKE them on Facebook at www.facebook.com/kinrossspeedpark.
Thank-you,

Gerry Liscumb Jr.
Volunteer – Director of Race Day Operations | PR | Co-Announcer
Kinross Speedpark (Kinross, MI)
Cell:  906-203-1621