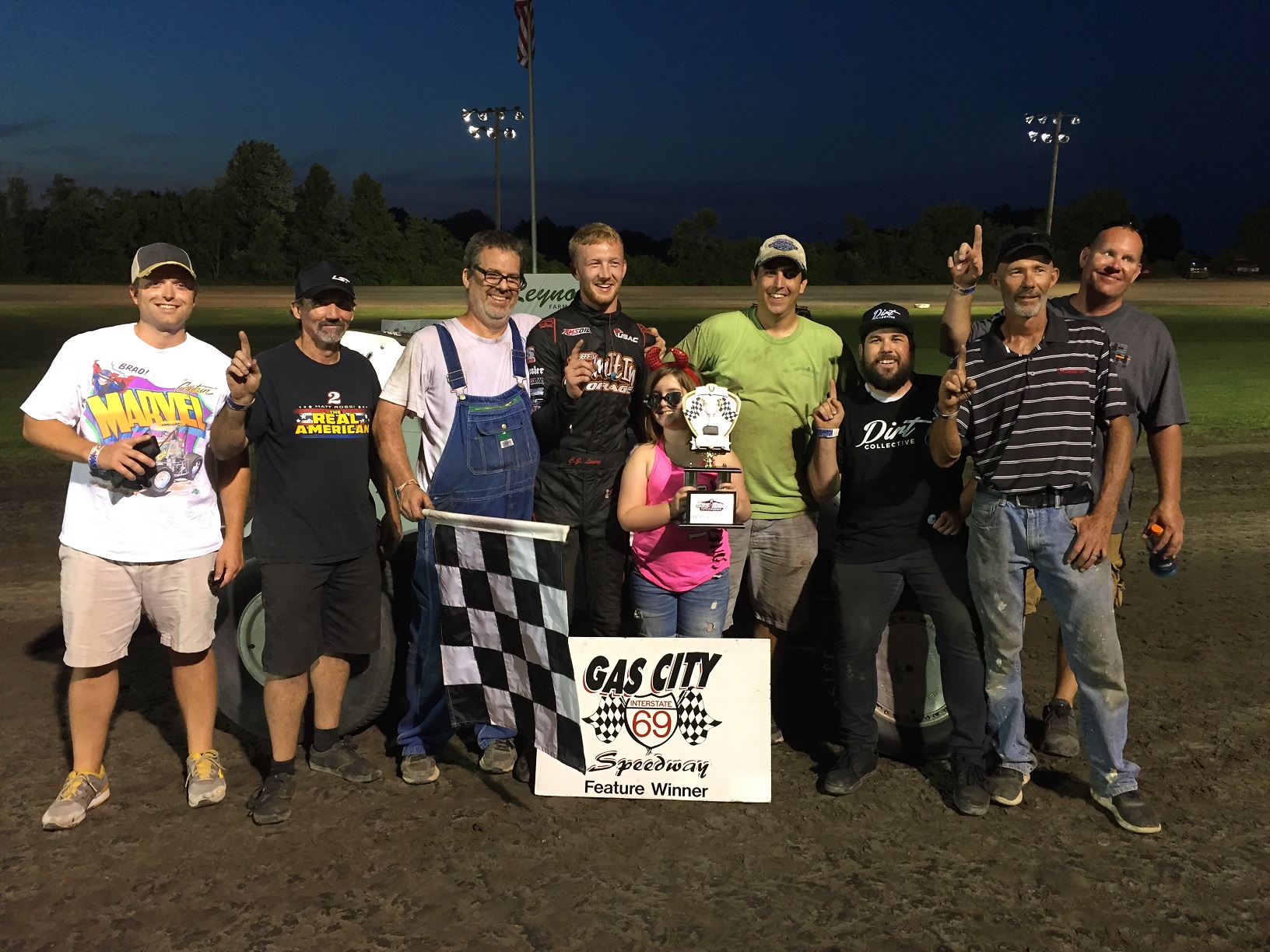 Sponsor Links

For more information:
Linda Mansfield, Restart Communications
E-mail: LKMRestart@gmail.com
Cell: (317) 201-0729
(The release is attached as a Word docx and as a pdf file.
Two photos of Leary are also attached. Thank you!)
Outside Works for Leary in Last Turn on Last Lap To Become Fifth Different Sprint Car Winner
Friday at Gas City; Lines and Gamblin Also Score
GAS CITY, Ind., June 30 — In what helped create one of the most exciting finishes in track history, C.J. Leary stayed committed to the top while his primary rivals stayed on the bottom in the 25-lap Jerry Gappens Sr. Memorial non-wing 410 sprint car feature Friday night at Gas City I-69 Speedway. At the last possible moment it turned out to be the winning decision, as the 22-year-old Greenfield, Ind.-based driver finally got enough of a bite to pass Matt Westfall in the fourth turn on the last lap to become the fifth different sprint car feature winner so far this year at the quarter-mile dirt track.
Randy Lines of Marion, Ind. won both the UMP modified feature and the thunder car feature, while Josh Gamblin of Kokomo, Ind. took the top honors for the front-wheel-drive (FWD) compact division during the track's "Star-Spangled Spectacular" show, held under hot conditions before a large, enthusiastic crowd.
Gappens, who was the current promoter's father, a supermodified (now sprint car) driver, a promoter (the Terre Haute Action Track), and a member of the track prep crew at Kokomo Speedway, would have loved the first annual race named in his memory. The 25-lap feature had three main stars: Leary, Westfall and Shane Cockrum, who finished third, while Shane Cottle and Clinton Boyles rounded out the top five.
Leary started second in the 21-car field and won a three-car drag race coming out of turn four on the first lap to show the way initially, but Westfall dug deep to take the lead from him with a move to the inside coming out of Turn 4 working lap four. Leary used the high side to once again charge by Westfall working lap six to regain the lead, but Westfall took it back with another move to the inside coming out of Turn 4 on lap eight. On the following lap Cockrum passed both Cottle and Boyles on the backstretch to advance from fifth to third, while Boyles got around Cottle too for fourth. Cottle regrouped on the next lap to regain fourth, however.
Cockrum wrestled second away from Leary on lap 16 by getting under him in Turn 4. Lapped traffic was complicating things for the frontrunners by that time, but a late-race yellow allowed the field to accordion up, set up a dash to the checkered, and let the top three duke it out unabated. That yellow occurred with 21 laps down when Luke Harbison stopped high in Turn 4.
Leary regained second from Cockrum on lap 23, and on the white-flag lap Westfall, Leary and Cockrum were so close the proverbial blanket could have been thrown over them. Leary almost got by Westfall in Turn 2 on the last lap, but Westfall held him off until Leary got just enough of a bite on the outside coming out of Turn 4 on the last lap to grab the victory by inches.
Not only was the victory Leary's first of the season at Gas City, but it was the first sprint car victory ever for his car owners, Scott and Ryan Pedersen. The winning DRC chassis' engine is prepared by Red Pedersen.
Lines started second in the UMP modified feature and led every lap, although there were four yellows to tighten up the field and give his rivals a shot at the current point leader. Lines was up to each challenge, however, and he had a healthy lead over Dillon Nusbaum when the checkered dropped on lap 20. Andy Bishop, Derek Snyder and polesitter Jim Mallery trailed Lines, the driver of the No. 18 sponsored by Marion Lifetime Muffler, at the finish.
Lines then hopped in the No. 35 thunder car and won that 15-lap feature too. He took the lead from polesitter James Headley on lap 10 with a move to the outside as the pair went down the backstretch. Seconds later Headley pulled into the infield with mechanical difficulties. That gave second to Greg Marlow, who finished in that position. D.J. Holt, Mark Keith and Ron Flaugh rounded out the top five.
Josh Gamblin started second and led every lap of the FWD compact feature with his "Unicorn," which is sponsored by MyOrangeCrate.com. Gage Allen was second while Eric Solms finished third in his Silver Bullet. Polesitter Randy Brommer was fourth and Alyssa Clark came from the 11th starting spot to place fifth.
Lines earned $500 for the thunder car feature victory while Gamblin got $375 for winning the FWD compact main event thanks to a $1,000 increase in the standard purses by Jim and Sherrill Long, owners of One More Time Motorsports. With his victory Lines also qualified for the $6,000 Thunder Car Rumble on July 13.
There was only one flip all night. It occurred when Dallas Hewitt of Troy, Ohio got upside down between Turns 3 and 4 during warm-ups. Luckily he escaped unhurt.
Intermission featured kids scrambling for $200 in change on a tarp on the frontstretch, and the night also featured a spectacular fireworks display before the final two main events of the evening.
There are two shows slated for Fridays in July: the Summer Thunder show on July 6 and the Mid-Season Showdown on July 13. The former will feature non-wing sprints, 600cc winged micro sprints, UMP modifieds and super streets. On Lucky Friday the 13th the track will host non-wing sprints, UMP modifieds, thunder cars and FWD compacts.
The track will also present shows on Aug. 3, Aug. 17 and Aug. 31. The USAC AMSOIL national sprint cars and the USSA Kenyon midgets visit Gas City on Sept. 7 in a card that includes three additional divisions, and the season concludes on Sept. 28 with the James Dean Classic. For details on each program, please see the track's schedule on its Web site at GasCityI69Speedway.com. Fans can also follow it on Facebook (@GasCitySpeedwayOnTheGas), Twitter (@GasCitySpeedway) and Instagram (@GasCitySpeedway).
The results:
Non-Wing Sprint Heat 1 (8 laps): 1. Garrett Abrams, 2. Clinton Boyles, 3. Shane Cockrum, 4. Aaron Davis, 5. Evan Mosley, 6. Bryar Schroeter, 7. Parker Fredrickson.
Non-Wing Sprint Heat 2 (8 laps): 1. Shane Cottle, 2. C.J. Leary, 3. Tyler Hewitt, 4. Adam Byrkett, 5. Critter Malone, 6. Jack James, 7. Adam Wilfong.
Non-Wing Sprint Heat 3 (8 laps): 1. Matt Westfall, 2. Isaac Chapple, 3. Scotty Weir, 4. Travis Hery, 5. Jamie Fredrickson, 6. Dallas Hewitt, 7. Luke Haribson.
Non-Wing Sprint Feature (25 laps): 1. C.J. Leary, 2. Matt Westfall, 3. Shane Cockrum, 4. Shane Cottle, 5. Clinton Boyles, 6. Dallas Hewitt, 7. Scotty Weir, 8. Garrett Abrams, 9. Isaac Chapple, 10. Tyler Hewitt, 11. Travis Hery, 12. Adam Byrkett, 13. Aaron Davis, 14. Jamie Fredrickson, 15. Evan Mosley, 16. Bryar Schroeter, 17. Jack James, 18. Parker Fredrickson, 19. Adam Wilfong, 20. Critter Malone.
UMP Modified Heat 1 (8 laps): 1. Dillon Nusbaum, 2. Jim Mallery, 3. Jon Ramey, 4. Lance Krider, 5. J.J. Nordman, 6. Bub Roberts, 7. Terry Sroufe.
UMP Modified Heat 2 (8 laps): 1. Andy Bishop, 2. Jessica Sroufe, 3. Darek Snyder, 4. Bradley Jameson, 5. Garrett Rons, 6. John Halsey, 7. Brent Davis.
UMP Modified Heat 3 (8 laps): 1. Randy Lines, 2. Todd Gnat, 3. Jerry Bland Jr., 4. Garrett Jameson, 5. Drew Smith, 6. Steven Hogue.
UMP Modified Feature (20 laps): 1. Randy Lines, 2. Dillon Nusbaum, 3. Andy Bishop, 4. Darek Snyder, 5. Jim Mallery, 6. Bradley Jameson, 7. Jessica Sroufe, 8. Todd Gnat, 9. Lance Krider, 10. Garrett Jameson, 11. Jerry Bland Jr., 12. Bub Roberts, 13. Jon Ramey, 14. Garrett Rons, 15. Drew Smith, 16. Terry Sroufe, 17. John Halsey, 18. Brent Davis, 19. Steven Hogue, 20. J.J. Nordman.
Thunder Car Heat 1 (8 laps): 1. James Headley, 2. Greg Marlow, 3. D.J. Holt, 4. Greg Long, 5. Bob Byrley, 6. Mike Oler.
Thunder Car Heat 2 (8 laps): 1. Randy Lines, 2. Mark Keith, 3. Ron Flaugh, 4. Bryce Krider, 5. Braxton Strait, 6. Stevie Clark.
Thunder Car Feature (15 laps): 1. Randy Lines, 2 Greg Marlow, 3 D.J. Holt, 4. Mark Keith, 5. Ron Flaugh, 6. Braxton Strait, 7. Bryce Krider, 8. Bob Byrley, 9. James Headley, 10. Stevie Clark, 11. Greg Long, 12. Mike Oler (DNS).
FWD Compact Heat 1 (6 laps): 1. Randy Brommer, 2. Gage Allen, 3. Loren Swanson, 4. Eric Solms, 5. James Headley Jr., 6. Alyssa Clark, 7. Robbie White, 8. Don Van Buskirk.
FWD Compact Heat 2 (6 laps): 1. Josh Gamblin, 2. Ryan Piker, 3. Storm Hayes, 4. Jacob Beard, 5. Billen Loudy, 6. Brad Evans, 7. Kolter Sollars.
FWD Compact Feature (15 laps): 1. Josh Gamblin, 2. Gage Allen, 3. Eric Solms, 4. Randy Brommer, 5. Alyssa Clark, 6. James Headley Jr., 7. Jacob Beard, 8. Billen Loudy, 9. Storm Hayes, 10. Robbie White, 11. Brad Evans, 12. Don Van Buskirk, 13. Loren Swanson, 14. Kolten Sollars, 15. Ryan Piker.