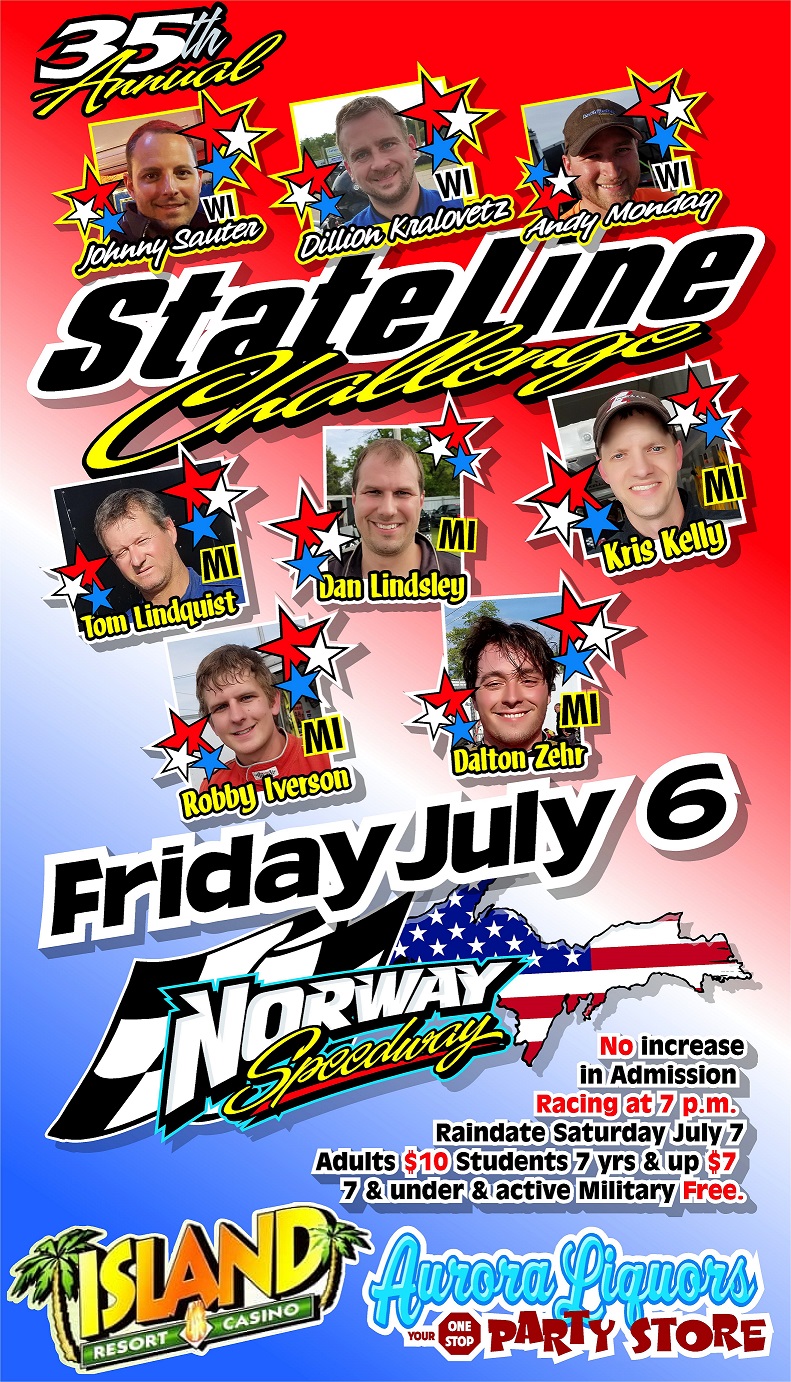 Sponsor Links

ATTENTION SPORTS/MOTORSPORTS
FOR IMMEDIATE RELEASE
FORMER WINNERS LIST OF NORWAY SPEEDWAY STATELINE CHALLENGE
A "WHO'S WHO" OF SHORT TRACK RACING IN THE UPPER MIDWEST
(35TH ANNUAL EVENT SLATED FOR JULY 6 – FORMER WINNERS TO BE HONORED IN CEREMONY)
(Norway, MI) – The list of former winners of Norway Speedway's Stateline Challenge reads like a "who's who" of short track racers in the Midwest.
The 35th running of the Stateline Challenge presented by Island Resort & Casino & Aurora Liquors will take place at the third-mile, paved oval Friday, July 6. Over the years Wisconsin visitors have recorded 21 Stateline challenge wins while Michigan drivers have found victory lane during this prestigious event 11 times.
The first ever race was in 1981 and was won by short track legend Dick Trickle of Wisconsin Rapids, Wisconsin.
Kingsford, Michigan's Kent Pearson captured the following two Stateline wins in '82 and '83, respectively.
Vulcan, Michigan's Mike Kelly scored the biggest win of his career, winning the Stateline in '84. Marquette, Michigan's Mike Mattson captured the event in '85. After that the race was dominated by Wisconsin drivers. Green Bay's Scott Hansen won in '86 and '87 with Trickle capturing the title in '88.
Shantytown, Wisconsin's Allen Check became the first central Wisconsin driver to win a Stateline in '89. Omro, Wisconsin's Terry Baldry nabbed his first Stateline win in '90. The "Ranger City Racer" Bob Menor of Wausaukee, Wisconsin won back-to-back titles in '91 and '92 while Matt "The Brat" Kenseth of Cambridge, Wisconsin won his only Stateline victory in '93.
Mosinee, Wisconsin's Kevin Cywinski flexed his muscle in the mid-90's. Driving for Gene Coleman Cywinski won the Stateline three straight years from '94 thru '96. Baldry found his way back to victory in '97 driving for Green Bay car owner Mike Butz while the late Dale Peterson of Escanaba, Michigan snapped the streak of Wisconsinites winning at 12 straight years when he won his lone Stateline in '98.
Green Bay's Mark Schroeder won his lone Stateline in '99 with Wausau's Wayne Breitenfeldt capturing the win a year later. Schroeder and Peterson would repeat as winners the following years in '01 and 02, respectively with Baldry winning again in '03, this time in the BUCO racing team based out of De Pere, Wisconsin.
The next three seasons the Stateline trophy stayed in its home state of Michigan as second generation pilot Jamie Iverson of Escanaba, Michigan won the events in 2004 thru 2006. Appleton's Mike Reichenberger won the race in '07 and the race wasn't run again until '11 when Iverson won back-to-back seasons including in '12. Three time track champion Dillion Kralovetz of Bonduel, Wisconsin won in '13 and after taking a year off in '14 Menominee, Michigan's Dalton Zehr won in '15.
Vulcan, Michigan's Kris Kelly won his first Stateline in '16, becoming the first ever second-generation winner of the event. Zehr repeated in '17. As it stands entering '18, Iverson holds the most Stateline title wins with five. Of the current, active drivers only Zehr is a repeat winner.
NASCAR truck champion Johnny Sauter of Necedah will be on hand to compete in the event for the second straight year. A number of top competitors from Wisconsin are expected to give the Norway regulars a run for their money. A 75 lap super late model feature is on tap.
The pit gates open at 3 p.m. Qualifying begins at 5:45 p.m. Racing gets underway at 7 p.m.  A ceremony at intermission honoring the past champions of the prestigious event will take place. A raindate of Saturday, July 7 is in place if needed.
Please check our website norwayspeedway.com and also our page on Facebook for further information or email ostermannjohn@hotmail.com.
ALL TIME NORWAY SPEEDWAY STATELINE CHALLENGE WINS
Jamie Iverson, Escanaba                               5
Terry Baldry, Omro, WI                                 3
Kevin Cywinski, Mosinee, WI                       3
Scott Hansen, Green Bay, WI                       2
Bob Menor, Wausaukee, WI                        2
Dick Trickle, Wisconsin Rapids, WI             2
Kent Pearson, Aurora, WI                             2
Mark Schroeder, Green Bay, WI                  2
Dalton Zehr, Menominee                              2
Mike Kelly, Vulcan                                          1
Kris Kelly, Vulcan                                             1
Mike Mattson, Marquette                            1
Allen Check, Shantytown, WI                       1
Matt Kenseth, Cambridge, WI                     1
Dale Peterson, Escanaba                              1
Wayne Breitenfeldt, Wausau, WI               1
Mike Reichenberger, Appleton, WI            1
Dillion Kralovetz, Bonduel, WI                     1
Michigan victories – 11
Wisconsin victories – 21
Norway Speedway Stateline Challenge Winners…..
2017-Dalton Zehr, Menominee, Mi ($1,000)
2016- Kris Kelly, Norway, Mi ($1,000)
2015- Dalton Zehr, Menominee, Mi ($1,000)
2014- (Tundra Race)
2013- Dillon Kralovetz, Bonduel, WI ($1,000)
2012- Jamie Iverson, Escanaba, MI ($1,000)
2011- Jamie Iverson, Escanaba, MI ($1,000)
2010- No Race
2009- No Race
2008- No Race
2007- Mike Reichenberger, Appleton, WI ($2,000)
2006- Jamie Iverson, Escanaba, MI ($1,000)
2005- Jamie Iverson, Escanaba, MI (Twin 50's)
2004- Jamie Iverson, Escanaba, MI ($1,000)
2003- Terry Baldry, Omro, WI ($1,000 BUCO #00 car)
2002- Dale Peterson, Escanaba, MI ($1,000)
2001- Mark Schroeder, Green Bay, WI
2000- Wayne Breitenfeldt Wausau, WI
1999- Mark Schroeder, Green Bay, WI
1998- Dale Peterson, Escanaba, MI
1997- Terry Baldry, Omro, WI (Butz #8 car)
1996- Kevin Cywinski, Mosinee, WI
1995- Kevin Cywinski, Mosinee, WI
1994- Kevin Cywinski, Mosinee, WI
1993- Matt Kenseth, Cambridge, WI (ARTGO/State Line Combo)
1992- Bob Menor, Wausaukee, WI
1991- Bob Menor, Wausaukee, WI ($1,000)
1990- Terry Baldry, Omro, WI (#74 Baldry Car)
1989- Allen Check, Stevens Point, WI
1988- Dick Trickle, Wisconsin Rapids, WI (Silver Bullet Car)
1987- Scott Hansen, Green Bay, WI
1986- Scott Hansen, Green Bay, WI
1985- Mike Mattson, Marquette, MI
1984- Mike Kelly, Norway, MI
1983- Kent Pearson, Kingsford, MI
1982- Kent Pearson, Kingsford, MI
1981- Dick Trickle, Wisconsin Rapids, WI (The Inaugural Race)