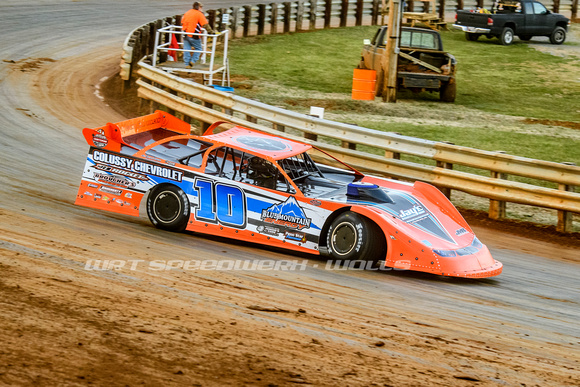 Sponsor Links

By Fully Injected Motorsports:
PITTSBURGH, Pa. (June 4, 2018) – Jared Miley secured the largest payday of his career on Saturday night in the Empire State, and did so from the outside of row six.
Miley, driver of the Joe Corrado-owned/Blue Mountain Energy/Penn Star Ventures/Colussy Chevrolet/Jay's Auto Wrecking/No. 10 super late model, visited the "New" Stateline Speedway in Busti, N.Y., on Saturday, June 2, and participated in Jim Scott's 80th birthday celebration. Highlighted with an 80-lap, $8,000-to-win main event, Jim Scott's birthday party turned into the Miley show, as the Western Pennsylvania super late model ace put on an impressive rally from the 12th position to pick up the victory, officially taking command with less than 20 circuits remaining.
There were only two cautions during the 80-lap program, each occurring after Miley took command on lap 65.
"I actually didn't even know I was in the lead," Miley said. "We were just racing hard. I knew we had to be getting close to the front, or maybe already in the lead. Regardless, what a great effort by everyone. I can't thank my team and my family enough for their hard work and support, especially Joe Corrado, who gave me a great opportunity this season. We are enjoying every minute of this."
Miley now owns four victories in three states during the 2018 season, adding his Stateline Speedway victory to a list that includes Lernerville (Pa.) Speedway, Tyler County (W.Va.) Speedway, and Thunder Mountain (Pa.) Speedway.
If all goes according to plan, Jared Miley and Joe Corrado will continue their 2018 campaign with a visit to Thunder Mountain Speedway near Brookville, Pa., on Friday, June 8, joining the ULMS Racing Series for a $3,000-to-win showstopper. Miley owns one victory at Thunder Mountain in 2018, beating the ULMS Racing Series on May 18.
SPECIAL THANKS:
Jared Miley and Joe Corrado would like to thank all of their marketing partners including: Blue Mountain Energy, Penn Star Ventures, Colussy Chevrolet, Jay's Auto Wrecking, Keystone Alliance Insurance Services, LLC of Spring City, Junior's Core & Recycling, Maloney's Classic Cars of Meadville, Huey Brothers Trucking & Well Service, Fully Injected Motorsports, Hoosier Tire Mid-Atlantic, Sunoco Race Fuels, Rocket Chassis, Daugherty Motorsports, Keyser Manufacturing, Integra Shocks, FK Rod Ends and Octane Graphix.
SOCIAL MEDIA:
Fans are encouraged to stay in the loop online at www.fullyinjected.com. Fans can also stay updated via social media including Twitter and Facebook.' Be sure to also visit Jared Miley's official online home at http://www.jmrh1.com/.
STATS:
2015 Wins: 8 (2 – Lernerville Speedway, PA – RUSH/Super) (3 – Dog Hollow Speedway, PA – Open Crate/Super) (1 – PPMS – Super) (1 – Tri City Raceway Park, PA – Super) (1 – Thunder Mountain Speedway, PA – Super )
2016 Wins: 6 (2- Marion Center Speedway – SLM Regular Show) (Lernerville Speedway – Fab Four) (Dog Hollow Speedway – Shawn Sheetz McGarvey) (Hesston Speedway – Super Late Model Speedweek) (Eriez Speedway – ULMS $6,000)
2017 Wins: 6 (PPMS – regular program; ULTIMATE Northeast $3,000) (ULMS victory at Thunder Mountain Speedway) (Mike Farr Memorial victory at Eriez Speedway worth $4,100) (Buckeye Late Model Dirt Week at Muskingum Co. Speedway worth $3,000) (Hummingbird Speedway worth $2,000)
2018 Wins: 4 (Lernerville Speedway – 5/11) (Tyler County Speedway – 5/12 – Ultimate NE) (Thunder Mountain Speedway – 5/18 – ULMS) (Stateline Speedway – 6/2 – $8,000 Non-Sanctioned)
Jared Miley's Recent Highlights: Opened 2018 season with top-ten (7th) at Hagerstown (Md.) Speedway during Ultimate Northeast Super Late Model Series competition. Finished third from seventh during Midway Speedway's King of Hillbilly Hill on Saturday, April 21. Earned victories at Lernerville on May 11, Tyler County Speedway on May 12, and Thunder Mountain Speedway on May 18. Finished third at Bedford Speedway during action on May 25, followed by a seventh place finish during the Bob Weikert Memorial preliminary at Port Royal Speedway on May 26. Won $8,000 at the "New" Stateline Speedway in Busti, N.Y., on June 2.
###