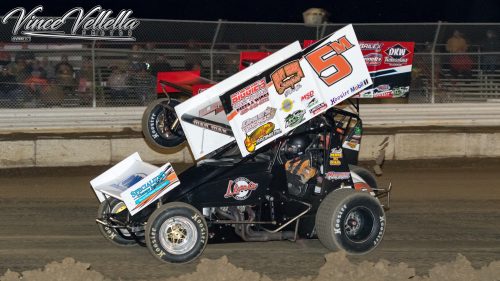 Sponsor Links

By Fully Injected Motorsports:
ELIDA, Ohio (April 2, 2018) – Max Stambaugh's sophomore season with the Arctic Cat All Star Circuit of Champions presented by Mobil 1 will continue in less than a week, ready to kick-off the first, full weekend of All Star championship points with a pair of events in the Buckeye State.
Stambaugh, the 2017 All Star Rookie of the Year Award winner, will join America's Series at the highbanks of Atomic Speedway on Friday, April 6, followed by a visit to Attica Raceway Park on Saturday, April 7. Each event will award $5,000 top prizes, as well as full points toward the 2018 Arctic Cat All Star Circuit of Champions presented by Mobil 1 championship.
"We're ready to get back on track with the All Stars," Stambaugh said, who finished fourth in the 2017 All Star championship standings on the strength of 13 top-ten finishes. "We had some solid performances in Florida with the Series, but now we are ready to get back to work closer to home. I can't thank my family, my team, and all of my supporters enough for their hard work. They are the ones who make a schedule like this happen. Without their help, another year of All Star racing wouldn't be possible."
During recent sprint car competition, "Mad Max" Stambaugh made an appearance at Atomic Speedway for its season opener on Saturday, March 31. Attempting to log some positive practice laps before his upcoming visit with the All Stars, Stambaugh was on his way to a potential top-five finish when disaster struck, forcing the Elida, Ohio, native to exit the speedway on the back of a tow truck.
While shuffling for a top-five position during the opening circuits, Stambaugh made contact with a rut and bounced out of control, ultimately ending his night upside-down. Stambaugh walked away unharmed.
"I was happy with the car and how we were performing up until that point," Stambaugh continued. "Despite the issues, we have some great notes that we can put to work on Friday. Hopefully we can get the point season started on the right foot."
SPECIAL THANKS:
Max Stambaugh would like to thank all of his marketing partners including: Lima Cadillac Chevrolet, Biggies Coast to Coast, Schaeffer Racing Oil, Triple JJJ, Dale's Concrete, Fully Injected Motorsports, and Specialized Therapy
SOCIAL MEDIA:
Fans can keep up with Max Stambaugh during his entire campaign right here at www.fullyinjected.com, as well as at www.maxstambaugh.com. Follow "Mad Max" on all of the available social media networks including Twitter: @MaxStambaugh5 and Facebook: https://www.facebook.com/max.stambaugh
STATS:
2015 Wins: 5 (2 – Limaland Motorsports Park (OH) – NRA 360s; 1 – Butler Speedway (MI) – 410ci; 1 – I-96 Speedway (MI) – 410ci; 1 – Ohsweken Speedway (Canada) – 360ci)
2016 Wins: 2 (Waynesfield Raceway Park, I-96 Speedway)
2017 Highlights: Clinched Arctic Cat All Star Rookie of the Year honors. Earned 13 top-ten finishes in 40 Arctic Cat All Star starts. Ended year fourth in All Star driver standings.
2018 Highlights: Qualified for three Arctic Cat All Star Circuit of Champions presented by Mobil 1 main events at Bubba Raceway Park in Ocala, Florida. Earned three consecutive top-ten finishes during King of 360s action at East Bay (Fla.) Raceway Park from February 15-17.
2018 Wins: N/A
###
CONTACT:
About Fully Injected Motorsports: Headquartered in Western Pennsylvania, Fully Injected Motorsports provides professional grade press releases to multiple short track teams from all areas of the country.
Contact: altmeyer119@gmail.com / info@fullyinjected.com / www.fullyinjected.com / Twitter: @FI_Motorsports / Facebook: https://www.facebook.com/FullyInjectedMotorsports/