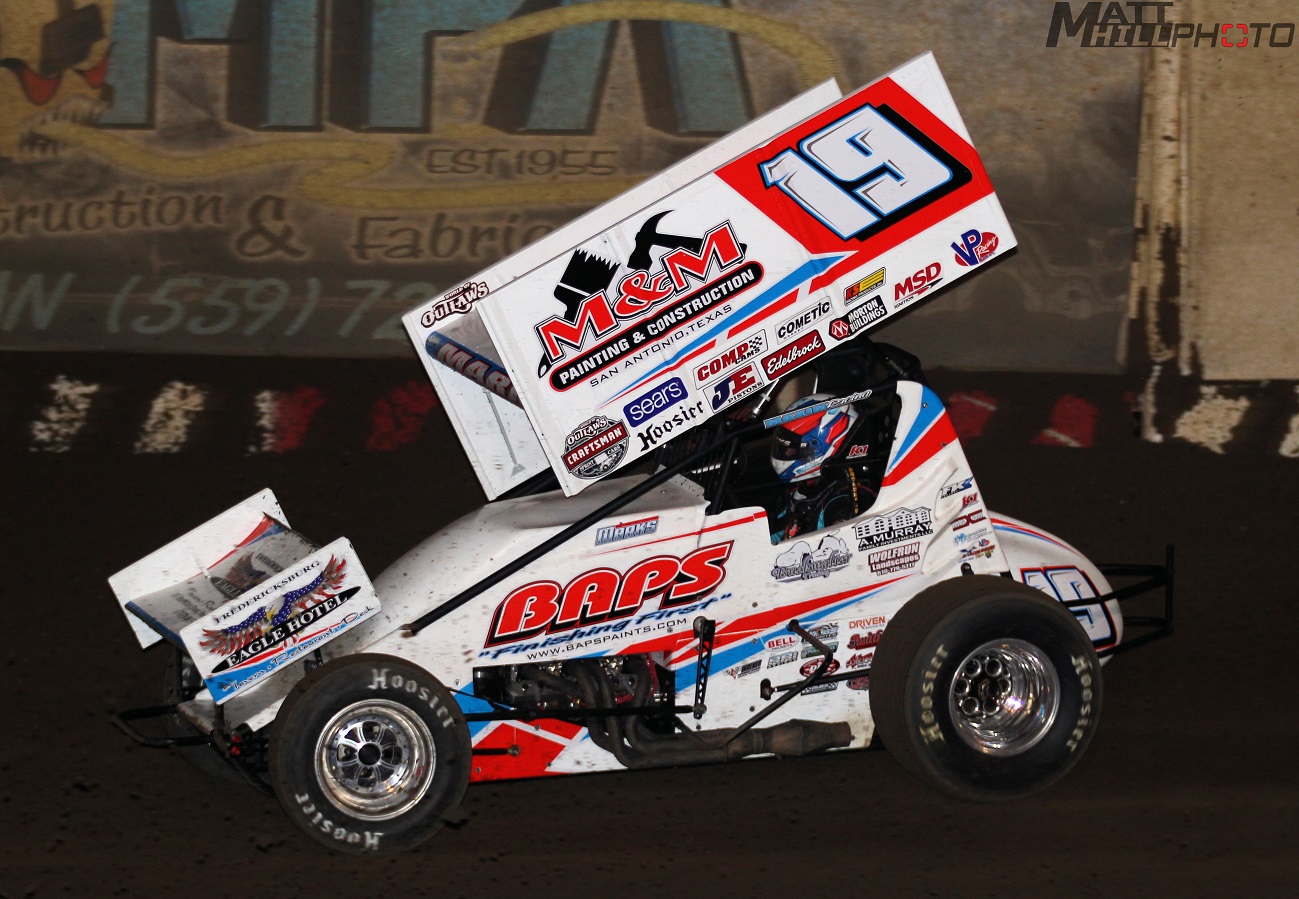 Sponsor Links

Brent Marks heads to Arizona after positive performance at Bakersfield Speedway
By Fully Injected Motorsports:
BAKERSFIELD, Calif. (March 26, 2018) – After spending nearly a month in the Golden State with the World of Outlaws Craftsman Sprint Car Series, the Myerstown Missile Brent Marks will finally be able to make the trek back east, leaving California behind with a 14th place finish in his rearview mirror while in competition at Bakersfield (Calif.) Speedway on Saturday, March 24.
Marks, who earned his main event starting position after finishing fourth during his respective heat race, battled within the top-15 during most of the 35-lap program. The second-year traveler with the Greatest Show On Dirt climbed as high as eighth in the running order before crossing under the final checkers in the 14th spot. Marks started the main event on the inside of row eight.
"I think we were better than what the text results read," Marks said, driver of the Brent Marks Racing/M&M Painting & Construction/BAPS Auto Paint & Supply/Eagle Hotel/A. Murray Family Investments/No. 19. "That track was a lot of fun; slick across the bottom and the middle with a curb on top. On a small, tight bullring that like, you can really make a lot of headway, or lose positions in a hurry, especially with double-file restarts. Regardless, I'm proud of my team. That was our first visit to Bakersfield Speedway. I'm already excited to go back."
Brent Marks will enjoy Easter weekend off before returning to World of Outlaws Craftsman Sprint Car Series competition on Saturday, April 7, at the Arizona Speedway in Queen Creek, Arizona. The Myerstown, Pa., native finished 19th during his Arizona Speedway appearance in 2017. Currently 15th in the World of Outlaws championship standings, Marks will enter the Arizona Desert Shootout with a pair of top-ten finishes to his credit.
SPECIAL THANKS:
Brent Marks and 'BMR' would like to thank all of their marketing partners including – Primary Sponsors: M&M Painting & Construction, BAPS Auto Paint & Supply, A. Murray Family Investments, LLC., Fredericksburg Eagle Hotel, Russell Heller Builders, Memtec Services. Associate Sponsors: Wolfrun Landscapes, Buckwalter Trucking, Cajun Kennels, Road Runner Race Fuels. Product Sponsors: FK Shocks, HP Engines, Kistler Engines, Bruce's Speed Shop, Maxim Chassis, Wings Unlimited, DMI, Walker Performance Filtration, High Performance Lubricants, Driven Racing Oil, K1 Race Gear, Bell Helmets, CR Graphics, RRi, Fully Injected Motorsports, Stevie Smith Titanium, Wilwood Brakes, Brown and Miller Racing Solutions.
SOCIAL MEDIA:
Fans can keep up with Brent Marks during his entire campaign right here at www.fullyinjected.com. Be sure to also visit the official online home of Brent Marks Racing at www.brentmarksracing.com.
Fans are encouraged to 'follow' Brent Marks on all of the available social media networks including Twitter: https://twitter.com/brent_marks, https://twitter.com/brentmarks19?lang=en and Facebook: https://www.facebook.com/brentmarksracing. 2018 Brent Marks Racing apparel is now available and will be available for purchase at each and every World of Outlaws event.
STATS:
2018 Brent Marks Racing Statistics: (thru March 24, 2018)
WoO Top-5s: 0
WoO Top-10s: 2
WoO Wins: 0
Non-Sanctioned Wins: 0
2018 Highlights: Earned one top-ten finish with the Arctic Cat All Star Circuit of Champions presented by Mobil 1, as well as one top-ten finish with the World of Outlaws Craftsman Sprint Car Series, each during DIRTcar Nationals action at Volusia (Fla.) Speedway Park. Charged from 25th to finish ninth at The Dirt Track at Las Vegas with the World of Outlaws on February 28 – KSE Hard Charger Award.
###
CONTACT:
About Fully Injected Motorsports: Headquartered in Western Pennsylvania, Fully Injected Motorsports provides professional grade press releases to multiple short track teams from all areas of the country.
Contact: altmeyer119@gmail.com / corini.anthony@yahoo.com / info@fullyinjected.com / www.fullyinjected.com / Twitter: @FI_Motorsports / Facebook: https://www.facebook.com/FullyInjectedMotorsports/