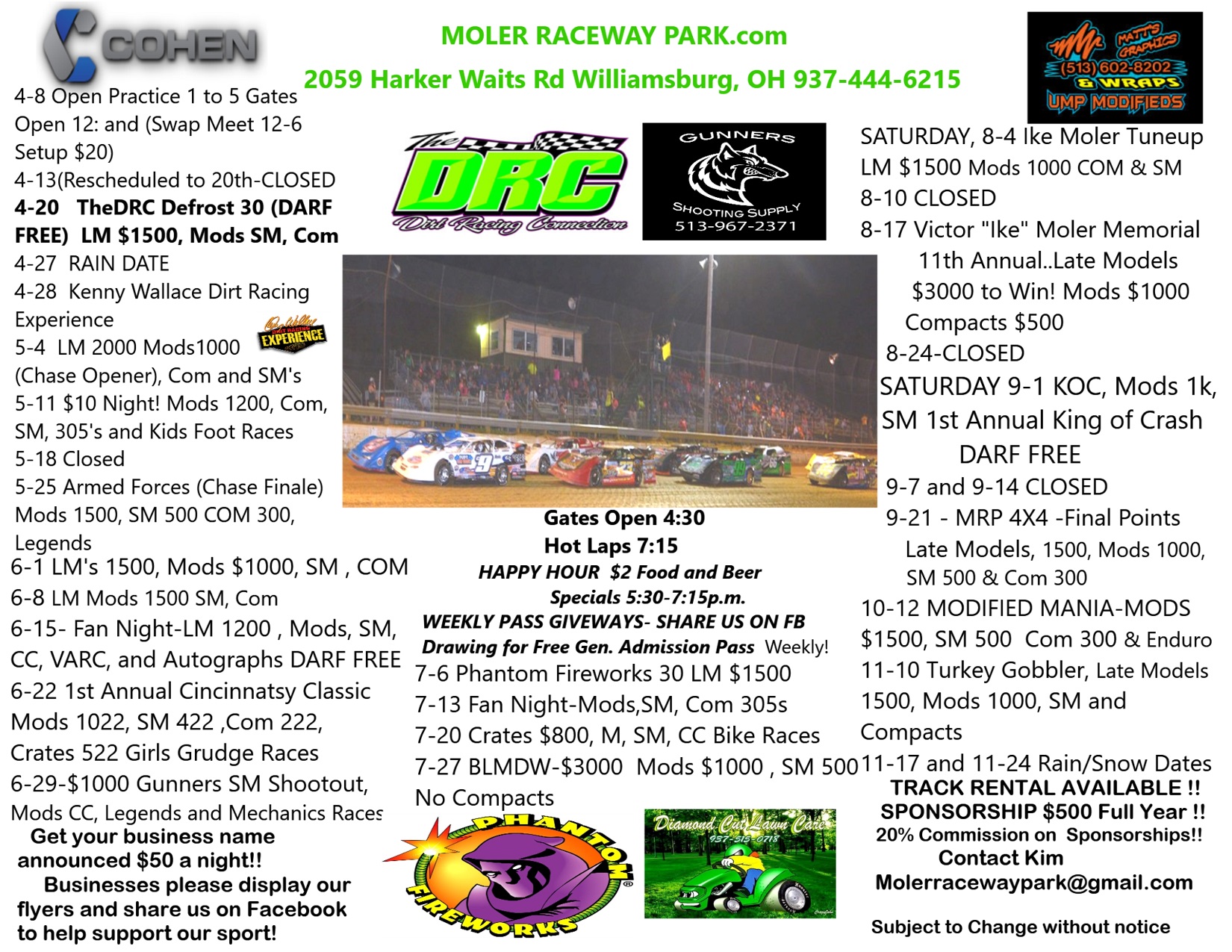 Sponsor Links

2018 Schedule Updated!  Opening Night is now April 20th 2018!!
4-8 Practice and Swap Meet 12-6 (Practice 1-5).
It's Gonna be an Awesome 2018!!  Please like and share us on facebook (Drawings weekly for Free General Admission)!!
If you have a business, garage, anywhere you can put a flyer up, it would be much appreciated!  If you need some copies let us know or grab a few at the track.
We are still looking for 2018 Sponsors and especially our Late Model Class Sponsor, which was announced at the banquet didn't work out, need 2018 Late Model Sponsor!!
2018 Gold Sponsors $500 for the whole year, you get your business announced at least 3 times a night, your banner up and listed on our Website and Social Media!  One newspaper ad costs that much!!
$50 will get your business announced a night!!  There are many other promos we could do, t-shirts, hats, door prizes to throw out, give us your ideas and we'll try and make it work!
If you get a sponsor for us you will get 20 percent commission to show you how much we appreciate your effort!!
4-28-18 Dirtracewithkenny.com The perfect gift for that special someone that's always helping you!!  Memories that last a lifetime!!  Get your spot reserved now!
SPECIAL THANKS TO OUR 2018 CLASS SPONSORS:
Cohen Recycling Sport Mods, Matt's Graphics UMP Modifieds, TheDRC Crazy Compacts, Gunners Shooting Supply Sport Mod Shootout, Diamond Cut Lawn Care, Phipps Auto Parts!! And to all our 2018 Sponsors!!
See you soon!!
MRP