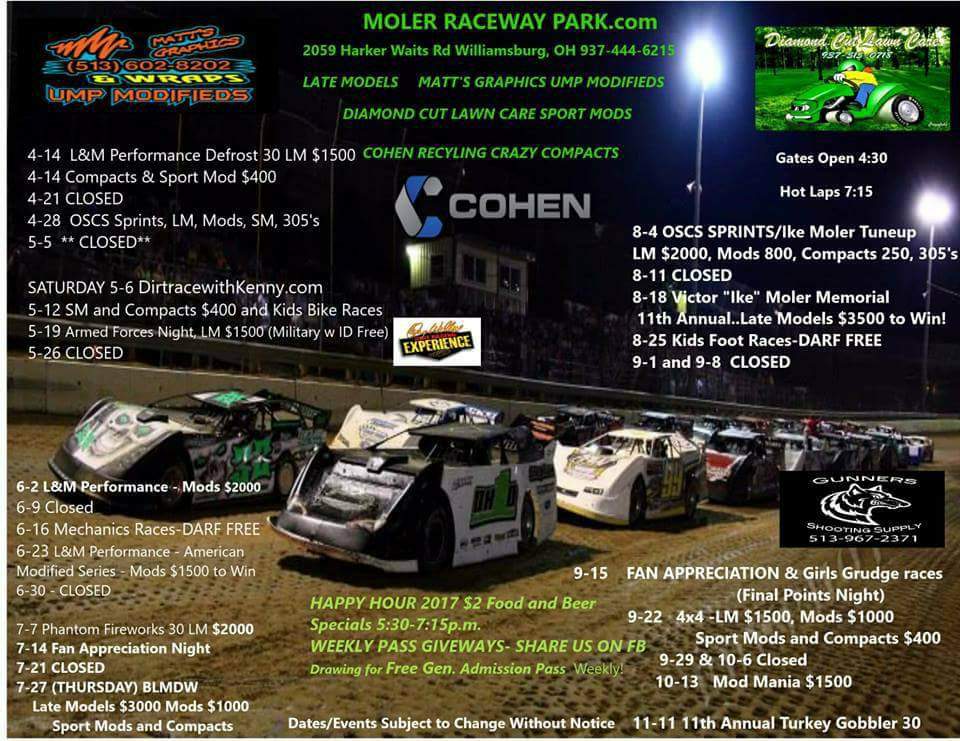 Sponsor Links

Track Champions Crowned at MRP
9-15-17 – Williamsburg, OH – The Late Model division would see 12 cars take the green flag in the feature event and it was Camden, Ohio's Kody Evans out to the top spot in his Adesa Auto Auction, Performance Transport sponsored Club 29 machine. In the early going all eyes were on last place starting Josh Rice as the Gary Engle owned machine arrived late to the track and had to start scratch on the field. A caution with 2 to go would see Rice restart the race right on Evan's back bumper but he had nothing for the 2017 Track Champion who claimed the race win and sealed the points championship all at the same time. Rice would come home in second spot with Nathan Vawter, Blake Naylor, and Rusty Yarger completing the top five positions. Joe Brewer and Evans won heat races.
The Matt's Graphic UMP Modified division would see Jimmy Lennex Jr claim the 2017 Track Championship.  In the $1,000 to win main event it was Josh Rice jumping to an early lead over Weasel Rhoades but 2016 track champ would put lots of pressure on the youngster for the top spot but lap 7 would see Weasel spin out from his 2nd position. As the race resumed there was no real competition as Rice would sail to yet another win in his 2Brothers, Kuzman Racing, Copart, Valvoline sponsored machine. Adam Stricker would charge from 10th to 2nd place, with Jerry Bowersock, Larry Pickelheimer Jr., and Lennex completing the top five spots.
The Diamond Cut Lawn Care Sport Mod division would see 16 cars take the green flag and in doing so it was Amelia, Ohio's Dallas Pickelheimer claiming the 2017 Track Championship. In the feature event it was Dan Hurt out to the lead early but he and Spencer Watson would trade the top spot 5-6 times over the course of the feature event. The duo would charge into the final turn with Watson on the inside and Hurt on the outside. Hurt tried to crossover under Watson coming to the checkered flag and would spin out allowing Watson to cross the line in first and seemingly claim another checkered flag win. In post-race inspection though Spencer would be disqualified for an engine infraction allowing Matt Watson of Batavia, OH to claim his first career feature win. Pickelheimer would charge from 16th starting position to claim second with Jason Manning, Tommy Pribble, and BJ Branham completing the top 5 running order. Tommy Pribble and Dan Hurt were heat race winners.
The Cohen Recycling Crazy Compact division would see 21 cars on hand and it was Dry Ridge Ky's Brandon Stephens claiming the track championship. In the feature event it was Josh Hammond out front early with Devin Puckett in close pursuit. Lap 6 would see the leader get a flat tire and hand the lead over to Puckett. On the restart Stephens would pressure Puckett for the top spot but to no avail as the youngster from Georgetown Ohio would claim his second career feature win in his Puckett's Tire and Lube sponsored machine. Stephens would come home in second spot with Ashley Logan holding off Clyde Pack for third position while Chris Shelton Jr would finish in fifth position.
Fans were treated to an autograph session on the front stretch during intermission, where they could meet the drivers, get pics, candy, etc.  Always a lot of fun for everyone!  Thank You to Everyone for your Support in 2017!   Congratulations to All for an Awesome 2017!
                                                Special Congratulations to our 2017 Track Champions
                                                Late Models – KODY EVANS
                                                Matt's Graphics UMP Modifieds – JIMMY LENNEX, JR.  
                                                Diamond Cut Lawn Care Sport Mods – DALLAS PICKELHEIMER
                                                Cohen Recycling Crazy Compacts – BRANDON STEPHENS
MRP only has three races left for the season and they are ones you don't want to miss!!  9-22 4×4 Specials in All Classes!  Late Models $1500, Modifieds $1000, Sport Mods and Crazy Compacts $400, plus Legends!   10-13 Modified Mania $1500 to Win, plus all classes.  11-11- The 11th Annual Turkey Gobbler 30, with Rain/Snow Dates of 11-18 and 11-25.  www.molerracewaypark.com