Sponsor Links

FOR IMMEDIATE RELEASE Contact Information: Karl Stone 603-444-4488 karl@teamoneil.com
TEAM O'NEIL MOTORSPORTS FORD FOCUS RS VICTORIOUS AT NEW ENGLAND FOREST RALLY
Dalton, New Hampshire (July, 2017) – This year's New England Forest Rally (NEFR) held July 21-22 marked the first stage rally competition for the Team O'Neil Motorsports Ford Focus RS.  The competition was a success for the team, driver Andrew Comrie-Picard (ACP) and co-driver Jeremy Wimpey finishing first in class (production 4WD), and fourth overall (photo available below).
The event was not without its challenges for Team O'Neil, several mechanical issues were encountered during the race. On day one, the car was down on power due to problems with the turbo boost hose. Day two, the team encountered difficulty with the car's AWD system. Both ailments were diagnosed and corrected by the crew in the designated service areas, allowing ACP and Wimpey to continue to battle for the victory. Following Saturday's final stage the team celebrated a hard-fought 15 second victory over Alvin Fong in second place.
"Taking a brand-new production car out of the box, prepping it for rally, and having this kind of result is virtually unheard of. It's a testament both to the Team O'Neil Motorsports crew and the core engineering of the Ford Focus RS that it can go out and win a rally like this. That "RS" on the car is well-deserved," said Comrie-Picard.
The New England Forest Rally is an annual two-day stage rally event located on the back roads and logging trails of Western Maine and Northern New Hampshire. The event attracts over 50 competitors from across the US, Canada, and beyond to drive modified, street legal, vehicles on high-speed competitive stages held on temporarily closed roads.
The car, believed to be the first rally-prepared Ford Focus RS in North America, was premiered July 9 at the Subaru Climb to the Clouds. At that event, team owner Tim O'Neil and co-driver Chris Cyr claimed a second-place finish in the American Rally Association Rally 1 class. The team will now get to work re-prepping the vehicle for its next competition event which is TBD.
"In rally racing it's more than absolute speed, for this event we combined engineering prowess, an experienced crew with fast and smooth driving to bring home a classic rally victory," stated Team Owner Tim O'Neil, "with a couple events now under our belt we plan to make the next steps in development on the car and hope to see continued success."
About Team O'Neil Motorsports
Team O'Neil Motorsports is a division of Team O'Neil Rally School. For the past 20 years Team O'Neil located in Dalton, NH has offered a variety of dirt and gravel road driving courses, including rally driving, winter safe driving, off-road and security courses for individuals, private companies and government agencies. Courses offer educational and recreational experiences appropriate for all abilities. The facility sits on 585 acres of rolling terrain with over 6 miles of stage rally roads, and miles of OHRV and four-wheel drive trails. The Motorsports division offers competition rally car preparation, support and serves as the United States distributor of M-Sport parts and car kits. For more information visit teamoneil.com.
Photo Credit: Alex Wong/American Rally Association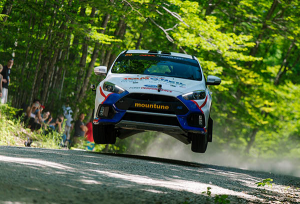 This message was sent to info@mwracingnews.com from:

Team O'Neil | noreply@teamoneil.com | 178 Miller Rd. | Dalton, NH 03598 United States