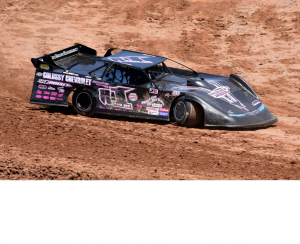 Sponsor Links

(Photo: Jared Miley during a start at Lernerville Speedway – Paul Arch Photo Credit)
Jared Miley will visit Mansfield for Triple Crown on July 16
By Fully Injected Motorsports:
PITTSBURGH, PA (July 15, 2017) – For the first time ever, Pittsburgh's own Jared Miley will make the tow to Mansfield (OH) Motor Speedway. The state-of-the-art complex, recently making the transition back to a dirt surface after years as an asphalt facility, will host a round of the rescheduled Triple Crown Spring Series on Sunday evening, July 16, featuring a $5,000-to-win, super late model program.
Miley, pilot of the Jared Miley Racing/Jay's Auto Wrecking/Keystone Alliance Insurance Services, LLC of Spring City/Maloney's Classic Cars of Meadville/Junior's Cores & Recycling/Colussy Chevrolet/Octane Graphix/Brougher's Machine Shop/No. H1 super late model, will join in on the action at the 4/10-mile oval, working to increase his overall win total, as well as add a new track to his career win list.
"It should be an exciting trip over to Mansfield. We've been hearing some good things out of that place, so we're pumped to give it a try," Jared Miley explained. "We've never been there before, and it just so happened to fall in our schedule perfectly. Things have been going in the right direction for us lately. We hope to work our way up front and compete for win."
Keep up with Jared Miley and the entire Jared Miley Racing team online at www.fullyinjected.com. Fans can also stay updated via social media including Twitter and Facebook.' Be sure to also visit Jared Miley's official online home at  http://www.jmrh1.com/.
Recent Highlights: Finished 12th during Lucas Oil Late Model Dirt Series competition at East Bay Raceway Park in Tampa, Florida. Scored back-to-back top-five finishes during Appalachian Mountain Dirt Late Model Speedweek on June 1-2; fifth at Susquehanna Speedway and fourth at Bedford Speedway. Earned first win of 2017 at Pittsburgh's Pennsylvania Motor Speedway. Finished seventh during Firecracker 100 matinee at Lernerville Speedway. Earned win number two at Thunder Mountain Speedway on June 30. Scored third victory of 2017 season on Sunday, July 2, at Eriez Speedway.
2015 Wins: 8 (2 – Lernerville Speedway, PA – RUSH/Super) (3 – Dog Hollow Speedway, PA – Open Crate/Super) (1 – PPMS – Super) (1 – Tri City Raceway Park, PA – Super) (1 – Thunder Mountain Speedway, PA – Super )
2016 Wins: 6 (2- Marion Center Speedway – SLM Regular Show) (Lernerville Speedway – Fab Four) (Dog Hollow Speedway – Shawn Sheetz McGarvey) (Hesston Speedway – Super Late Model Speedweek) (Eriez Speedway – ULMS $6,000)
2017 Wins: 3 (PPMS – regular program) (ULMS victory at Thunder Mountain Speedway) (Mike Farr Memorial victory at Eriez Speedway)
Jared Miley on Youtube: Here!
Jared Miley would like to thank all of his marketing partners including: Jay's Auto Wrecking, Keystone Alliance Insurance Services, LLC of Spring City, Maloney's Classic Cars of Meadville, Junior's Cores & Recycling, Colussy Chevrolet, Octane Graphix, Brougher's Machine Shop, Huey Brothers Trucking, Ireland's Bait Shop of Elk County, Hoosier Tire Mid-Atlantic, DLB Metals, Schaeffer's Racing Oil, Sunoco Race Fuels, Rocket Chassis, and Fully Injected Motorsports.
About Fully Injected Motorsports: Headquartered in Western Pennsylvania, Fully Injected Motorsports provides professional grade press releases to multiple short track teams from all areas of the country.
Contact: altmeyer119@gmail.com / corini.anthony@yahoo.com /  info@fullyinjected.com / www.fullyinjected.com
Twitter: @FI_Motorsports
Read more #FIMotorsports 'Driver Spotlights' Here!
—
Tyler Altmeyer
Public Relations/Marketing
Classic Ink USA, LLC
Fully Injected Motorsports
All Star Circuit of Champions