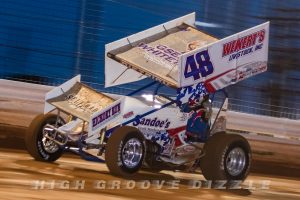 Sponsor Links

(Photo: Danny Dietrich in action at Williams Grove Speedway – High Groove Dizzle Photo Credit)
Three podium finishes for Danny Dietrich during PA Sprint Speedweek
By Fully Injected Motorsports:
GETTYSBURG, PA (July 10, 2017) – A ten-day stretch that included one victory and two additional podium finishes, "Double-D" Danny Dietrich wrapped up his 2017 Pennsylvania Sprint Speedweek campaign second in the final championship standings, earning a total of eight top-ten finishes in nine main event starts.
The pilot of the Gary Kauffman Racing/Weikert's Livestock/Sandoe's Fruit Market/Pace Performance/Gsell's Whitetails/Hickory Run Orchards/Carlisle Auto Salvage/Self Made/No. 48 earned his Speedweek triumph at the "Fabulous" Lincoln Speedway on Saturday, July 1. It was Dietrich's seventh win of the season and his sixth in the Pigeon Hills.
Other Pennsylvania Sprint Speedweek highlights for Dietrich include earning ninth and tenth place finishes at Williams Grove Speedway; a pair of sixth place finishes at Path Valley Speedway Park and Lincoln Speedway (July 3); a third place finish at Grandview Speedway; fifth place finish at Hagerstown (MD) Speedway; 14th place finish at Port Royal Speedway; and a runner-up finish at Selinsgrove Speedway to end the week on Sunday, July 9.
"It was a great week for our team. I think we were capable of a few more wins, but we came up a little short," Dietrich explained. "Just an overall great effort by everyone involved. I can't thank our fans enough for their support. They are the reason we are able to do this. We have some big shows coming up on our schedule, so hopefully we can keep things going in the right direction and beat the Outlaws at home in a few weeks."
Danny Dietrich will continue his 2017 season by returning to Williams Grove Speedway in Mechanicsburg on Friday night, July 14, for the World of Outlaws Craftsman Sprint Car Series Tune-Up; a final test session before the annual Summer Nationals featuring the Greatest Show On Dirt.
Dietrich's weekend will continue on Saturday, July 15, with a visit to either Port Royal Speedway or Lincoln Speedway. A final decision will be made in the coming days.
Keep up with Danny Dietrich and Gary Kauffman Racing during their entire campaign right here at the official online home of Fully Injected Motorsports – www.FullyInjected.com. Be sure to also follow Danny Dietrich online at www.dannydietrich.com, as well as on all of the available social media networks including Twitter: https://twitter.com/dannydietrich and Facebook: https://www.facebook.com/GKRracing/
Recent Highlights: Finished eighth against Arctic Cat All Stars at Bubba Raceway Park to launch 2017 season. Earned top-ten finish against World of Outlaws Craftsman Sprint Car Series on Sunday afternoon, February 19. Earned Lincoln Speedway Icebreaker 30 victory worth $4,000 on Saturday, February 25. Earned Lincoln Speedway victory on Saturday, March 25. Finished ninth against Arctic Cat All Stars at Atomic Speedway on April 9. Recorded a Central PA podium sweep at Williams Grove (2nd) and Lincoln Speedway (3rd) on April 14-15. Earned Weldon Sterner Memorial victory at Lincoln Speedway on April 29 worth $6,900. Finished third during Gettysburg Clash at Lincoln Speedway with World of Outlaws on May 17. Earned victory at Williams Grove Speedway on May 26 during Charity event. Finished fourth during Bob Weikert Memorial finale at Port Royal Speedway on May 29. Finished second during Bob Weikert Memorial preliminary on Saturday, May 27. Finished second on back-to-back nights at Williams Grove Speedway and Port Royal Speedway on Friday and Saturday, June 2-3. Scored fifth win of the season on June 10 during Fallen Firefighters Night at Lincoln Speedway.  Scored sixth win of the season on June 24 at Lincoln Speedway. Finished second against Arctic Cat All Stars at Waynesfield (OH) Raceway Park on Wednesday, June 21. During Pennsylvania Sprint Speedweek, Dietrich earned a victory at Lincoln Speedway, as well as seven other top-ten finishes including a runner-up performance at Selinsgrove Speedway.
2015 Wins: 16
2016 Wins: 9 (Lincoln Speedway x2, Williams Grove Speedway x2, Selinsgrove Speedway x2, Susquehanna Speedway x2, Port Royal Speedway)
2017 Wins: 7 (Lincoln Speedway x6 including Icebreaker 30, Weldon Sterner Memorial worth $6,900, Fallen Firefighters Night worth $5,000, Pennsylvania Sprint Speedweek; Williams Grove Speedway on May 26 during Charity Race worth $4,000)
Danny Dietrich and Gary Kauffman Racing would like to thank all of their current marketing partners including: Weikert's Livestock, Sandoe's Fruit Market, Pace Performance, Gsell's Whitetails, Hickory Run Orchards, Carlisle Auto Salvage, CATS Used Truck Parts, Drop Of Ink Tattoo, Bowman Block & Head Repair, Sweeney Cars, Self Made, Graver's Garage, Racer's New & Used Parts Warehouse, B&C Auto Menders, Bear Mountain Orchards, El Vista Orchards, Moritz Machine & Repair, Bream Orchard.
About Fully Injected Motorsports: Headquartered in Western Pennsylvania, Fully Injected Motorsports provides professional grade press releases to multiple short track teams from all areas of the country.
Contact: altmeyer119@gmail.com / corini.anthony@yahoo.com / info@fullyinjected.com / www.fullyinjected.com
Twitter: @FI_Motorsports
—
Tyler Altmeyer
Public Relations/Marketing
Classic Ink USA, LLC
Fully Injected Motorsports
All Star Circuit of Champions