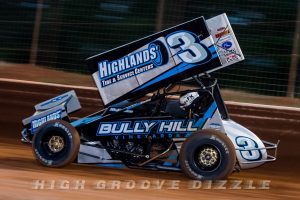 Sponsor Links

(Photo: James McFadden during a recent PA Sprint Speedweek start – High Groove Dizzle Photo Credit)
McFadden endures up and down PA Speedweek; Looking forward to Kings Royal
By Fully Injected Motorsports
Contact: Anthony Corini
NEWVILLE, PA (July 10, 2017) – Pennsylvania Speedweek is a demanding test for any race team. Heading into the ten races in ten days schedule, James McFadden and the Highlands Tire team had just one start together in 2017, coming the previous Saturday at the Port Royal Speedway. The week started out on a strong note with McFadden piloting the Highlands #3 to back-to-back top five finishes to start the week at Williams Grove and Lincoln. "I felt pretty good at The Grove and Lincoln. Those are tough tracks to get going at, so I was glad to have some speed there," the 27-year-old Australian said.
As the week continued, McFadden continued to show speed as he battled adversity, new tracks and the tough competition. Speedweek saw McFadden make his second career starts at Lincoln, Path Valley, Grandview and Selinsgrove, as well as seeing the big Hagerstown 1/2-mile for the first time. At the week's end, McFadden ended up a solid 5th in the overall Pennsylvania Speedweek point standings. "That's a tough week. We had good car speed and some consistency that I think will translate over to the big races this summer," McFadden said.
The first of those big races comes this weekend at the famed Eldora Speedway for the 34th Annual Kings Royal with the World of Outlaws. "We got going pretty good there last year. I'm really looking forward to getting back. Eldora is a fun place," James said in anticipation of this weekend.
First and foremost, McFadden wants to thank everyone involved with the Highlands Tire #3 that allows him to run such a demanding United States schedule. The Highlands team want to thank its partners and sponsors including: Bully Hill Vineyards, Freysinger Auto Sales, Highlands Tire and Service Center, Highlands Power Sports, and Maxim Chassis.
Quick Results:
6/30 – Williams Grove – 3rd
7/1 – Lincoln – 4th
7/2 – Path Valley – 12th
7/3 – Lincoln – 13th
7/4 – Grandview – 6th
7/5 – Hagerstown – 18th
7/6 – Port Royal – Rained Out
7/7 – Williams Grove – 7th
7/8 – Port Royal – 12th
7/9 – Selinsgrove – 9th
Upcoming:
7/13, 7/14, 7/15 – Eldora Speedway – World of Outlaws
7/18 – Lernerville Speedway – World of Outlaws
About Fully Injected Motorsports: Headquartered in Western Pennsylvania, Fully Injected Motorsports provides professional grade press releases to multiple short track teams from all areas of the country.
Contact: altmeyer119@gmail.com / corini.anthony@yahoo.com / info@fullyinjected.com / www.fullyinjected.com
Twitter: @FI_Motorsports
Read more #FIMotorsports 'Driver Spotlights' Here!
—
Tyler Altmeyer
Public Relations/Marketing
Classic Ink USA, LLC
Fully Injected Motorsports
All Star Circuit of Champions