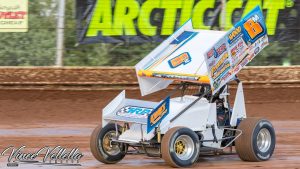 Sponsor Links

(Photo: T.J. Michael during Lou Blaney Memorial at Sharon Speedway – Vince Vellella Photo Credit)
Brad Doty Classic up next for the "Texas Traveler"
By Fully Injected Motorsports:
FREMONT, OH (July 10, 2017) – The "Texas Traveler" T.J. Michael has been busy during the last several weeks, and despite a break in his Arctic Cat All Star Circuit of Champions schedule, Michael will not rest, but instead join the World of Outlaws Craftsman Sprint Car Series for the annual Brad Doty Classic at Attica (OH) Raceway Park on Tuesday, July 11.
Michael, pilot of the Michael Motorsports/Advanced Cast Stone/Fremont Fence Company/Kear's Speed Shop/Shell Shock/Hinchman Suits/Big D's Pizza of Fremont and Clyde/Crown Battery/No. 8M, has yet to join the Greatest Show On Dirt in 2017, but is excited to battle with the best in the world at a facility where he has been victorious.
"I think we are all pretty excited to race with the World of Outlaws, especially at an event like the Brad Doty Classic," Michael said. "We've won at Attica before and we know what it takes to get around that place. I think we have what it takes to earn a starting spot with the World of Outlaws. We'll put our notes to the test on Tuesday."
Michael will enter competition on Tuesday with one recent start to his credit, joining the Arctic Cat All Star Circuit of Champions at Sharon (OH) Speedway for the 9th Annual Lou Blaney Memorial on Saturday, July 8. The Plano, Texas, native finished 16th during main event competition, qualifying for the $5,000-to-win program through his respective heat race.
Including recent results, Michael is currently sixth in the Arctic Cat All Star championship chase, earning 18 main event starts, as well as one top-ten finish.
Keep up with T.J. Michael during his entire campaign right here at the official online home of Fully Injected Motorsports – www.FullyInjected.com. Be sure to follow Michael on all of the available social media networks including Twitter: @TJMichael8.
2016 Highlights: Earned a pair of top-ten finishes on June 10/11 with FAST Series and Arctic Cat All Star Circuit of Champions. Michael finished fifth with FAST on Friday, June 10, at Attica Raceway Park, followed by a sixth place finish at Butler Speedway in Butler, Michigan, with Arctic Cat All Stars on Saturday, June 11.
2017 Highlights: Finished ninth during Attica Raceway Park season opener on Friday, March 24. Earned B-main victory on Saturday, June 3, at Mercer Raceway Park in Mercer, Pennsylvania. Earned top-ten finish (8th) at Macon (IL) Speedway on Saturday, June 10. Charged from 26th to finish 12th at Wayne County Speedway on Monday, June 19, during Ohio Sprint Speedweek.
2015 Wins: 3 (305ci) (1 Gator Motorplex – Texas; 1 Attica Raceway Park – Ohio; 1 Fremont Speedway – Ohio)
2016 Stats: Seven top-ten finishes during Arctic Cat All Star competition
2017 Wins: N/A
T.J. Michael and Michael Motorsports would like to thank all of their current marketing partners including: Advanced Cast Stone, Fremont Fence Company, Kear's Speed Shop, Shell Shock, Hinchman Suits, Big D's Pizza of Fremont and Clyde, Crown Battery, Kistler Racing Engines, Maxim Chassis, MJ Webb Enterprises, Roy Hardin Masonry, Wood Heating & Air Conditioning, Pro Tech Service Company, HRP, and Fully Injected Motorsports.
About Fully Injected Motorsports: Headquartered in Western Pennsylvania, Fully Injected Motorsports provides professional grade press releases to multiple short track teams from all areas of the country.
Contact: altmeyer119@gmail.com / corini.anthony@yahoo.com / info@fullyinjected.com / www.fullyinjected.com
Twitter: @FI_Motorsports
Read more #FIMotorsports 'Driver Spotlights' Here!
—
Tyler Altmeyer
Public Relations/Marketing
Classic Ink USA, LLC
Fully Injected Motorsports
All Star Circuit of Champions