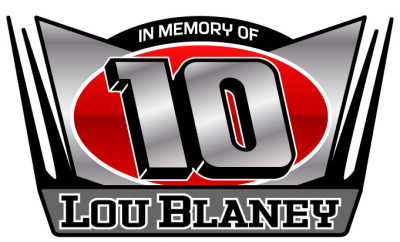 Sponsor Links

"LOU BLANEY MEMORIAL" TO FEATURE ALL STAR SPRINTS SATURDAY AT SHARON; MOD TOUR BIG-BLOCKS ALSO PART OF PROGRAM; SEVERAL ACTIVITIES TO BENEFIT ALZHEIMER'S ASSOC SUCH AS "SHIRT OUT" ON TAP
by Mike Leone
Hartford, OH July 4, 2018 One of the season's biggest events is mere days away as Sharon Speedway is set to host the 10th annual "Lou Blaney Memorial" presented by Ollie's Bargain Outlet this Saturday night (July 7) featuring Tony Stewart's Arctic Cat All Star Circuit of Champions Sprint Cars and The Mod Tour for the Hovis Auto & Truck Supply Big-Block Modifieds. Activities to benefit the Alzheimer's Association will begin after the gates open at 3 p.m. leading up to warm-ups at 6:30.
With this year's event being the 10th annual affair, the Blaney Family is thrilled to launch a new promotion. The Lou Blaney "Shirt Out" presented by Colonial Metal Products and Carpenter's Towing will award one lucky fan $1,000! Fans are encouraged to wear their favorite Lou Blaney or Lou Blaney Memorial t-shirts. Fans will also have the opportunity to purchase a shirt the day of the event. Each fan that has on a Lou Blaney shirt will go to a pre-determined area where they'll receive 10 tickets. Those wearing Lou Blaney shirts will also have the ability to purchase tickets as well. Later in the evening, a drawing will take place where one lucky fan will win $1,000! The remaining proceeds will benefit the Alzheimer's Association.
For the fourth straight year, Saturday's "Lou Blaney Memorial" will be under the All Stars' sanction. There has yet to be a repeat winner in the nine prior "Lou Blaney Memorial" Sprint Car events! Series owner, Tony Stewart, won the inaugural event in 2009. Mike Lutz was the first local winner taking the 2010 version for Jim Chappel. Texan Sam Hafertepe, Jr. won in 2011, while Californian Brad Sweet, who now races with the World of Outlaws, was victorious in 2012. Jack Sodeman, Jr. became the second local driver to win the prestigious event in 2013, while Dave Blaney won his father's memorial for the first time in 2014. Sheldon Haudenschild, who is in his second season with the WoO, won the 2015 event. Pittsburgh's Danny Holtgraver won the biggest race of his career in 2016, while last year saw Christopher Bell win his first at the track.
Thus far this season Aaron Reutzel and Bell were victorious in the All Star-sanctioned events, while Chad Kemenah and Sye Lynch captured the $3,000 non-sanctioned victories. For Lynch, it was his second win at Sharon after winning his first career "410" race last Saturday at the "Apple Festival Nationals". Saturday will mark the season's third and final appearance by the All Stars. The "410" Sprints next visit will then be on August 4 for another Menards "Super Series" event.
Speaking of Reutzel, the Texan swept last weekend's two events in Indiana and Illinois as he's now up to five wins in 2018 and trails Carson Macedo by just eight points heading into Saturday night's event. Kemenah, Jac Haudenschild, and Parker Price-Miller are third through fifth in points. Completing the top 10 are Dave Blaney, Paul McMahan, Cale Coley, Carl Bowser, and Brandon Spithaler.
Leading the local contingent is Jack Sodeman, Jr. The North Jackson, Ohio driver won the last two championships when the Sprints last ran weekly in 2009 and 2010. Sodeman has 12 "410" wins at Sharon. Brandon Matus finished third on Saturday night and captured his first career All Stars win back in 2013 at Sharon during Ohio Speedweek. Several other local talent as well as Ohio regional racers and others will be on hand to take on the All Stars.
The Hovis Auto & Truck Supply Big-Block Modifieds will round out the show in a $2,000 to-win event. Jim Rasey became the first and only driver to repeat in the "Lou Blaney Memorial" with his $2,000 win in 2016! New York legend Jack Johnson captured the 2009 race, while local Ohio drivers Rasey and Rob Kristyak stole the thunder in 2010 and 2011. Kevin Bolland won the prestigious event in 2012 and fellow western Pa. racer Dave Murdick joined him in 2013. In 2014, Rex King, Jr. won the event part of his dream season, while in 2015 Jim Weller, Jr. added his name to the win list. Jeremiah Shingledecker won his first "Lou Blaney Memorial" in 2017. The locals have now won eight straight "Lou Blaney Memorials"! Will an outsider end that trend?
Unfortunately, due to rain, the Big-Block Modifieds have yet to complete an event this season outside of four heat races that were completed back on May 26 before rain washed out the remainder of the program.
This past weekend saw two Sharon regulars picked up Mod Tour wins as Jim Weller, Jr. won on Friday night Raceway 7, while Rex King, Jr. was victorious Saturday night at Stateline Speedway. King, Jr. has the Mod Tour points lead by five over veteran Dave Murdick entering Saturday night. Jim Rasey, Rex King, and J.R. McGinley currently complete the top five in the standings.
Friends of Lou Blaney will again attend the Memorial event to help celebrate the life and accomplishments of the Hall of Fame driver, who won more than 600 feature victories during a five-decade career. The legend has at least 121 Modified wins and another 11 documented in a Sprint Car at Sharon alone. Blaney passed away in 2009 after battling Alzheimer's.
A silent auction of many, varied baskets will be available for everyone to bid on and then a live auction of race memorabilia and sports related items will be sold off to the highest bidders. The silent auction will be during the afternoon with the live auction beginning at approximately 4:30-4:45 p.m. All proceeds will benefit the Alzheimer's Association.
Pit passes will go on sale at 3 p.m. A drivers meeting is tentatively scheduled for 6 p.m. with Sprint engine starts at 6:15, warm-ups at 6:30 with qualifying and racing to follow. Grandstand admission is $25 for those 14 and over. Advanced and reserved tickets are on sale through Friday night at midnight by visiting SharonSpeedway.com and clicking on the "Buy Tickets" link at the top left. Pit passes are $35 or $25 for kids 12 and under. As always, children under 14, parking, and camping are FREE! Sharon has a no carry-in cooler policy.
Sharon Speedway is owned by the Blaney, Weller, and Kirila Families and is a 3/8-mile dirt track located on Custer-Orangeville Road in Hartford, Ohio near the intersection of Routes 7 & 305. For more information, check out the website at www.sharonspeedway.com or call 330-772-5481. Become a fan of Sharon Speedway on Facebook at www.facebook.com/sharonspeedway and follow us on Twitter at www.twitter.com/sharonspdwy.