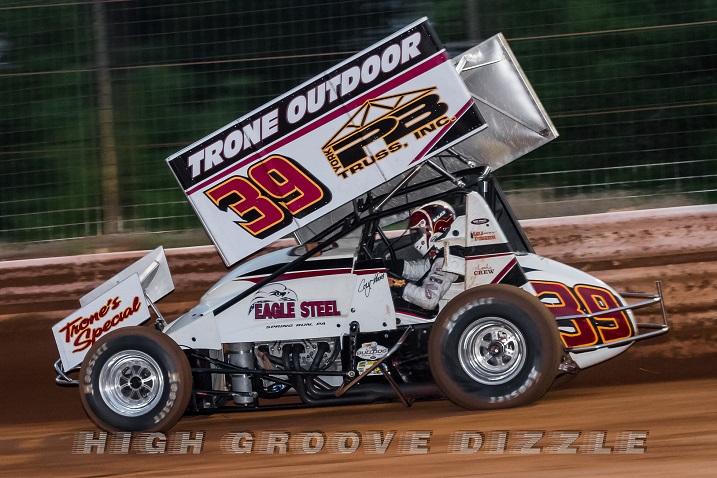 Sponsor Links

By Fully Injected Motorsports:
YORK, Pa. (June 4, 2018) – Keeping his recent success streak alive at the world-famous half-mile, York's own Cory Haas finished fifth at Williams Grove Speedway on Friday evening, June 1, improving one position after starting sixth on the feature grid. Haas, who owns one victory at The Grove thus far in 2018, is now seventh in the track championship standings entering the new weekend, less than 200 points outside of the top-five.
Unfortunately for Haas and Trone Outdoor Motorsports, Mother Nature kept the weekend from continuing, now with six straight cancellations in the Pigeon Hills.
"It's tough to build any momentum when we don't get to race," Cory Haas said, driver of the Trone Outdoor Motorsports/Eagle Evergreens/Bricker's/DMI/Bulldog Rear Ends/York PB Truss/No. 39 sprint car. "It is what it is at this point. All we can hope for now is a dry spell so we can get some busy weekends under our belt."
"I can't thank John Trone, my family, and all of our supporters enough for the hard work this season," Haas continued. "It feels good to keep the consistency going. The track was nice at Williams Grove on Friday. We were able to move around quite a bit. Hopefully we can keep that top-ten streak alive this weekend during all three planned starts."
If all goes according to plan, Cory Haas will make three Central Pennsylvania starts during the upcoming weekend, first visiting BAPS Motor Speedway near York Haven on Thursday, June 7, for the Kevin Gobrecht Classic, followed by routine visits to Williams Grove Speedway and Lincoln Speedway on Friday and Saturday, June 8-9, respectively.
SPECIAL THANKS:
Cory Haas and John Trone would like to thank all of their marketing partners including: Trone Outdoor Advertising, Eagle Evergreens, Bricker's, DMI, Bulldog Rear Ends, York PB Truss, Maxim Chassis, Connecticut Oil Kings, KSE, Wings Unlimited, QA1 Shocks, Creekside Auto Sales, and Fully Injected Motorsports.
SOCIAL MEDIA:
Follow Cory Haas on all of the available social media networks including Facebook: https://www.facebook.com/groups/665179853507583/. Keep up with Cory Haas online at www.fullyinjected.com, as well as at www.troneoutdoormotorsports.com.
2018 Cory Haas merchandise is now available.
STATS:
2018 Wins: 1 (Williams Grove Speedway – 4/6)
2018 Highlights: Cory Haas earned his first top-five finish of the 2018 season on Saturday, March 17, at Lincoln Speedway in Abbottstown, Pennsylvania. Finished sixth during Lincoln Speedway's Sprint Spring Championship. Earned victory at Williams Grove Speedway on Friday, April 6. Finished fifth at Lincoln Speedway on Saturday, April 7. Finished eighth during Walt Dyer Tribute at Williams Grove Speedway on Friday, May 25. Finished fifth at Williams Grove Speedway on Friday, June 1.