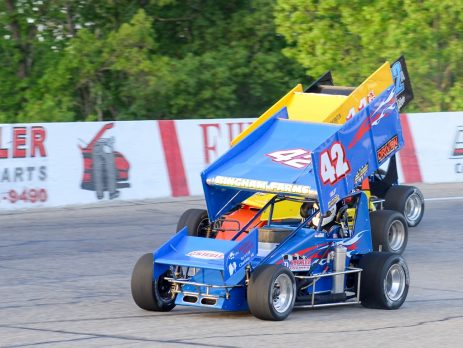 KALAMAZOO, MI – Veteran driver Jason Blonde held off Ryan Litt by just 1.038 seconds to win the season opening Auto Value Super Sprint Series race Friday night at Kalamazoo Speedway. Brian Gerster finished third ahead of Ryan Gillenwater and Jason Cox. Bobby Santos led the second half of the top ten over Jeff Bloom, Kevin Feeney, Teddy Alberts and Doug Dietsch. Gerster was the fastest qualifier with a lap of 10.764 seconds while Litt and Alberts won the heat races.
The Late Model Sportsman were back in action with John Long making a late race pass on former champion Kenny Head to pick up the victory. AJ Foote finished a solid third beating out Lane Head and Ryan Minton. Former Zoo Stock champion Jerry Jansen finished sixth ahead of defending champion Buddy Head, Dylan Stovall, Frank Stager and Curtis Holt. Keegan Dykstra was the fastest qualifier while the heat race wins went to Foote and Buddy Head.
As always the Street Stock division put on a great show with Greg Brown emerging victorious. Keith Wilfong was the runner-up beating out Shane Miller, Toby Montgomery and Heath Bronkema. Fast qualifier Kyle Ribble wound up sixth ahead of TC Burgess, Brad Hall, Bob Miller and Zack Cook. Bobby Oxford and Wilfong won the heat races.
After setting quick time earlier in the evening Jason Essex started dead last in the eighteen car Outlaw FWD feature. When the checkered flag flew however he was the first car under it, beating Pete Doxey by 1.053 second. Nick Layman finished third ahead of Rick LaDuke and Kyle Jansen. Will Slaughter led the second half of the top ten over Chris Harmon, John Munro, Gabe Carr and Kenny Wright. Harmon and Munro won the heats.
Curtis Towne picked up the victory in the twenty lap Zoo Stock feature. Colin Bozell finished a solid second beating out Logan Hiemstra, Jerry Ballard and Jesse Hard. Michael Rozner wound up sixth, while Reilly Meade, Andy Sutton, Tony Mayhew and CJ French rounded out the top ten. Keith Dixon was the fastest qualifier with a lap of 17.168 seconds. Ballard, Buster Martin Jr. and Keegan Letts won the heat races while Adam Wilson picked up the victory in the 'B' feature.
After a week off, racing resumes Friday, June 15 with a full five in one show featuring the return of the Outlaw Super Late Models. Also in action will be the Late Model Sportsman, Street Stocks, Outlaw FWD's and Zoo Stocks.
Kalamazoo Speedway is the place to be in 2018 for fast, clean, family fun! Kalamazoo Speedway plays host to some of the best entertainment events in the state and welcomes corporate and family groups to our private decks and suites. Call 269-692-2423 Monday through Friday to learn more or visit www.kalamazoospeedway.com.

For all the latest news and contests check out www.facebook.com/KalamazooSpeedway.

Follow Kalamazoo Speedway at www.twitter.com/kzoospeedway.