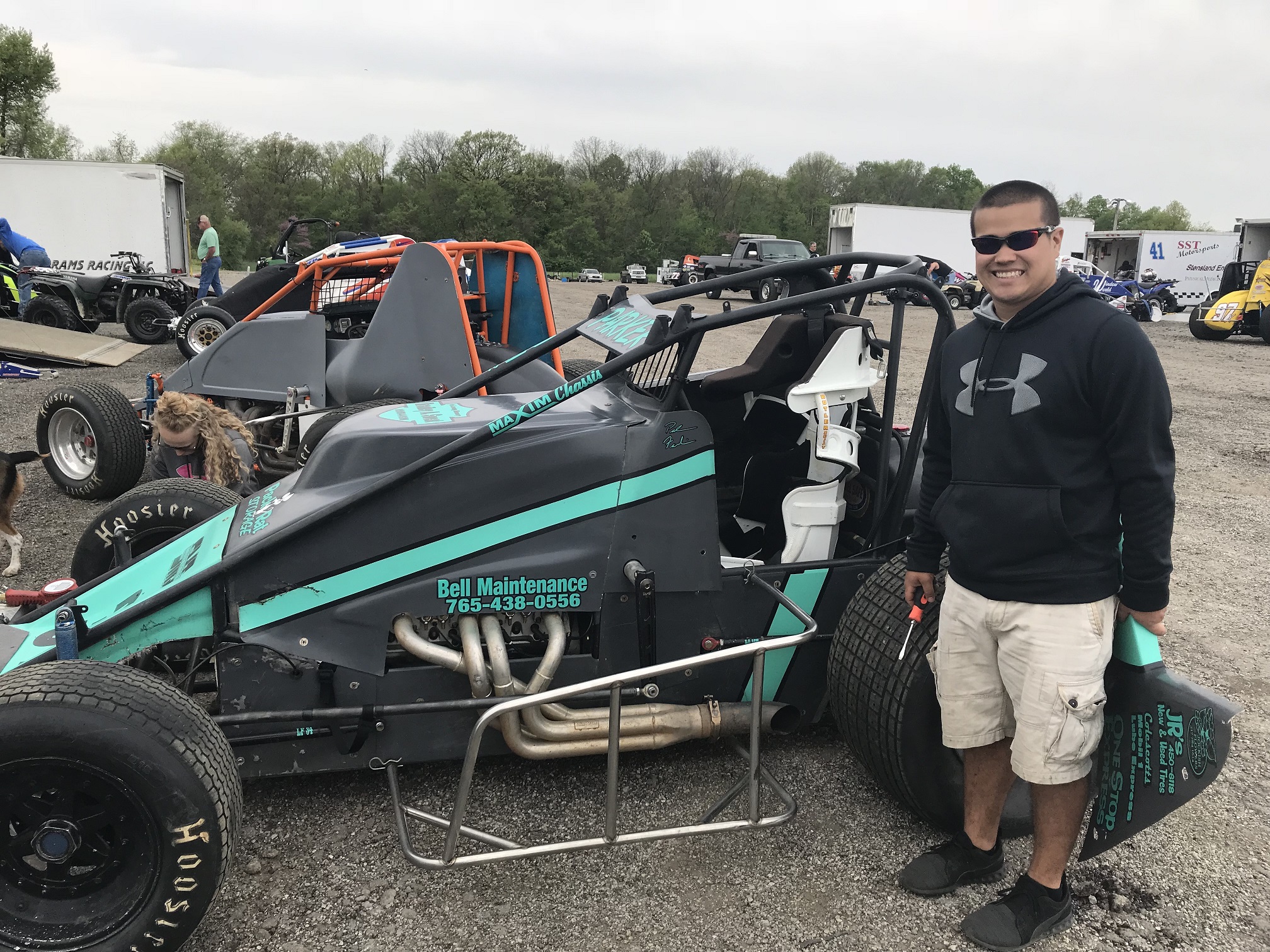 Sponsor Links

The Fredericksons May be a Low-Buck Team
But They're Hard-Core Racers
GAS CITY, Ind., May 22 — Fans who saw Parker Frederickson's sprint car barrel-roll through Turns 3 and 4 at Gas City I-69 Speedway on opening night, Friday, April 20, wouldn't have been surprised if it would have taken him several weeks to make repairs and return to action.
If those fans knew Frederickson Racing is what's known as a low-buck team (meaning it doesn't have many monetary resources), they wouldn't be surprised if Frederickson would be sidelined for a month or two.
But that's not how the Kokomo, Ind.-based team works, with an emphasis on the word "work."
When the team unloaded the wrecked sprint car from its trailer at its race shop later that night, people immediately got to work. The regular crew was there, along with a sponsor or two, several other friends, and even some neighbors. After they worked into the wee hours of the morning, grabbed a little sleep and then got back to work later that morning, Frederickson raced that Saturday night at Lawrenceburg Speedway in Southern Indiana. He was also back in action at Gas City the following Friday night.
"It was the hardest crash I've ever been in," admitted Frederickson, who then added "but it wasn't the worse one ever for this particular car." The gray and mint green No. 34 is a Maxim chassis with a Kercher-prepared engine. His main sponsors are SMI (Stephens Machine, Inc.) of Kokomo; Pack Rat Storage, also of Kokomo; Jockish Flowers of Indianapolis, and Bell Maintenance of Russiaville, Ind.
Frederickson, 21, is in his third year as a sprint car driver. Last year he competed at 13 different tracks in Ohio, Indiana and Illinois, and won two features. He's a graduate of Lewis Cass High School in Walton, Ind. He didn't drive in any other classes before he took the plunge into sprint cars. But he did so wholeheartedly; even his dog is named Maxim.
But he's not the only sprint car driver in the family. His uncle, Jamie Frederickson, also of Kokomo, has been racing for 23 of his 46 years. His No. 58, which is also a Maxim with a Kercher-prepped engine, is blue and orange this year.
Jamie started racing in go-karts, moved up to sprint cars in 1993, and has been going strong ever since.
Frederickson Racing crewmembers include crew chief Jeff Sweat of Fowlerton, Ind.; Kaitlyn Sweat of Kokomo (Jeff's daughter and Parker's girlfriend); the team's most enthusiastic supporter, Bill Frederickson (Parker's grandfather and Jamie's father), also of Kokomo; Allen Brown of Kokomo; Gina Frederickson (Jamie's wife); Keenan Richards of Kokomo (Jamie's stepson); Skye Richards (Jamie's stepdaughter), and Olivia (Jamie's 7-year-old daughter). Keenan,15, is another young racer in the mix, as he just moved up to mini-sprints after racing go-karts for several years.
Jamie and Gina met through racing. "I met Gina at Kokomo Speedway in 1994," Jamie said. "She was racing mini-sprints, and was pitted next to us. We hit it off and hung out all evening, and stayed in contact for a few years before life happened to each of us. Then we found each other again, and married in 2016.
"Her daughter, Skye, is 18, and she's in the Indiana National Guard," he added proudly. "She did her basic training last summer. After graduating from high school next month, she'll leave for Texas for her AIT [advanced individual training] to become a combat medic."
There are actually three sprint cars headquartered at the Frederickson family's shop. The third is the No. 21S owned and driven by Bryar Schroeter, 25, also of Kokomo. It's a Stealth chassis and his primary sponsors are Billy's Auto Repair, JR New and Used Tires, and Taylor Powder Coating, all of Kokomo. He's a graduate of Northwestern Senior High School in Kokomo, and his biggest supporter is his wife, Micah Jane. This season is his first in full sprints.
Racing is not the only talent the family members have, however. At least two are artistically inclined in painting and music.
Jamie Frederickson is an accomplished artist, painting in reverse on glass. He's done as many as 20 paintings a year, although he cut back on that work a little lately to concentrate on doing vinyl graphics for car or business windows, signs, or race cars. He just finished a painting for World of Outlaws driver Joey Saldana, and one of his most striking works is a painting of the Howard County Museum/Seiberling Mansion. More information on his artwork can be found on Facebook by searching for SKO Artwork and Graphics.
The family patriarch, Bill Frederickson, has some hidden talents too. He plays keyboard in a seven-member band called "Messenger," which primarily performs in churches or for church functions. It features rock and roll oldies whose lyrics have been changed to gospel messages. Back in the seventies, Bill Frederickson even accompanied the famous American doo-wop and R&B/soul group "The Drifters," whose most famous hits were probably "Stand By Me" and "Under the Boardwalk."
The family's Christian religion is very important to all of them. They pray together in their trailer before every night of racing, and are often led in this prayer over cell phone calls placed with Dudley Balmer in Florida. He's a racing minister and a former sprint car driver.
Their trailer is a conversation starter in itself, as autographs from all sorts of racing folks can be found inside.
"We just need Tony Stewart yet," Bill Frederickson said.
He added that Gas City I-69 Speedway is the team's favorite track.
"We like the track itself at Gas City," he said. "Jerry [Gappens, the promoter] is doing a great job, and we're glad to be back racing here. We're just a low-buck team, but we're very glad to be part of the show."
The track is dark this coming Friday, May 25, but the next event at Gas City I-69 Speedway is one of the biggest races of the year, as it will be a stop on "USAC Midget Week" for the USAC national midget series on Wednesday, May 30. Non-wing sprint cars like the Frederickson family campaigns and thunder cars will be part of this special show.
Following that program the track will go back to its regular Friday night format. On Friday, June 8 it will host "A Salute to the Kinsers" with GLSS winged sprint cars, non-wing sprint cars, UMP modifieds, super streets and mod lites on the program.
More information is available on the track's Web site at GasCityI69Speedway.com, and on its Facebook and Twitter pages.


—
Owner, Restart Communications, RestartCommunications.com