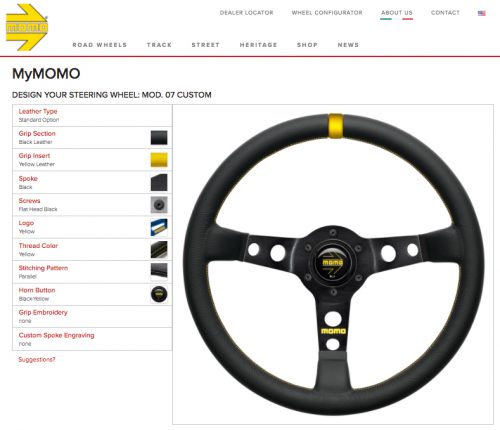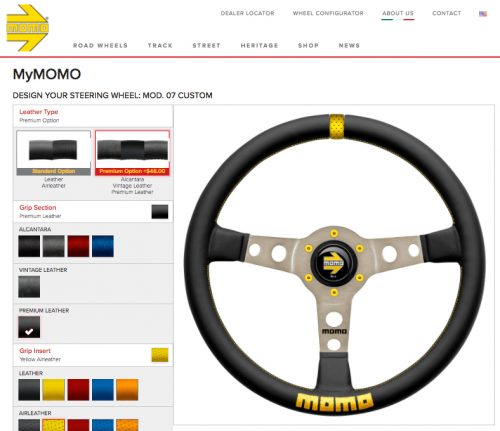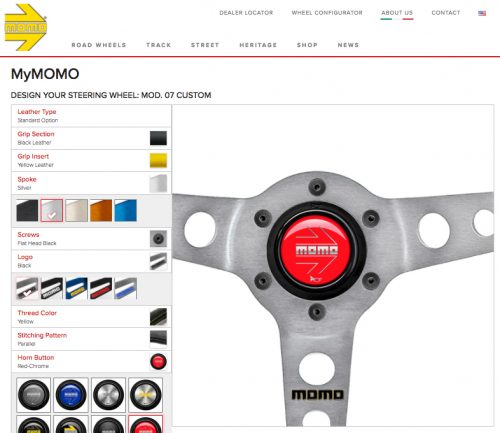 Sponsor Links

PRESS RELEASE
MOMO ADDS MyMOMO STEERING WHEEL CONFIGURATOR TO ITS WEBSITE
To allow enthusiasts to personalize their MOMO steering wheel for their car, MOMO has launched a new configurator to its website momo.com. MyMOMO adds several customized options never before available to further make your MOMO wheel unique.
MyMOMO is a bespoke program to help users create a MOMO steering wheel that truly reflects your personality. MyMOMO allows the user to design the ultimate steering wheel by choosing every detail. From the type of leather and stitching to the spoke color, MOMO enthusiasts can select every detail including laser engraving your signature onto the spokes and embroidered text, such as your name, into the rim. The result is a classic MOMO steering wheel that is truly unique.
Once the design selection has been completed, MyMOMO will provide a product preview that is updated in real time with the user-selected options. This allows the website visitor to review the options before placing the order. MyMOMO also features a Save & Share feature, which allows the user to save their customized steering wheel design for future reference, and share it with friends via their social media channels.
Currently, MyMOMO is available for a number of outstanding MOMO steering wheels, including the MOD 07 Custom, MOD 08 Custom, MonteCarlo Custom, Prototipo Custom and Retro Custom. These are among the most popular and timeless designs in the MOMO collection and are sure to appeal to a wide range of enthusiasts.
MyMOMO is the first customized online automotive steering wheel. It represents a unique opportunity for driving enthusiasts to create a steering wheel that is personalized to them and their car.
ABOUT MOMO
MOMO was founded in 1964 by race car driver Gianpiero Moretti. In that year, Moretti commissioned a local craftsman to produce a custom steering wheel for his own racing car, which provided superior grip and control. Since 2005, MOMO has been headquartered in Milan, Italy with a subsidiary in the US, MOMO USA. The MOMO brand continues to be inspired by simple yet strong values: product quality, superior craftsmanship, maximum safety standards and the highest performance levels.
MOMO recently acquired WELD Racing, and the two motorsport-based companies have created one of largest portfolios of performance and motorsports brands, which includes MOMO, MOMO Heritage, WELD Racing, WELD XT, ADV.1, Driven Motorsports, CCW Forged Performance, Reds, HiPer Technology and Tikore.
ABOUT CISNEROS CORPORATION
Cisneros Corporation is a third-generation global family enterprise led by Eduardo, Andres and Henrique Cisneros. Conceived in 1929 by Diego Cisneros and championed by Ricardo Cisneros, the three brothers continue to grow and push new boundaries. With experience in numerous industries across media, telecom and consumer goods, Cisneros Corp is able to leverage its vast experience to find and create opportunities around the world.
MOMO ONLINE
MOMO shares its team's exploits on its social media channels:
CONTACT
Billy Deakins
MOMO Automotive Accessories Inc.
billy.deakins@momousa.com
Greg Emmerson
ID Agency
greg@theidagency.com
This email was sent to info@mwracingnews.com ID Agency, 1375 e. 6th street, suite 3, Los Angeles, CA 90021, usa Unsubscribe