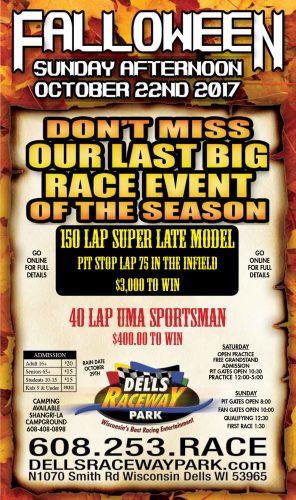 3rd Annual Falloween 150
Sponsor Links

This Sunday, October 22nd marks the 3rd Annual Falloween 150 at Dells Raceway Park. If you were at either of the first 2 years Falloween's then you know this is a must see event. The 1stAnnual was won by Andrew Morrissey after he made a pass on Ty Majeski with 15 laps to go. The 2nd Annual was pretty similar with Ty Majeski and Andrew Morrissey doing battle all the way to the end. A last lap spin by both would let third place runner Casey Johnson slip on by and take the win. The 3rd Annual is looking to be much of the same cast.
The Falloween 150 is one of the last big Super Late Model events in the State of Wisconsin. Its 150 laps of Super Late Model racing on 1 set of tires. Tire conservation and keeping your car out of trouble is key at the beginning of the race. There will be a mandatory caution around lap 75 (halfway) where the drivers will pull onto pit road in the infield. At this time teams will be able to make adjustments and repairs to their cars.
The UMA Sportsman will also be on hand for a 40 Lap Sportsman Feature with the best of the best sportsman drivers going for bragging rights. There will also be a Non-Feature Winners race for the Sportsman drivers. Any sportsman driver that hasn't won a feature event in 2017 is invited to race in this race.
Fan Gates open at 10:00 am with qualifying at 12:30 pm and the first race is at 1:30 pm. Get there early to get a good seat. Admission prices are $20 Adults, $15 Students (10-15), $15 Seniors (65+), and children 9 & Under are FREE!
Expected Entries 10/17/2017
Alex Prunty
Andrew Morrissey
Andy Jones
Brian Johnson Jr
Casey Johnson
Claire Decker
Colin Slife
Corey Jankowski
Dalton Zehr
Dennis Prunty
Eddie Hoffman
Frank Nitzke
Grant Greisbach
James Swan
Jason Weinkauf
Jay Van der Geest
Jeff Holmgren
Joey Pontbriand
John Beale
Jon Reynolds Jr
Justin Mondeik
Ken Jacoby
Michael Ostdiek
Mickey Schallie
Mike Lichtfeld
Rich Schumann Jr
RJ Braun
Robert Kendall
Skylar Holzhausen
Ty Majeski
Details
Admission:
Adult (16+) $20
Students (10-15) & Seniors (65+) $15
Children (9& Under) FREE
Admission Gates Open at 10:00am
Qualifying at 12:30pm
Opening Ceremonies at 1:15pm
For more information visit our website at: www.dellsracewaypark.com