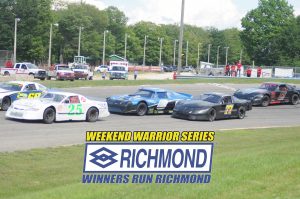 Sponsor Links

KINROSS, MI-
With three events remaining on the 2017 schedule, Fox Boyz Racing and the Kinross Speedpark will return to action for their final Sunday afternoon show this weekend.
Sunday, August 20th the track will present it's Richmond Gear Weekend Warriors event featuring a full show of Modifieds, ABC Stock Cars and Four Cylinders PLUS Kids Power Wheels Races at intermission.
The youngest fans are encouraged to bring their power wheels vehicle to the track and take a lap around the 1/4 mile.
Time trials are set for 1:30 PM with green flag racing at 3 PM.
Heading into Sunday afternoon DUSTIN JACKSON (#4) holds a healthy lead at the top of the Modified Division points standings.  The Sault Ste. Marie, ON driver has won back-to-back features while taking steps towards his first championship at Kinross.
BUDDY GRAY IV (#24JR, Petoskey MI) sits in second while MARK PORPEALIA (#28, Sault Ste. Marie ON) rounds out the top three.
Along with four wins on the season, DENNIS AHO (#75, Sault Ste. Marie MI) leads the pack in the ABC Stock Cars A-Division.
TONY RANKIN (#8, Kinross MI) and BRANDON CARSON (#54, Petoskey MI) sit second and third respectively separated by a single point.
A trio of Canadian competitors hold the top spots in the ABC Stock Cars B-Division.
JOHN CARTER's (#29, Sault Ste. Marie ON) 133 points is sixteen better than BUDDY PALAHNUK (#26, Goulais River ON) who sits in second, while Echo Bay, ON pilot JERRY ROSS (#01) sits in the final podium position.
While a change in the Four Cylinder Division occurred following the track's last event.
The August 6 feature winner REBECCA FEWCHUK (#99, Sault Ste. Marie ON) leads ROB WAGNER (#88, Desbarats ON) by 6 points at the top of the standings.
BRENT FEWCHUK (#3, Sault Ste. Marie ON) who had lead the points all season was absent last event and now has two points events to try and chase down his sibling in the standings.
Main grandstand admission this Sunday will be the final Fan Appreciation priced event of just $5 for Adults, Seniors and Students while Kids 11 & Under are FREE.
So bring your family, friends and neighbours to the track for a fun-filled afternoon of local short track racing.
For the full points standings and all information regarding the Kinross Speedpark you can visit them online at www.racekinross.com and like them on Facebook at www.facebook.com/kinrossspeedpark.
 Kinross Speedpark, presented by Fox Boyz Racing, is the Twin Sault's ONLY asphalt racing facility, is conveniently located at Exit 378 off the I-75 at the Chippewa County Fairgrounds.
Kinross Speedpark racers can win more money more often at our track than any other track/series in the region courtesy of Contingency Connection Racer Rewards.
UPCOMING EVENTS:
•  Friday, September 1, 2017 – Chippewa County Fair / Championship Night
Time trials at 6 PM  |  Racing at 7:30 PM
• Saturday, September 9, 2017 – Memorial Invitational in memory of Randy Dewitt & Ted Brooks
Time trials at 1:30 PM  |  Racing at 4 PM
Thank-you,

Gerry Liscumb Jr.
Director of Race Day Operations | PR | Co-Announcer
Kinross Speedpark (Kinross, MI)
Cell:  906-203-1621