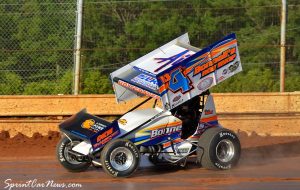 Sponsor Links

Photo: Danny Holtgraver during a recent start at Sharon Speedway – Rick Rarer / SprintCarNews.com Photo Credit)
Danny Holtgraver will join World of Outlaws for Silver Cup at Lernerville Speedway
By Fully Injected Motorsports:
PITTSBURGH, PA (July 10, 2017) – Despite a limited schedule in 2017, "Downtown" Danny Holtgraver will not miss the opportunity to battle the World of Outlaws Craftsman Sprint Car Series in his own back yard; a chance to beat the Greatest Show On Dirt for $25,000 during the annual Don Martin Memorial Silver Cup.
The former Lernerville Speedway track champion, as well as former Lernerville Speedway main event winner during weekly and Arctic Cat All Star competition, will enter the Tuesday, July 18, program with one prior start at the Sarver oval in 2017, that of which resulting in a runner-up finish against the Arctic Cat All Star Circuit of Champions in early June. Although unaccounted for in 2017, Holtgraver joined the World of Outlaws on multiple occasions in 2016, highlighting his starts with the best in the world with one top-five finish.
"It would take a lot for me to miss this race," Danny Holtgraver explained. "We've been close there before, so I know we have what it takes to race with the World of Outlaws. We've only made a few starts this season, but my dad and I are clicking pretty well together. I can't thank him enough, as well as everyone else who helps keep our family team going. Lernerville is basically where it all started for me, so we'll try to win a big one for my family and friends."
Danny Holtgraver will enter the Don Martin Memorial Silver Cup with one recent start to his credit, resulting in a top-ten performance at Sharon Speedway during the 9th Annual Lou Blaney Memorial. The Pittsburgh native finished sixth officially, winning his respective heat race to automatically qualify for the $5,000-to-win program.
News and information pertaining to Danny Holtgraver will be posted regularly right here at www.fullyinjected.com. Be sure to check out the official online home of Danny Holtgraver at www.dannyholtgraver.com, as well as keep up via social networking including twitter: @holtgraverd4 and facebook: https://www.facebook.com/DannyHoltgraverMotorsports
Recent Highlights –  Earned Lou Blaney Memorial title at Sharon Speedway in Hartford, Ohio, worth $10,000 on Saturday, July 9, 2016. Finished sixth during 9th Annual Lou Blaney Memorial at Sharon Speedway with Arctic Cat All Star Circuit of Champions. Finished second during Arctic Cat All Star competition at Lernerville Speedway.
2015 Wins: 1
2016 Wins: 3 (Wilmot Raceway – All Stars)(Sharon Speedway – All Stars – Lou Blaney Memorial) (Brownstown Speedway – All Stars)
2017 Wins: N/A
Danny Holtgraver would like to thank all of his marketing partners: Bonnell's Rod Shop, Alternative Power Sources, Ambulance Information Management, Gulf Coast Flooring, DKW Transport, North Hills Auto Body, Westview Motors, J&J Auto Racing, Simpson, VRP Shocks, HP Engines, Classic Ink Screenprinting, Fully Injected Motorsports
About Fully Injected Motorsports: Headquartered in Western Pennsylvania, Fully Injected Motorsports provides professional grade press releases to multiple short track teams from all areas of the country.
Contact: altmeyer119@gmail.com / info@fullyinjected.com / www.fullyinjected.com
Twitter: @FI_Motorsports
Read more #FIMotorsports 'Driver Spotlights' Here!
—
Tyler Altmeyer
Public Relations/Marketing
Classic Ink USA, LLC
Fully Injected Motorsports
All Star Circuit of Champions