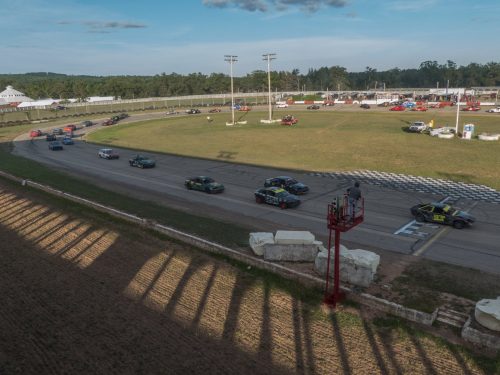 Sponsor Links

ATTENTION SPORTS/MOTORSPORTS
FOR IMMEDIATE RELEASE
NORWAY SPEEDWAY REMAINS ON TRACK FOR LATE MAY OPENER
(DCRA announces May 22 still on for now)
(Norway, MI) March 24 – Despite the recent Covid 19 outbreak and subsequent pandemic that it has caused Dickinson County Racing Association (DCRA) officials remain hopeful that the first green flag will still fly as planned at the season opening race Friday, May 22 at Norway Speedway located at the Dickinson County Fairgrounds in Norway, Michigan.
If there is a silver lining in the Covid 19 outbreak is that many race teams across Michigan's Upper Peninsula and Northeast Wisconsin have had extra shop time to work on their racers for the upcoming season. It is the DCRA's hope that once things return to "normal" that the fact that carry ins are allowed at their Friday night program will make attending the Friday night races at Norway Speedway one of the most appealing and affordable nights out for a family.
Recently the (DCRA) has released the 2020 schedule for weekly racing at the third-mile, paved oval.
Highlighting the season schedule will be the running of the 37th annual Stateline Challenge presented by Island Resort Casino & Aurora Liquors Friday, July 3. The event, which also serves as the Kent Pearson Memorial, was won by Prairie Du Sac's Travis Sauter in 2019. A Stateline Challenge Fan Fund has been setup on Facebook where fans can cast votes through Paypal at $5 a vote for their favorite drivers to attend the big race and receive bonus show money. Fans are encouraged to check that page out for more information.
The Auto Value Series races will be held June 19 and July 17, respectively. Coca Cola late models will battle for a $1,000-to-win top prize while Auto Value super stocks will scrap for $750-to-win. In 2019 third-generation racer Robby Iverson of Escanaba and Vulcan's Dan Lindsley captured the late model series wins while Norway's Brett Bray and Vulcan's Tim Schultz emerged triumphant in the super stocks, respectively.
Another $1,000-to-win is up for grabs on Werner Electric Night for late models August 7 while the first ever MC Signs & Sal-Mar Resort "Four Banger Frenzy" is set for Friday, August 28.
The Norway Speedway Hall of Fame "Class of 2020" will be unveiled July 31 in conjunction with an appearance that night from the vintage modifieds.
The popular Kid's nickel toss is set for July 10 while the popular Fan Appreciation Night will take place July 24.
The second annual "Pavement Pounder" race for dirt sportmods will return on August 14. Last season Bark River's Mike Richer captured the first ever win.
UTV races are slated for three nights with the spectator eliminator events scheduled for six nights. Island Resort Casino and the Dickinson County Fair will be sponsoring championship night on Sunday, September 6 of Labor Day weekend during the Dickinson County Fair. A 100 lap late model feature is on tap. The raindate for championship night is Monday, September 7 on Labor Day.
Weekly divisions include Coca Cola late models, Auto Value super stocks, 141 auto stock cars and MC Signs & Graphics four bangers. Ken's Sports sport trucks will again compete on an every-other-week basis. Fans are encouraged to check the track's page on Facebook as well as the website norwayspeedway.com. You can also email Dickinson County Racing Association (DCRA) president John Ostermann at ostermannjohn@hotmail.com.